TUESDAY, FEBRUARY 8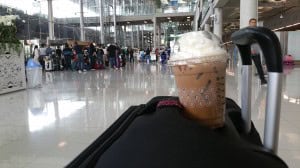 10:00 local time.
Arrival at Bangkok International Airport after an 11-hour flight.
Time for an iced moccha/cappucino with whipped cream, before embarking on he shuttle bus to Don Mueang National Airport for my flight to Yangon.
It will take one hour to get there and my flight is at 4:20 p.m., so it seems like I have ample time.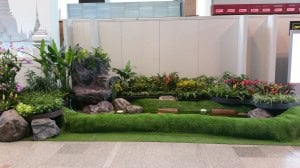 Don Muang Airport.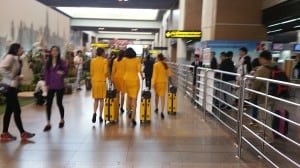 What a difference with sterile Amsterdam Airport!
8:15 p.m. local time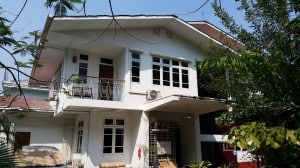 Arrival in Yangon (Thanlwin guesthouse ), after a challenging 2-week preparatory count-down and a smooth 26-hour journey.
Warm welcome. Chat (with Thomas, the French co-owner, and a couple of French guests) and tea.
Shower and light meal (pennyworth salad, rice and beer).
By 10:00 p.m. I thankfully drop into my (rather large and comfortable) bunk bed. For the time being there's only me in a 4-bed dormitory, thank God) and instantly go into a coma.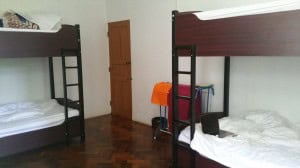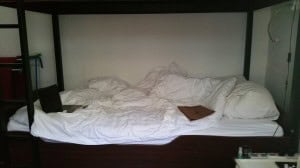 TUESDAY, FEBRUARY 9
14 Hours later I wake up and snooze for another half hour.
I feel a light headache, which disappears after a bit of Yoyo-yoga (in-bed stretches).
Wifi works! So I read my e-mails and say hello to the new roommate who arrives at 1 p.m.. She'll have an hour's sleep and then leave for a round in the city. To-morrow morning early she'll be off to Singapore (where she works) and the Philippines (where she lives).
After a shower I join a small company from Bremen and Berlin for a late lunch at the long wooden table in the garden.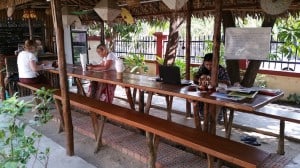 No sounds of traffic. Just birds' and people's chatter. The temperature is soothing.
Back to bed for a siesta, before I head for the Yangon Yoga House near here, to present myself for the long-weekend retreat, which starts next Friday with a 6-hour trip to Ngwe Saung Myanman Resort at the seaside west to Yangon.
I have been invited to join a Yin-Yang yoga class with Jojo, the teacher and organizer , as a warming-up for the retreat. The studio seems to be close by (a 12-minute walk), and I have the address and a description of where exactly it is located, of but no one in the guesthouse can tell me how to get there.
Finally the host gives them a phone call and manages to find out where it is. Then he walks me to the main road, stops the first taxi and explains to him where to drop me off.
The small yoga studio is located next to a temple. A monk walks past.
A boy is driving his red toy car with his mother watching.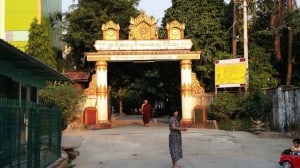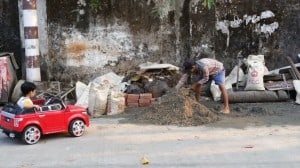 A worker is preparing to plaster a delapidated wall.
Well, this is not a beginners' class and I quickly realize how stiff the old frame has become with my sedentary life. I'm lucky I am in the back of the room, so that the others don't see my clumsy efforts to keep pace with the exercises. Soon I decide to give up those efforts, allowing myself to skip the odd asana and just give myself the stretches I feel my body needs and can handle right now.
Jojo is all elastic! Occasionally she comes by to give me a few hints on how to adjust a pose to my abilities.
After class we have a short exchange about the retreat. No need to worry: she will find ways to make me get the most out of it, without forcing. It appears that the group of participants has grown from 12 to 25. We'll leave at six a.m. on Friday by private bus. A single room is no option, alas, as the hotel is fully booked. So I'll share a double room with a roommate.
Off she goes, she must be quite busy so shortly before our departure.
In the dark I leisurely walk back to the guesthouse, enjoying the colorful lights and the sight of people going around their daily evening business.
In Thanlwin the three Germans I met this afternoon, Jochen, Helga and Britta, are chatting with a young Chinese guy, Sam, from Shanghai. I join them with water and a Singha beer – and receive some useful information on where to go and what to see in Mandalay, Bagan and the Inle Lake area.
Also I learn about Chinese (eating) habits – e.g. they like to suck fried duck throats for a snack – and the general situation in China as seen through the eyes of Sam. He tells about a trick the Chinese use to get their tongue and musculature around the English pronunciation: reciting texts with a pencil between their teeth :-).
Around ten the Germans go off to bed and I continue talking with Sam about his travels, studies and work until his taxi arrives to take him to the airport, from where he is heading home with a stop-over in Hongkong.
After Sam is gone I also decide to have an early sleep.
WEDNESDAY, FEBRUARY 10
3:26 a.m. Wide awake since I went to bed. Had to see the bathroom for a pee four times – very silently, as to not wake up my roommates: a second one appeared to have arrived, lying in the bed on top of mine. She is French and her name is Martina.
I silently put on a dress, pick up my laptop and sit in the garden. Mistake. I forgot there are mosquitos here, who apparently have not gone to sleep either… So I get back in and sit on the stairs in the corridor to write these words.
When my bum is getting stiff and my back starts to ache, I get back to bed and resume the supine position.
Lo' and behold: as I get up I see a spraycan with mosquito repellent standing on a chest in the corridor! I have one myself in my luggage, but did not want to rummage through my suitcase in the dark in order not to wake up my roommates.
Well, I could go back to the garden now and sit in a comfortable chair – but no: jetlag tiredness is kicking in again, so I decide to lie down again. It is 5:00 a.m. by now.
No more sleep, however. The moment I am back in bed one of the roommates has to get up to catch her flight. When she has finished pottering around and has left I slumber till 9:30.
A hot shower helps to get into motion again. I join the people who are having breakfast at the long table and choose the continental options: coffee, toast, omelette and choice of jams.
After some chatting I get to work. The whole morning and part of the afternoon are taken by (vain) attempts to transfer the smartphone pictures for my blog to my new and still unfamiliar Macbook, and looking for ways to resize them. There must be a function in the Macbook that does that – but I cannot find it.
The apps that can do the job are either costly or look unsafe when free.
Finally I subside to a work-around: sending a couple of pictures to myself by Gmail. And discover a function in WordPress itself that does the resizing for me, be it one by one.
At lunch I share about my work with the other guests and tell them about my project to have short interviews with people during my trip, posing two questions only:
1. What, in your view, is the purpose, the meaning of life?
2. If you had only three wishes that would be fulfilled between now and your death, what would they be?
Martina is interested to be my first interviewee. We are both nervous and giggle a lot.
But it is a nice premiere…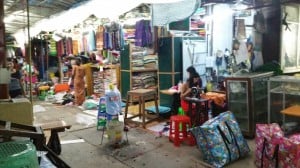 In the late afternoon I look for and find a tailor's shop in the maze of the colorful local market around the corner: one of my dresses needs shortening.
It will be ready by to-morrow around noon, the woman gesticulates.
Then I have some time to look around in the main street, as I slowly head for the Yoga studio again. There is another yoga-class, this time for beginners, at 7:30 p.m.
Manila is an odd mix of wealth and poverty. Lots of expensive imported cars, mostly white, cruise the streets, .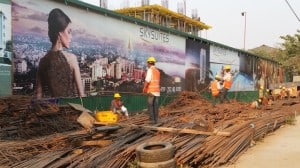 Next to that, workers are slaving away at the foundations of luxurious hotel giants…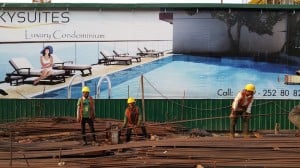 Preparing decadent hang-out places for the rich.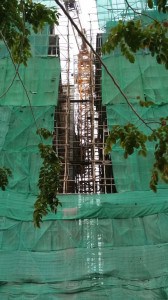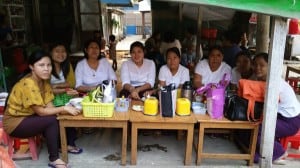 There are lots of well-groomed restaurants (this staff is just having a break)…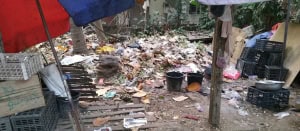 next to heaps of filth and clutter
and the stench of clogged gutters.
Here I belong to the decadent: before attending the yoga class I want to try out the blind Japanese masseurs in the studio next to Yangon Yoga House.
They are all busy when I arrive, but there will be a place for me in an hour. So I stroll around the area with lots of stalls and shops, looking for a place to sit, as it is hot and my feet are tired.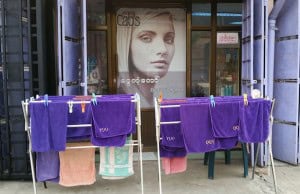 Then I see a tiny hairdressers' shop. Hmm, I think I can use a haircut, so I go in.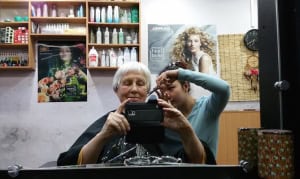 The girl hardly speaks a word of English, but I mimic my wishes and se does a nice job.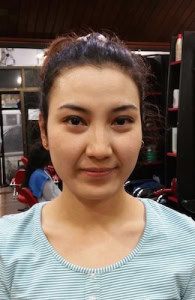 We are both happy with the result. She and her colleagues take pictures, I thank them, say goodbye and walk away – without noticing that I am still wearing the indoor flip-flops that they gave me. We have a good laugh as I change them for mine.
When I'm on my way again the girl catches up with me before I hit the road and shyly asks "Are you not going to pay me, Ma'am?" Indeed, I completely forgot… What a shame! It is only 2 dollars, and I offer her a good tip. She decidedly refuses.
In the massage studio I am given to the care of a tiny blind woman. The massage tables – two per unit – are close to each other with shabby curtains in between.
The massages are given through the clothes. The technique is a combination of firm quick pushes in the muscles and strumming. Very nice – sometimes painful – and extremely relaxing.
After an hour and a half (8 dollars) I am 'well-done' and just in time for the yoga class, this time given by a tall Englishman, Max, with a clear, loud voice, who is definitely taking it more easy then Jojo for this basic class, which is nevertheless pretty tough for me.
On the way back I pass by a little Thai restaurant with a lively atmosphere, where I decide to have my dinner. They make a good 'vegetable-fried-rice' which I savour with a Myanmar beer. Half of the bottle I take home for later.
As I continue my walk back home it occurs to me that it would be nice to have my first cocktail at the Sedona hotel, just around the corner from my guesthouse. So I take a taxi – they are passing by, hooting to foreigners, ten per minute in this main street – and for 1000 Kyat (pronounce Tsjatt = 1 dollar) and let myself be deposited two minutes later at the grand front entrance.
I am being welcomed in style and guided to the bar, where the bar manager Mr. Kok Aung appears to be all in for a chat (he must be bored to death with just a handful of uninterested customers).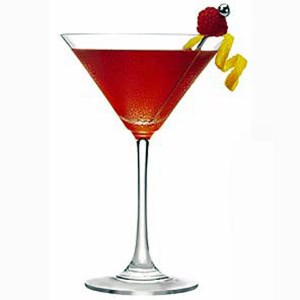 While I am sipping my cocktail, we have a conversation about life, work and Myanmar – as far as the horrible heavy hard rock band from the Philippines allows.
When I leave I promise to be back tomorrow, to continue our chat at a time when the band is not yet active. In the lobby I am politely escorted to the exit by smiling uniformed staff.
At he entrance platform I look around and marvel at the view of the hotel's surroundings.
That night I have a decent sleep of approximately nine hours.
THURSDAY, FEBRUARY 11
The morning is dedicated to having a local sim-card put into my smartphone. After searching for half an hour I give up and walk to the marketplace to collect my dress. It has not been shortened yet, so I have to wait. As I look around I see what I was looking for in the main street: a tiny shop with everything related to smartphones. The shopkeeper is asleep in a comfortable chair. I look at her for a while. A pity to wake her up. Eventually I decide to do it anyway. She jumps up and is immediately available. She appears to be the right person.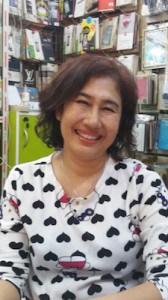 Her name is Goon and yes, she has SIM cards and knows how to install and activate them. A charming lady.
When we are done with the smartphone (everything works) she comes with me to help me find a T-shirt with long sleeves (for the mosquitos when we do yoga outdoors during the weekend) and a pair of slacks . We succeed!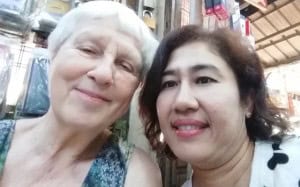 Before we part ways we take a selfie and have a warm hug.
Meanwhile the dress has been shortened and I return home happily.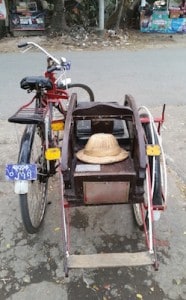 On the way I take a picture of one of the typical carrier bikes you see around here.
In the afternoon I have an interview with Jochen from Bremen. He is my second guest.
It is nice to hear him phrase in his mother tongue his view of what life is about. And formulate the wishes he would choose if he had only three that could be fulfilled between now and his death.
Early in the evening I meet Kok Aung again in the Sedona hotel bar and this time we can share more quietly about things close to our hearts.
He helps me with the ATM in the hotel corridor, but to no avail. Also here the ING Maestro cards do not work. And the pin of my Platinum Master card I do not know by heart. It is stored somewhere in my Dropbox, but during the short moments I have had internet connection I have not thought of tracing it.
We part as friends and he says he hopes to see me again during the brief periods I'll be in the Thanlwin guesthouse between now and my departure to the Philippines.
Home again I share one last tasty meal of fried rice and vegetables with the Thanlwin 'family'.
With the lively discussions it is near eleven when I retire to my room. The night will be short: My roommate Martina will have to get up at 3:00 a.m., I myself at 5:00 a.m., to be on time for departure from the Yoga House.
I sort out my luggage and make a selection for the journey that fits my cabin suitcase. The big suitcase stays here until I'm back on Sunday evening.
Sleep does not come. In between pees I toss and turn and watch the kaleidoscope of thoughts and feelings that come and go.
FRIDAY, FEBRUARY 12
With Kadry, a Thanlwin guest from Estonia who lives in Hong Kong, I share a taxi to the Yoga House. There, a company of about 30 backpackers is gathering. We are treated to yoghurt, muesli crisps and bananas and invited to pick a yoga mat and a block for the workshop.
The bus is an old model without any luxury. The head rests cannot be moved backwards. There is no toilet on board and Jojo announces that the first stop will be in three hours. I confide with her that I doubt whether my bladder will make it to that first stop. She laughs and says that in cases of emergency the bus will stop and I can crouch by the road side. Ah, I am relieved.
The ride over the narrow 2-lane countryside road is long (six hours) and bumpy. I'm lucky to have a duo-seat for myself and happy to have brought my down pillow, so I can shift position and cuddle up against the window. Lots of traffic in the beginning, with the bus hooting all the time before overtaking a vehicle, later less and less. An endless panorama of shacks, huts, dry wastelands, forests and little villages passes by.
Actually, we have a stop after two hours and four hours. So I need not crouch by the roadside. Though when visiting the terribly smelly and dirty crouch-toilets in the stopping places it occurs to me that I might even have preferred that…
Towards the end of the journey, the road winds and winds through hills and mountains for at least an hour.
When we finally arrive at our destination – the Treasure Resort in Ngwe Saung – around noon, we are elated. Immediately all the hardships of the journey are forgotten. What a magnificent place!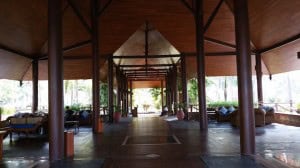 The lobby, the pool, the beach, the gardens, the lodges, the restaurant all radiate beauty and loving care.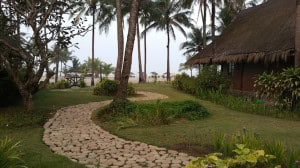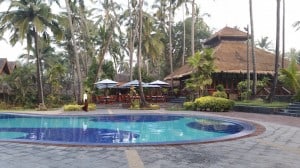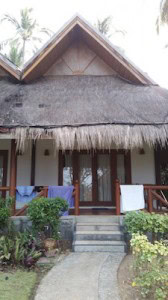 We are given the name of our room mates and find them (I share the room with Elenor, a girl from Australia) and drop our bagage in the room.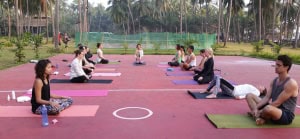 Then we get together (there are 27 of us) for the opening ceremony on the lawn near the tennis court,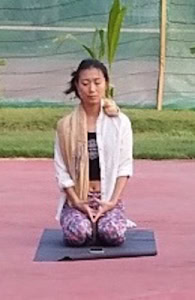 Jojo starts with a short meditation. Then we do an Aum and present ourselves, with playful non-verbal interactions in between.
Jojo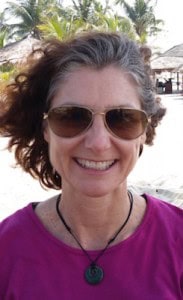 I do not remember what exactly I said during my introduction, but in the next two days several of the participants will come to me with questions, intrigued by the kind of 'work' that I do – which results in interesting one-to-one and group conversations over lunch and dinner – and an interview with one of the yogi's, Tara.
Tara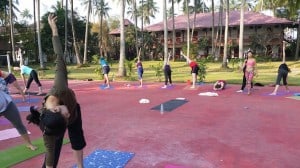 We have our first full yoga session of an hour and a half at 4:30 p.m.. I really go for it – and have to pay for my efforts to keep pace with the others that night, with a sore ankle and an excruciating pain in the neck, which prevent me from sleeping.
SATURDAY/SUNDAY, FEBRUARY 13 AND 14
We get up early for our morning yoga-session, and this time I take it way more easy, sometimes stopping and resting or doing an exercise several times at my own pace.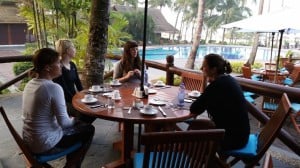 During the breaks I swim and take naps and I am delighted to get to know people from so many different countries – Germany, France, England, New York, Australia, Japan, China, Estonia – most of them living and working in Myanmar.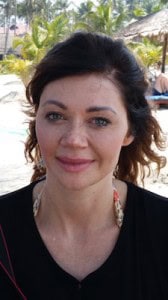 Laura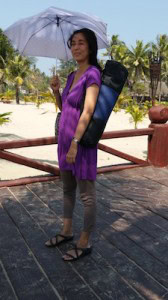 Yoko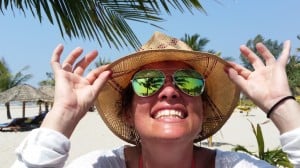 Nicole
All these lively exchanges do not leave much time for my blog, e-mails and updating my website, so I'll have to catch up on those later. Also, the internet connection is not working in the rooms and sometimes not even in the lobby or the restaurant.
Fortunately the last day some nerds in the group help me to make my smartphone – which is now provided with a local SIM-card – a hotspot, on which I can log in with both my iPad and my Macbook. That makes quite a difference!
When everyone starts packing for the journey back to Yangon all of a sudden I feel that I don't want to leave yet. And immediately ask myself: "So why don't you stay?"
It would just mean that I'd have to refrain from wanting to visit all three of the main attractions of Myanmar: Mandalay, Bagan and Inle Island.
I decide to drop Mandaly and stay two more nights, even though the rate for a single room outside of the package deal we had for the yoga retreat is far above the average I planned to spend on accommodation during my trip.
My colleagues are all jealous: most of them have to go back to work on Monday already. But they are also glad for me. We exchange addresses, I promise to think about a Flowering retreat next winter and there is a lot of hugging.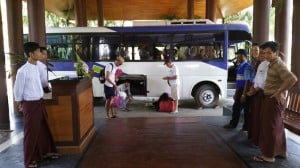 Then, together with the hotel staff, I wave them goodbye as the bus slowly gets into gear for the six-hour journey back home.
MONDAY, FEBRUARY 15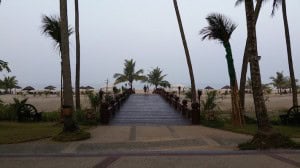 After a delightful sleep in my spacious single room I wake up at 8:15 a.m., rested and ready for a new day. I head straight to the vast sandy beach, where there is no-one to be seen at this hour, except for an occasional horseman riding the land wash and disappearing in the light morning fog which blends sea and sky. Where the lukewarm water is getting deeper I lie on my back and surrender my body to the gentle swell of the ocean. This is my favorite way of 'dissolving'. Sea and sun and timeless, weightless floating.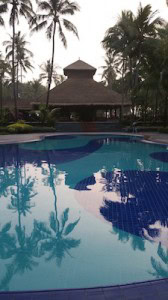 I have an 'after-swim' in the magnificent pool, which I also have for myself: no families with children showing up yet.
Then I take a shower, put on the lightest dress that I have brought and find myself a nice outdoor table in the shade for breakfast. Tea, toast, omelette, a bit of fried rice and sautéed Chinese cabbage, a mini-pancake with honey – and coffee to round off with. I have almost finished when the waiter surprises me with two platefuls of tropical fruit that have remained at the end of breakfast time. I can just manage to empty one plate. The other goes back to the kitchen.
At the front desk I pay for my bus ticket for tomorrow, top-up my SIM-card and ask for the hotel manager. I have to wait till eleven, because he is in a meeting.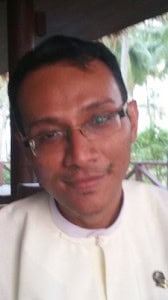 Mr. Kyaw, the front office manager, is a small lean young man (28) with a gentle and earnest demeanor. He speaks fast and softly, in an English that I have to fill in with his non-verbal language.
I tell him that I was part of the yoga group and have really come to love this place. So I would like to discuss with him the possibilities of a 3-7-day Flowering Intensive retreat somewhere end of January next year.
Yes, it is possible: he could make a special package for us. Yes, we can fully open up our voices – in the tennis court and on the beach. And yes, the hotel can provide mattrasses for massage.
Within minutes we are engaged in a deep and intimate conversation about life in general, life in Myanmar and his personal life – and we laugh a lot. Even though Myanmar is by and large a Bhuddist country the people seem to not be very religious. If they go to the temples and pagodas at all it is usually to pray for things or for help and not so much to meditate and express gratitude.
Kyaw himself has discovered the benefit of meditation for fulfilling the tasks and responsibilities that his function demands. He takes time for it every morning for at least half an hour.
It reminds me of an Osho quote: "You should meditate every day for at least fifteen minutes. Unless you are too busy. Then you should meditate for at least an hour."
I tell Kyaw about my 2-question film project – and he appears most willing to be interviewed by to and share his thoughts and feelings on the subject with the world. So we make an appointment for 5:00 p.m.
It is 12:30 now, so that leaves me time to catch up with my blog that has been seriously lagging behind because of the yoga programme, the 'timeless' social interaction with the participants – and the internet complications.
However, there is also the problem with obtaining Myanmar cash, as my kitty is quickly diminishing. Both my Maestro cards do not work in the ATM and I have not been able to check my credit card as I could not get to its Pin code, as it is stored in Dropbox, for which I need the internet (moreover, this hotel does not have an ATM, so no checking at all anyway). I have been told that I can pay my bill here with a credit card. But in case it should not work, the cash I have will not be sufficient , so I would have to change what I have in Euros and Thai baht to meet the costs, leaving me literally 'destitute' when I arrive back in Yangon.
Thus, after two hours of blogging (hurrah for Jessica, Jerome and Barbara who acquainted and helped me with turning my smartphone into a hotspot: no more internet problems!) and retrieving my credit card Pin code in the process – I decide to go in search for an ATM to see if it works.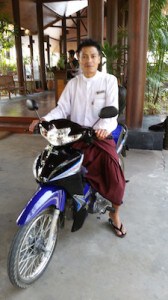 The Reception girls tell me that the nearest one is in a hotel 15 minutes by car away from here. As there appears to be no taxi available, the only option I have is to go by motorbike with one of the hotel boys. My stomach cringes. Sitting at the back with my flailing robes, in the coastal traffic, without a helmet (they don't do helmets here)?
However, my desire to have clarity about my financial situation wins over my fear. So I pull my skirts together, firmly hold on to the slender boy and off we go. I keep telling myself to breathe and relax and merge with the movements of my driver.
Actually, the country road is not by far a busy as I feared and the breeze in my hair and around my body is very pleasant. My chauffeur's driving style feels reassuring. Gradually I loosen my grip and start enjoying the ride. We pass several picturesque villages and a scarily narrow plank bridge and safely arrive at the hotel where they have the ATM.
The ATM is not in the hotel but in a narrow glass booth, fortunately air-conditioned. First I try again my Maestro cards (it says they DO Maestro cards here), but alas, ING Bank again appears to be the exception. So now the crucial moment has arrived in which will be decided whether I will spend the rest of my Myanmar days as a rich woman or a beggar. I must say that I have not used my credit card Pin code for years, so…
I opt for the maximum withdrawal, which is 300.000 Kyat (300 US dollars), press my code and…. wow! The machine starts rattling. I am a rich woman again!
Only just can I stop myself from hugging my driver (hugging is not a common thing in this country J), but he beams as he sees my joy and relief.
Back we drive and this time it's pure joy!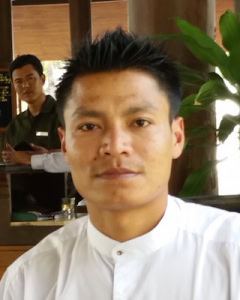 After I have taken my driver's picture (what a beauty!) and thanked him profusely, I go to my room to lie down for a bit before I have the interview with Kyaw.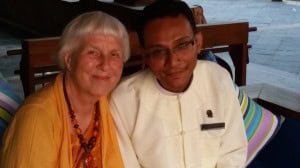 It is Kyaw's first time to be filmed in this way and he is a little shy. Nevertheless he makes a good – be it a little formal – story (I hope it is audible – I do not have a separate microphone yet). However, the real interesting talk starts when I put away the camera. Soon the laughter is back and we have a good time till about 6:30.
When we say goodbye he invites me for a party tonight. There is going to be a Karaoke competition with hotel staff from different departments in Myanmar on the tennis court where we had our yoga rounds. I have plans to eat out at the excellent local restaurant where we had the complimentary dinner with the yoga group, so I say I may drop in a little later.
First I have a drink of orange juice on the hotel restaurant terrace and then lie down for a little snooze.
Around 8:00 p.m. I go to the lobby to ask for a flashlight to light my way to the Silver Blue Sea restaurant – 8 minutes away. One of the girls, whom I half-promised to join her for a look at the party after my drink, comes with a huge flashlight, grabs my arm and decidedly directs me to the tennis court – where the crooning has already started an hour ago – while explaining a little eproachfully that she has been waiting for me all the time. Ah, poor thing… I should have dropped by to tell her about my snooze and eating-out plans…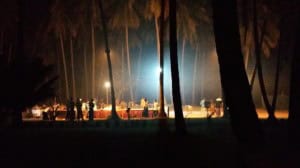 Anyway, my appearance on the scene is heartily welcomed by Mr. Kyaw, who ushers me to one of the round guest tables and introduces me to a couple of officials and invites me for the buffet of soup, salad (fried) rice, chicken and cooked veggies, which has already been visibly frequented.
I seem to be the only foreigner here and feel quite honored to get this chance of having an inside taste of a local partying.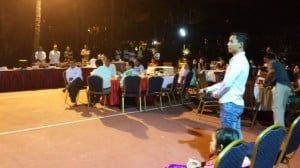 As I enjoy my dinner I watch the different singers doing their karaoke thing with their backs to the audience, reciting the text on the big screen. I walk to the front to take a few shots.
On the way back to my table I spontaneously start moving and dancing to the music (I have seen nobody dancing so far). Immediately people start clapping and cheering. I am surrounded by people filming and taking photographs. This must be something new to them!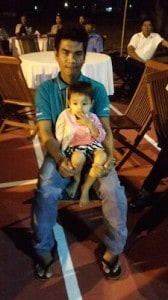 A little later it occurs to me that it would be nice to sing them a song as a token of my appreciation. I suggest this to Mr. Kyaw – and he is delighted. So when all the singers have had their turn and are waiting for the outcome, I take the microphone and sing them this little Osho song:
I love you
I love the way you move my heart
I love you
I loved you from the start
I love you
I love the way your smile
takes my breath away
I love you now
and I loved you then
and I'll love you till the very end
of time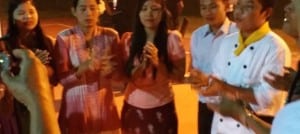 A warm applause is the response. It is wonderful to feel the heart connection with this community.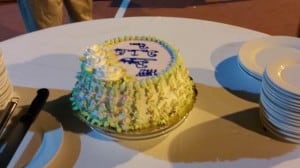 After the winners have been proclaimed, a big cake is being cut and distributed for dessert. Then people start walking around to feed their loved ones and friends bits from their plate (apparently a local habit). I feel moved as lots of spoonful's are also offered to me. My motorbike driver is one of those who express their appreciation in this charming way.
Then it is time for me to retire to my room and have a good sleep. Before checking out around nine tomorrow I want to have a last little float in the sea and swim in the pool.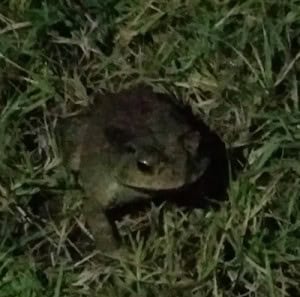 Mr. Kyaw escorts me with a flashlight across the dark lawn to my room . On the way we encounter a big toad in the grass. As it sits frozen in the flashlight beam I manage to take a picture.
Back in my room I have a nice hot shower and then sleep like a log.
TUESDAY, FEBRUARY 16
The morning unfolds according to plan. After my swim and a last tasty breakfast I am in the lobby a quarter to ten, all packed and ready for the bus that will pick me up for the journey back to Yangon.
Mr. Kyaw is there to see me off and surprise me with a goodbye present: a colorful paper parasol. I am almost in tears.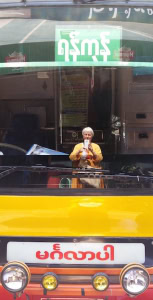 This bus is bigger and more modern but hardly more convenient. The seats are a bit more comfortable, though not adjustable. Also here, there is no toilet on board. Again my downy pillow is my saviour.
The first hour I have the two (narrow) seats for myself and can sort of sprawl all over the place. As more and more passengers are picked up along the way, I have to pull myself and my stuff together, to make space for a young local to sit next to me. He immediately starts puking into a plastic bag. Once his stomach is empty, he seems relieved. He does not speak English, so no need to socialize.
I shorten the time by occasionally finding a position from which I can open my laptop and continue writing my blog.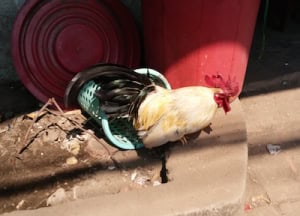 My bladder manages to keep up till the first stop (after 2.5 hours), where I buy a piece of watermelon, an apple and a corncob – and watch a hen with her chickens. The rooster plays hide and seek with a plastic basket that just fits.
We arrive at Yangon after five hours. That's quicker than I expected!
However, the bus station turns out to be on the outskirts of town and it will take another hour+ and 15 dollars to get to Thanlwin by taxi. That's a setback.
OK, let's have a pee before we move on. Fortunately they have decent toilets here.
After a silent ride (no English spoken either by the driver or the other two passengers) I am happy to see the gate of Thanlwin guesthouse. I am cordially welcomed by the staff with an ice tea and a chat to catch up.
With Tjoh I discuss the various options for moving on to Bagan tomorrow. By bus it is very cheap, but a ten-hour ride – along relatively good roads. A flight will costs $ 110… OK, I'll take the flight, because the idea of spending another day on the road does not attract me at all. Then, from Bagan to Inle Lake I may have recovered enough to venture taking the night bus. However, to get back to Yangon from there on Saturday, I'll grant myself another flight.
Tjoh gets to the agency by phone just in time before closure of the office. Unfortunately there are no flights to Bagan in the afternoon. I'll have to get up at 4:00 a.m. to catch the six o'clock flight. That is going to be a short night…
The agent will have the tickets for my flights to Bagan and from Inle back to Yangon delivered tonight.
WEDNESDAY, FEBRUARY 17
Now that the flight has been confirmed I can relax. Time to celebrate with a cocktail in the Sedona Hotel. I find my bar manager Kok Aung busy on the phone. After a while he greets me cordially, but I can see that he has a lot on his sleeve, so I urge him to continue doing what he has to do.
He assures me that he'll be back and off he goes.
I slowly sIp my solitary cocktail and delicious crisps in an empty bar with psychedelic light effects, occasionally exchanging smiles with the bartender.
Towards seven it is time to meet the lady who comes to deliver my flight ticket. I pay and leave, telling the bartender to give my regards to Mr. Kok Aung.
Back in Thanlwin the lady is not there yet, but a lot of new guests have arrived and I enter into a conversation with a Chinese and a Vietnamese girl, over a meal of seaweed salad and rice.
They are all ears when I talk about my life and work and want to know all about how to come to terms with oneself and how to find one's purpose in life.. As I am fading fast I give them my business card and invite them to stay connected about my retreats.
Meanwhile I hear that there is an electricity strike in the neighborhood and that the light at the dinner table works thanks to Thanlwin's emergency generator
However, the bed lights and the airco in the dormitory (3 bunk beds this time) don't work and there is no hot water in the showers. Moreover, the ground floor bed I had booked appears to be taken.
In the end things are sorted out and I get my booked bed allright.
It is stifling hot in the room and with only one dim emergency lamp on the ceiling it is hard to sort out my things and repack my bags. Fortunately Win-Win comes with a flashlight.
When the job is done I am too tired to take a (cold) shower and after having brushed my teeth and had a quick wash I am grateful to stretch out and then curl up.
THURSDAY, FEBRUARY 18
Though sleep does not come and the heat is oppressive, I sort of rest and slumber despite the tossing and turning – until getting-up time: 4:10.
The taxi driver is punctual. The night watch surprises me with a boxful of watermelon pieces for the road – and together with a French couple we head for the airport by streets where at this hour there is little traffic.
We have time when we arrive and the French couple treat me to a coffee. It is good , hot and strong.
Then we part ways, as we fly to Bagan with different companies.
The plane is relatively empty and there is no passenger next to me.
With a sigh of gratitude I sink into my pillow for the hour and twenty minutes that the flight will last. Unawares of the adventures and challenges that lie ahead…
Bagan is a small airport. As soon as I exit, two, three taxi drivers approach me. I pick the first one, an elderly man with a big nose and a friendly countenance.
During the 20-minute ride to the Zfreeti Hotel he tells about his work and family and informs me about e-bikes and e-scooters. For 35.000 Kyat he is also available with his car for day-trips, he says. I tell him that my preference is an e-scooter, which will allow me to roam about independently. He shows me a shop close to the hotel where they have brand-new bikes. It appears to belong to his daughter.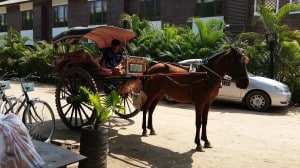 The hotel is situated at a sandy dirt road. It is 8:30 a.m. when we arrive. In front of the hotel the horse-riksha driver is patiently waiting for clients. The carriage look very light and elegant.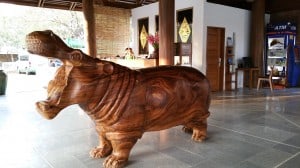 The spacious lobby is dominated by a huge wooden hippo. The friendly staff informs me that I cannot check in until noon. However, I can leave my bag in the store room and make myself comfortable.
When I look around I see that they do have a swimming pool. And oh… I left my swimming outfit in the big suitcase in Yangon, thinking that these four days no swimming pools would cross my way…
Well, maybe I can find myself a slip and T-shirt that will allow me to decently enjoy the refreshing waters. When asked, one of the front desk staff, a young man named Zaw, says he can come with me to the shopping street, which is close by. That seems to be a good idea. Then I can also rent one of those e-motorbikes.
We chat on the way. His English is remarkably good, though I have to get used to his pronunciation. He is 22, and has been working for this (Chinese-owned) hotel since three years. His family lives in a nearby village. They are farmers.
When we arrive at the e-bike shop I opt for a bright green one. But no, they insist on me having the newest model, which is blazing red – with the saddle still wrapped up in plastic. OK, I'll go for that one. 5 Dollars for the whole day.
As I am still unfamiliar with the driving, I ask Zaw to drive us to the clothes store. He is an experienced motor bike driver, he says, so it feels sort of safe to climb up behind him and take the passengers' seat. It is a bit scary, though, as part of the dirt roads are sandy and thus slippery. But I notice that Zaw is familiar with that.
The first shop does not have what we are looking for. This is a quiet dirt road and before we head on to the main road for the next shop, Zaw instructs me on how to drive the vehicle. It is amazing how completely soundless it is! And how easy to drive… Turn the key, accelerate with the right handle and whoosh – there I go.
For now I still feel too uneasy to have him behind me as a passenger. So he takes over and we head for the next shop.
There, after some rummaging in the stocks, the girl finds me a black T-shirt (with a golden imprint of a man's face with a temple on his head on the front) that sort of fits me. I have my doubts for the red pants that complete my outfit, but as they have no larger items I decide to just take the gamble.
Now that we have covered the errands I really feel like a brunch and I invite Zaw to join me. He is not hungry, but will have a drink. There are three options for places that he suggests. The first two are still closed, so we land in the flowery courtyard of The Black Bamboo, where we are the only guests.
As we wait for our order (I have scrambled eggs and a mixed fruit lassie. Zaw takes a chocolate lassie) I ask Zaw to tell me a bit more about his life.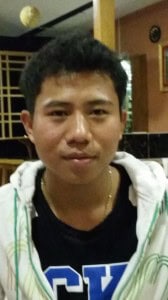 He is 22 and only has one elder sister who had her first baby a couple of days ago she. Yesterday he went to see her in the hospital. He lives in Bagan now, where he has rented a room with a family who lives a little outside town. He has a motorbike, but it right now it is needs repairing, so a friend gives him a lift from and to the hotel. Right now he has the night shift, which means that he works from 10:00p.m. till 6:00 a.mThen he tells me about his dreams and ambitions. He would like to go to Japan, to work in a hotel or elsewhere in the tourist business. He thinks there is more money to earn there than he does in the Zfreeti, where he gets 75 dollars a month. That is more than what the average Birmese family has to get by with.
However, it would take an investment of approximately $ 6,000 to get started in Japan, a friend of his knows. So he has also been thinking of going to South Korea, which would only cost $ 3,000 to get started. The problem there is, that you have to pass an entrance exam in Korean. He is willing to learn that language, but with his long work shifts in the hotel, there is not much time to study.
So, for the time being – to remain within his possibilities – he is aiming at becoming a tour guide. For that he already passed an exam in Yangon, which he failed, even though he thought his answers were as good or maybe even better than those a friend of his gave, who did pass (probably – he thinks – because he paid $ 3,000 bribe money).
Actually, he is waiting for a second chance, because there is going to be another exam end of February here in Bagan, where there may be a little less corruption.
He has a Galaxy smartphone, just like me, but would love to have an iPhone, which so far has been out of reach, just like a good laptop, which would require at least $ 500.
When I show him my Macbook he is in awe. However, he does nor show any signs of jealousy. It is as if he accepts that in the culture where I live things are possible which are far beyond realisation for most people in his country.
Meanwhile I have decided to stay another night at the Zfreeti – if that is possible – and that I am not going to take the bus tomorrow night, but will fly to Heho (that name reminds me of a tune in Snow White and the seven Dwarfs from the Disney film) the next morning.
Zaw knows a travel agency in the market street not far from here and offers to come with me. After all, he is free and does not have to work until 10:00 p.m. tonight.
So when we have finished our lassies – and me my scrambled eggs and toast – we head for the market street.
The agency is a small office. The friendly man at the desk says that yes, there is a flight to Heho the day after tomorrow at 9:00 a.m. Costs: $ 85. Flight duration: one hour and ten minutes, OK, I'll take it and save myself eight hours of bumpy roads during the night.
However, they do not accept credit cards. And the cash I have is not sufficient. No problem, the ATM and the Bank are next door and I have to top up my cash anyway to pay for my room.
Oh Boy…! unlike the ATM in Ngwe Saung at the coast, this ATM machine declines my MasterCard. So we walk into the Bank to see if I can withdraw money with my creditcard there. No, I cannot.
What to do next? I still have 125 Euros and an equivalent of € 110 in Thai Baht. So I can change those into Kyats. Not right away, though, because money changing starts at eleven and it is 10:30 now.
Zaw suggests that we go to another bank + ATM a little further on in the street, on the other side. Alas, this machine also declines my card – and the Bank is closed. Zaw does not give up. There is one more Bank, near the top of the street.
Here the ATM refuses again. However, there is a money changing desk that is open!
They do change money. But not Thai Baht. They look at my 125 Euros and hand me back the two tenner's ('That is a new version of your coin which our Bank does not support yet") and the five Euro note: there is a tear and it has been glued with scotch tape.
But at least we have € 100 worth in Kyats now, so we can pay for the flight to Heho.
After we have arranged that, Zaw suggests that we drive to his house, ten minutes from here: he thinks it is safer for me if I wear a helmet when driving the e-scooter, so he will lend me his – as he cannot use it anyway until his motorbike has been repaired.
Zaw's home is a little out of town at a sandy road. The people he rents his room with greet me cordially in their open living room and offer me a seat and a glass of water. A granny is sitting in a corner, watching TV. They do not speak English. There is a pile of sacks on one side of the room. It appears they have a distribution point for rice.
Zaw goes to his room and gets the helmet. However, the clip appears to not work properly. So after I have had a pee in the (clean!) crouching toilet (a we head for the neighbors across the road, to borrow the helmet of his friend who lives there.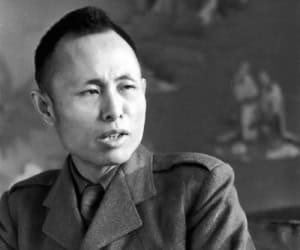 Smiling welcoming faces again. In the patio a whole gallery of photos, portraying the old president, general Aung Sang (murdered in the sixties by the military Junta), and his family.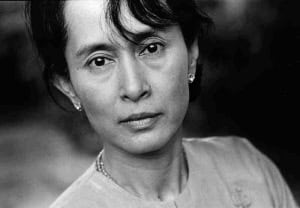 And of course lots of pictures of his charismatic daughter Aung Sang Suu Kiyi (67, locked up in her home by the Junta for 15 and later another 7 years during her life) who won the elections last November with 90% of the population's votes and is now running for presidency. Before March 17 this year it will be decided if the law may be changed in such a way that her being half-English no longer stands in the way of her becoming the President of this country.
OK, we get the helmet – and it fits!
When we head back to the other side of the street we find that Zaw's landlord has put the e-scooter – which was standing in front of the door, with my handbag on it (!) – inside. This care and helpfulness is very typical for the Myanmar people…
Zaw is going to sleep now. We'll meet again tonight around 10:00, when his night shift starts. Now it is my turn to drive.
I say goodbye to the hospitable family and off I go.
Ah, what a joy to ride! Though I preferred the wind blowing through my hair, seated behind Zaw, the helmet does give me a greater sense of security now that I drive myself.
Without any problem I find my way back to the Zfreeti hotel, where I can check in now and pay for my room in cash.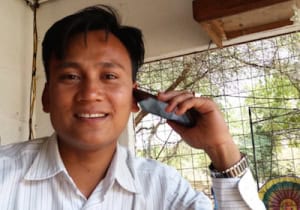 I ask Zaw's slightly older colleague Myat Min if I can stay another night in the same room tomorrow. That appears not to be possible, but I can change to another room (superior) for a special rate of $ 70 instead of $ 90 (the room I have booked costs 60). I accept.
Then I am escorted to my room on the ground floor. A nice, comfortable one, with two large beds, TV (all my hotels had TV so far, but apart from a quick glance in the first one I haven't watched any), airco and a bathroom. Before I take a shower I decide to have a swim. The newly bought T-shirt fits. The Bermuda pants… well, with some dedicated effort I manage to wriggle my big bum and belly into them – and with the T-shirt over it it does not look too ridiculous.
The swimming pool is nicely decorated.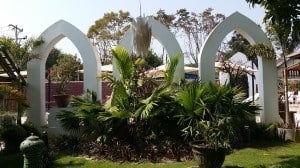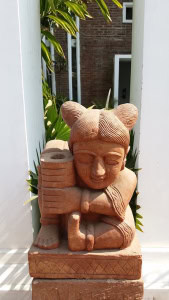 Once in the refreshing water (I am the only one using the pool, there are a few people sunbathing around it) it is pure bliss again. Effortlessly moving my body, floating on my back gazing into the blue vastness of the sky, time disappears and thoughts drift away.
After a nice hot shower (which floods the whole bathroom – that will dry up, however, in less than half an hour by this temperature) I unpack my bag and discover that I did bring my black swimming slip and bra… So all that shopping has been for nothing! Never mind, we had the fun of it.
Then I sit down to count the cash I have and make the calculations for the costs to come between now and Yangon. It is a bit of guess what I shall need for:
– tonight's hotel bill of 70 dollars plus the laundry bill
– the taxi taking me to Bagan airport the day after to-morrow (half an hour)
– the taxi taking me from Heho airport to Inle Island (45 minutes)
– the hotel in Inle Island
– the taxi back to Heho airport
– the taxi from Yangon airport to the guesthouse (half an hour)
Then there is lunch with Nora in Yangon, a taxi to Juliana's house if I accept her offer to stay at her place – or the costs of the Thanlwin guesthouse is I stay there…
One thing is clear, I cannot afford to pay $ 70 for staying in this hotel to-morrow night. I'll have to find a cheaper place.
I get to work. Fortunately the Wi-Fi works, for a change. I surf the internet, find Booking.com and roam the offers for Bagan. Lo' and behold: there is a brand new hotel, The Emerald, just outside Bagan, which offers single rooms for $ 35, including breakfast.. With shower, airco, TV. And even a swimming pool!
OK, I book it and then cancel my booking with Zfreeti for tomorrow. The rest of the afternoon I spend writing my blog – offline, as I cannot get internet connection any more.
Then I do my calculations again and find that even with the reduced fee for tomorrow's hotel I will probably not make it to Yangon, even if I refrain from spending anything on eating and drinking.
I go to Reception, to discuss tomorrow's transport to the Emerald – and my situation.
Myat Min, who is on duty, asks me if I want to do any sightseeing in Bagan. Well eh… I would really like to, but my cash situation does no allow it. I tell him that I have hardly enough Kyats to cover my costs till Yangon. Besides that, all I have is $100,- worth of Thai money, which the Bank in the marketplace did not want to change.
His eyes twinkle. "You know, there is a money changer in the outback of Bagan, who excepts all species. And if you take a taxi there right now, you will be just in time to experience the sunset from a famous pagoda which is on the way.
Thus it happens. I get my view from the Pagoda just before the sunset and have a walk around the impressive old building, though I refrain from climbing the steep steps to the top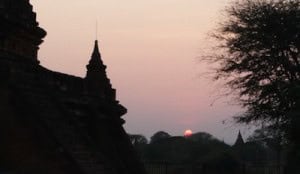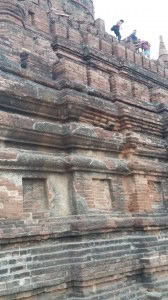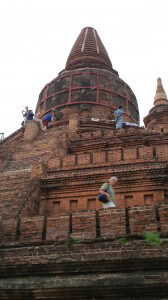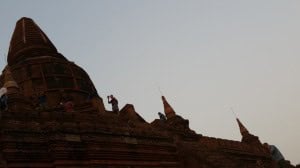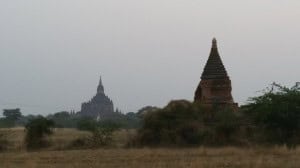 When I have savored this little taste of Bagan's culture – as far as my preoccupied mind allows – and dusk is setting in, my driver takes me on a tour to the outback. Dirt roads, huts, bonfires in the open land, silhouettes of pagodas, individuals and families preparing for dinner. A magic world.
By the time we arrive at a big souvenir shop it is pitch dark. A stern but friendly woman is busy helping a customer to change his foreign banknotes. Then she comes and sits next to me.
Apart from my Thai Bahts I still have my two new 10 Euro bills, which previously the Bank in the market place refused to change. This woman takes them, though she refuses – understandably the torn € 5 note with the tear and the scotch tape.
Wow! I am saved. The contraction in my stomach slowly releases.
I politely decline the woman's request to buy some souvenirs (though I woud have loved to):I have to be really careful with my new cash kitty. Relieved and thankful I lean back in the taxi, while the driver takes me back to the Zfreeti.
There, Myat Min congratulates me on the successful operation. And he has a little present for me: a loaf of white bread and a whole cake in a plastic container… 'To survive, in case you cannot afford meals tonight and tomorrow.'
Although in my new situation I am not in dire need any more, I am moved to tears.
In the evening I see Zaw again, who brings a friend. They come to my room and Zaw suggests that I save some cash by not taking the hotel taxi to the Emerald hotel tomorrow, but to go by e-scooter, with him driving and a friend coming with his motorbike to transport my bag. After that he will return the scooter to the rental shop.
Though my gut tells me that this is not a good idea – as the new hotel is far away, we probably have to go by sandy roads and Zaw does not seem to have a clear idea of where exactly it is – I cannot refuse his generous offer.
We talk till late in the evening – and then I surrender to a deep sleep.
THURSDAY, FEBRUARY 18TH
The next morning I wake up with the familiar cramps in my stomach. I really apprehend moving to the other hotel by the means of transport which Zaw suggested.
Nevertheless, after a little swim and a nice breakfast on the rooftop I set out to the e-scooter rental, to prolong my rent with one day.
In the lobby Myat Min meets me. He has heard from Zaw about the expedition he has in mind – and just like me he does not think that it is a good idea. I can afford the hotel taxi now – and he offers to take me to the Emerald Hotel personally, with a discount.
I feel sorry for Zaw, who was so spontaneously ready to sacrifice part of his day off to helping me out. Myat Min smiles and suggest that we give him a phone call. He speaks to him first and manages to convince him to give up his plan. Then he hands me the phone and I take time to let Zaw express his disappointment, console him and thank him for his good intentions.
We agree that he will come to see me tonight in the Emerald, for a goodbye-chat.
Great is my relief.
Meanwhile Myat Min has phoned to the bike-rental lady and a couple of minutes later she comes to pick up the e-scooter. I only have to pay $ 2.5 for the extra half day. Then he comes up with a suggestion for my stay in Inle Lake tomorrow night. He knows a family hotel, Nan Da Wan, which is good, close to the Lake and probably cheap. Shall he call them to check? Of course, that will save me time surfing the Booking.com offers again.
He calls – and then beams: $ 20, with shower, TV, Airco and breakfast included! Well, that's settled, then. As he confirms the booking, he also organises a pick-up for me from the hotel.
I have already packed. So I get my things, check out, pay for the laundry – I had a couple of clothes washed yesterday – and off we go.
Surprise! Zaw had asked Myat Min if he could join us to the Emerald, so that he knows for tonight where it is. We pick him up near his home on the way.
After a cosy half hour ride we arrive at the beautiful Emerald hotel – which is absolutely out of nowhere and indeed brand new. Some of the premises are still under construction. There are only a handful of guests.
As I check in, my companions chat away with there colleagues of this hotel – apparently there is a lot to share and to laugh about – and when I am done we chat away together for another ten minutes before they return to the Zfreeti.
One of the staff takes me to my room – a nice one, and in spite of the lower rate no less comfortable than the Zfreeti one – and show me the swimming pool.
I unpack only what I need for this night and lie down on one of the beds for a while, to unwind and feel the gratitude for the course of events that has brought me here. This is a peaceful, silent place, with only the sound of birds.
Before taking a swim I answer a few emails from my smartphone and decide to do some blogging (the wifi works in my room!,) on my laptop, as I am lagging seriously behind and do not want to lose the journey details from my memory.
I look around for the brown velvet computer bag with my iPad and Macbook…. – and don't see them. Oh my God… it is not there! Back to the lobby. Nope. Shit, it must be still in the hotel taxi then. I remember having put it behind the passenger seat, together with my handbag and the survival bag with bread and cake. When exiting from the taxi I grabbed the handbag and the survival bag, but forgot the most important part of my belongings…
Fortunately I have Myat Min's phone number. The front desk lady helps me to call him. He is just back in the hotel. Has not seen the bag (it is dark and the floor of the taxi is also dark), but he will have a look immediately. I wait and minutes pass by in apprehensive anticipation…
There he is – and yes! He has found the bag. I heave a sigh of relief.
As Myat Min has to work till late tonight, he cannot bring the bag to me personally. But he will contact Zaw (who has gone home to sleep), as he is planning to come visit me tonight anyway.
Fifteen minutes later Zaw calls me on my smartphone (hurrah for local SIM cards). He will borrow a motorbike tonight (his own still being out of order) and will pick up my computer bag at the hotel before coming to see me around seven.
I can relax now. Blogging will be a bit difficult under the circumstances, but I manage to write a couple of paragraphs on my smartphone in an email that I will send to myself and then upload to my blog from my laptop.
When my arms and shoulders get tight it is time for an afternoon swim. I enjoy giving my sedentary body some nice aqua-exercise. Then I lie down on one of the stretchers around the pool, to let the waning sun shine on me.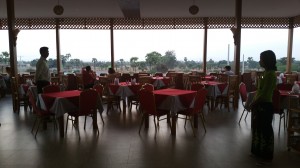 It is time for a recount, to see if I can afford some dinner in the upstairs restaurant with a wide view. Taking some slack for eventualities I come to the conclusion that I can spend the equivalent of ten dollars. No need to address the dry white bread and cake of my survival kit today.
The dedicated restaurant manager – who has asked me before if I was going to be his guest tonight and to whom I have explained my limited situation – is delighted to show me what all I can have for that amount. I seem to be his only customer tonight…
I opt for lentil soup, springs rolls, papadams and a beer.
Indeed, I am on my own here, till ten minutes later a young couple appears. They sit at the other end of the room.
Whoops…! I see myself overloaded with five spring rolls, a huge bowl of soup and a plateful of papadams… After the soup, one spring rolls, a couple of papadams and a Myanmar beer I am satiated. So I return to my room with a big doggy bag. On the way I check with the front desk if they have booked my taxi for tomorrow morning 6:15 a.m. My flight to Heho departs at 8:15.
It is almost seven. Zaw may arrive here any moment.
However, by 8:30 p.m. he has not shown up yet… Slowly the contraction/worrying machine gets into grind again, spawning worst-case scenarios and suspicions: could he have overslept? Could he maybe not have been able to borrow a motorbike? Could he have had an accident? Could he have forgotten how to get here, or lost his way in the dark? Could he perchance have come to the conclusion that keeping the computers would be more gratifying than taking them back to me (here is my inner thief speaking)?
OK, I give him call. Yes, he has managed. to organise a motorbike. He has collected my computer bag at Zfreeti' s and is now waiting for a friend to join him to the Emerald. However, the friend also has to organise a motorbike. He expects they'll be here around 10:00 p.m.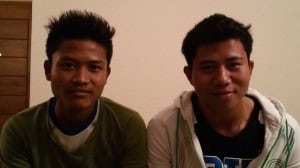 Finally it is 10:30 when they arrive. I am overjoyed and give Zaw a spontaneous hug. Then I shake hands with his friend, who appears to only speak two words of English but seemingly enjoys accompanying his friend on this expedition.
We go to my room and when I have offered them water, spring rolls (no, thank you) and papadams (OK, just a little bit) and we have had a little exchange, I suggest to Zaw that we spend our last half hour together upstairs in the empty restaurant with a filmed interview about the Two Questions.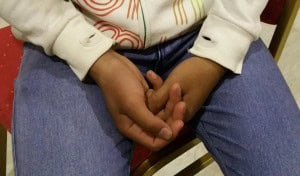 He is a bit embarrassed, though visibly honored. So, up we go – and while the two of us are at it, his friend keeps himself occupied with his smartphone.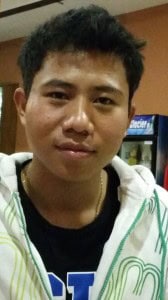 Then it is time to say goodbye. Zaw says he has had a wonderful time with me. He will miss me… I thank him again for his big heart – and we promise to be in touch on Facebook.
That night I have a wonderful sleep…
FRIDAY, FEBRUARY 19TH
Breakfast starts at six, so I have fifteen minutes to gobble up a slice of toast with a fried egg and one with jam and swallow a cup of tea. The taxi is right on time and it takes me to the airport in less than half an hour.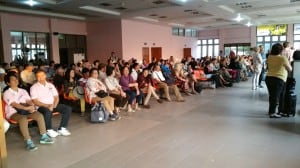 The flight to Heho is only forty minutes. This a a very small 'family' sort of airport.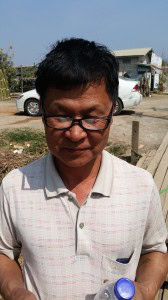 As soon as I exit into the arrival hall I spot a man with a big sign which reads 'MS. YOYO'. Ah, what good service! Bless Myat Min…
The driver appears to be the owner of the Nan Da Wann hotel. It takes longer than the flight to get there: forty-five minutes.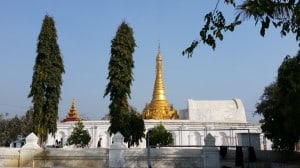 On the way he stops at a temple, giving me the opportunity the have a look inside and around.
In the courtyard a woman selling hats approaches me. Unfortunately I have to disappoint her: my cash does not allow me to afford such luxuries J. I do give her the small money I have, though. Then we sit together on a bench, join hands, smile at each other – and I am allowed to take her picture.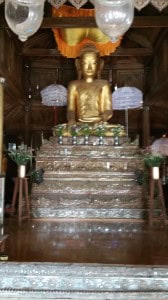 The inner sanctum of the temple is a – not too spectacular – golden Buddha statue. Amazing, all the devotion and handicraft that goes into adorning these places of worship…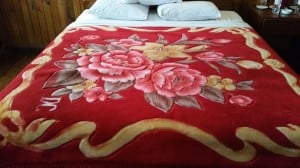 We drive on and arrive in Inle. The Nan Da Wann is an old family bungalow hotel, a bit messy but cozy.
Two cheerful elderly women bid me welcome. What I did not expect at all: here I can pay with my credit card! Including the taxi pickups from and to the airport plus a possible boat trip on the Lake. All of a sudden I am a tourist again – with at least $ 50,- in the pocket – an average monthly Myanmar income..!
So yes, I rent a boat driver for the afternoon, who will take me in 45 minutes all the way from the northern part of the lake, where we are, to the southern part, where there is a Cat Sanctuary, which our yoga teacher Jojo said is a must-see. On the way back we'll also visit a weavery and a temple.
To be sure, I insist on paying the bill total with my credit card right now. OK. I type in my code and we wait…. and wait… – nothing happens and the procedure is cancelled. We try again twice – in vain. I look at my hostess in despair: if this does not work, I cannot possibly afford the excursion… She smiles reassuringly: to-night it will work – it is just the WiFi that has it's whims.
I decide to trust her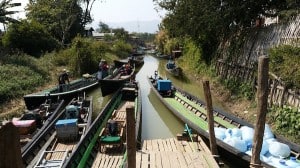 The long, gondola-like boats with out-board motors are moored in a nearby creek. Our boat has just one chair standing in the middle. The driver is a slender young man. It takes a while for him to manoeuvre the boat past the other boats in the creek.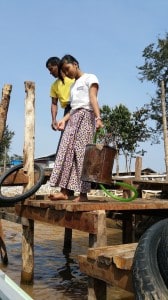 Then we enter a large canal that eventually opens into the vast wide Inle Lake. Before we take to it we stop to refuel. The girl at the landing has seen us coming and stands ready with the jerrycan.

The Inle Lake is famous for its floating gardens, patches of growth on the surface, with no land underneath.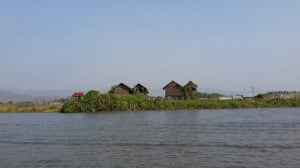 On and around the lake a lively industry has arisen, manufacturing all kinds of products in little huts or in large compounds on stilts.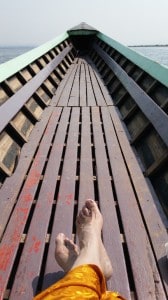 I enjoy the fragrance of the water, the wind in my hair and the sun on my face, though after a while I have to protect myself from sunburn with my scarf.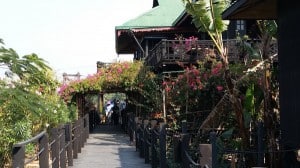 It takes us 45 minutes of brisk sailing indeed to get to the flowery Cat Sanctuary, a heritage founded by Englishman David Boyle and his Burmese friend Yin Myo Su. They had to travel the world to find specimens of the original brown-furred cat, that had almost gone extinct in Burma.
Unfortunately I am too late for lunch (lunches here are special, I heard).
However, I enjoy a video presentation of the project and one of the cat caretakers, a nice young lad, gives me a tour around the quarters where the lazy cats have their home and garden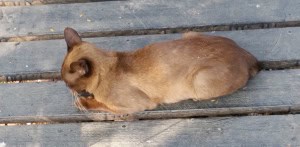 They started four years ago with seven cats – now there are 39.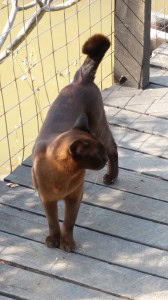 A selection of them will find their way to serious careful breeders in the country.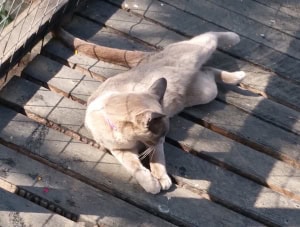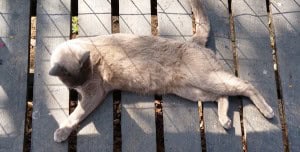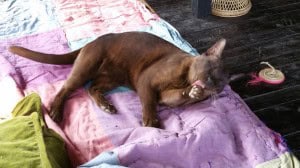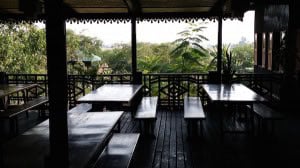 When I have seen ik all, I go up to the restaurant for a beer and a view.
Then I join my boatsman and we sail on to the weavery – just around the corner from the Cat Sanctuary.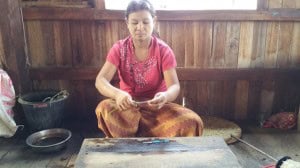 Here they give demonstrations of the old trade.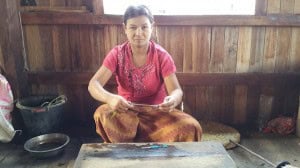 It is fascinating to see how the woman extracts almost invisibly fragile fibers from the lotus stems, drapes them over a stone slab and – when she has arranged about twenty of them – starts moving her hands back and forth over the slab to roll them together, thus creating a thin thread which, intertwined with other threads by means of a spinning wheel, produces a yarn strong enough to be used for weaving.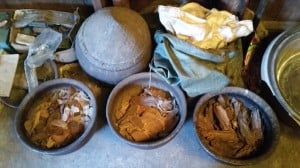 This yarn is either used in its natural straw-like colour, or dyed in brown shades obtained from different kinds of bark.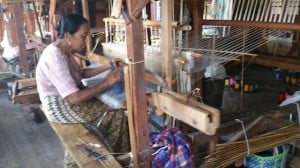 The people working in the weavery (mostly women, old and young) produce bags, shawls, tapestry and garments out of (a mix of) lotus yarn and silk.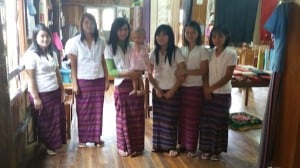 I hear that it takes a month of work to produce one scarf out of lotus stems.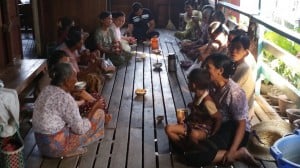 And from Zaw I learned that most workers in Myanmar earn between $ 30 and $ 50 a month, with which they often have to a support a whole family…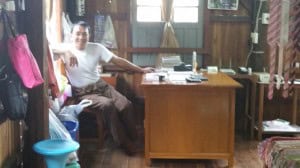 Even so, when I hear from the manager that I can pay by credit card, I cannot resist the temptation to buy a modest lotus scarf. It costs a hundred dollars: three monthly wages…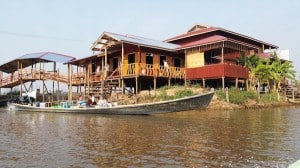 On we go. We sail through canals connecting the 'industrial' areas to get to our next destination.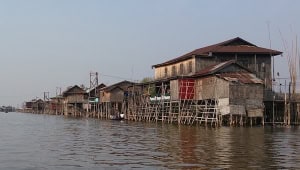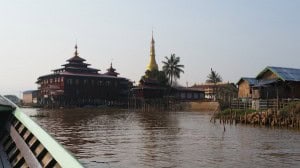 Our last visit on the way back is a giant pagoda/temple.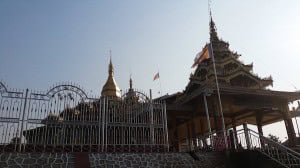 The roofed portal that leads to the stairs is lined with people selling food and handicraft of all sorts. Fortunately they are not as obtrusive as in India.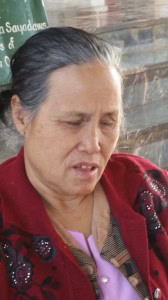 I pay a small amount of money to an old lady and her family sitting at the foot of the stairs – to be authorized to take pictures inside. Monks, of course, are not to be photographed.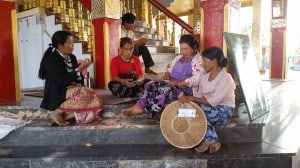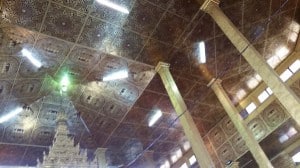 The big hall is ornamented with gold and glitter.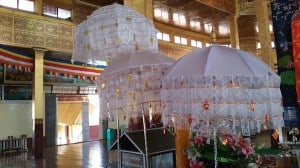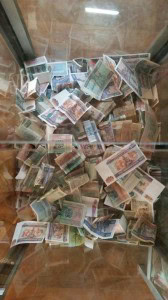 Around the elevated inner sanctum there are big rectangular containers filled with banknotes by people that hope to see their prayers answered if they donate money.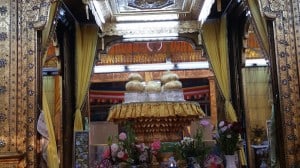 A flight of steps leads to the inner sanctum – a pile of big round gold-plated stones.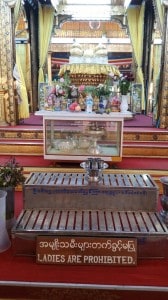 I am about to go up, when I see a sign at the foot of the steps that reads: 'Ladies are prohibited'. OK, I have seen enough :-). Time to go home!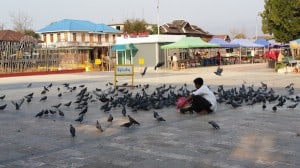 Outside the temple, next to the entrance portal, is a big square. I take some time to enjoy the sight of a father and his little son who are feeding the doves.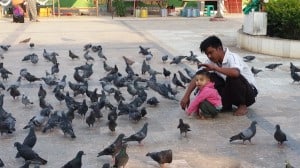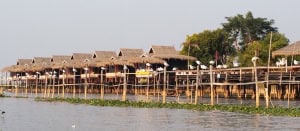 On the way back we see rows of seagulls sitting on fences and poles, enjoying the mild afternoon sun – like I do, with the occasional showers of lake water caused by the speed of the boat cooling off my body.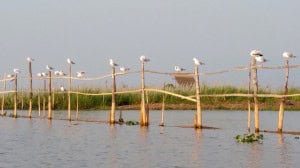 There is a bit of panic when – on taking leave from my boat driver, who has nicely manoeuvered us back into the creek – I discover that my glasses are missing: I must have left them somewhere on the way (fortunately I have a spare pair in the big suitcase). A little later, in the car that takes me back to Nan da Wann Hotel, I find them on the bottom of the front pouch of my handbag… Well, at least I have had my shot of adrenaline…
In the lobby I have a chat with the two ladies, and they give me some advice about where I could have a nice vegetarian dinner (I can afford that now!). Then we try my credit card again and wow… this time it works! I can afford a meal now.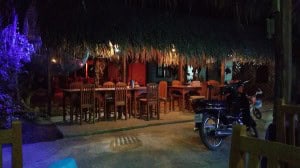 The Unique family restaurant, in a side street close to the hotel, seems like a nice place.
A whole company of aunties, grannies and cousins who were sharing a long table is just leaving. But for a couple of children who play around between the tables I am the only one there now. The owner's shining motorbike is standing prominently in the dining room.
The pumpkin soup and buttered green beans with fried rice that they serve are excellent – and the two glasses of tasty local red wine make my dinner complete…
I return to my cosy wooden room with the one big bed covered with a flowery blanket, have a shower and then go for an early sleep: to-morrow at seven the hotel taxi will take me to the airport for my flight back to Yangon.
SATURDAY, FEBRUARY 20TH
After a cold shower (the hot water suddenly does not work any more) and a breakfast of pancake with honey and toast with omelette I curl up with my pillow on the backseat of the car that takes me to Heho Airport. This way I don't have to watch the sometimes scary traffic manoeuvres of the driver. We arrive largely on time. My driver, the hotel owner, refuses to accept the tip I am offering. We take leave cordially.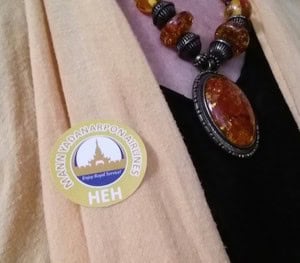 I find the in-check desk of Yadanarpon Airlines and get their sticker pasted onto my chest.
Then I hear that the flight has been delayed by… three hours!, because of a heavy fog in Yangon preventing 'our' aircraft from coming this way. Oh, what a drag… Now I have to cancel my lunch appointment with Nora (one of the yoga participants) in Thanlwin Guesthouse.
After a minute or so of frustration I decide to make the most of the situation.
I find myself a seat in a quiet part of the departure hall and pull out my Macbook. For half an hour I continue to update my blog (still off-line, as even in the airport there is no Wi-Fi reception). When I get stiff I have a little walk around.
Many passengers are sitting outside on the low walls surrounding the gardens in front of the airport. There are hardly any flowers (but for an occasional bougainvillea), only dry grass, shrubs and low trees. I find myself a shadowy place under one of the trees, spread out my shawl, cover myself with my silk coat and snuggle up into my inseparable down pillow, after having set my alarm clock.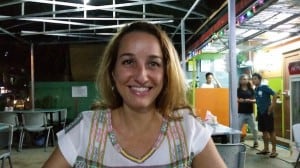 I snooze for half an hour, then sit upright against the tree trunk and give Nora a call. She grins and says that delays like this are pretty normal in Myanmar. No problem, we reschedule our appointment to 5:00 p.m.
Nora
I am happy we have settled that and I continue with my blog.
Sooner than I expected an officer comes by to collect the passengers for the Heho-Yangon flight. Hm, we are only two hours behind schedule instead of three!
It is an hour and a half to Yangon. We have a smooth flight and the taxi manages to get me to Thanlwin Guesthouse in less than half an hour, where I arrive around 2:00 p.m.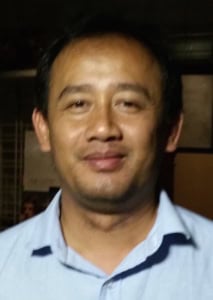 I am greeted like family by the staff . At the long table – it is deserted at this hour – I gratefully sip the ice-tea they bring me and briefly share my adventures with Tjoh. He is indignant that I did not call him a about the cash issue. He could have helped me out through the hotel network…
OK, that is good to know for next time. For now I am just happy to be 'home' again.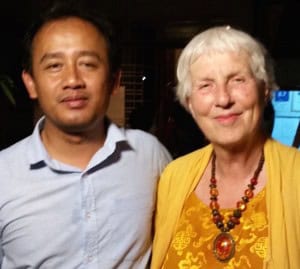 I do have to settle one more issue, though: do I or do I not spend the night at Juliana's (the yoga colleague who invited me to be her guest tonight; she lives somewhere in the suburbs of Yangon in a place that may be hard to find by a taxi driver early to-morrow morning). I discuss this with Tjoh. He says that probably it will be possible to hail a taxi on the big road near her home at that hour. And it is totally OK with him if I do not spend the night at Thanlwin. No, I don't have to pay for the storage of my suitcase (broad smile).
Hmm… Let's call Juliana and ask her what she thinks of it. Actually, on second thought she says that maybe it is wiser to stay where I am, instead of dragging my suitcases over to her place and then dragging them to the main road to-morrow morning. Much though she regrets not seeing me anymore and I regret not seeing her in her surroundings, we agree that we drop the idea. Hopefully we can make up for it if I come back next January for a Flowering Intensive.
Well, I can only say that that feels like a big relief. Now I can chill, leisurely repack my suitcases and have a shower and a snooze, before Nora shows up. The Thanlwin staff is also pleased. I'll have to make do with a bed in the same six-bed bunk dormitory (where there are only three guests today) s last time, but that's OK. The electricity strike is over, there is hot water and the airco is running.
When Nora arrives by taxi at 5:15 I feel refreshed and ready. For our meeting she has taken a break from the resume of a project she is working on, which she needs to finish this weekend. We have a nice conversation at the long table while I sip a Singha beer. It appears that she knows this neighborhood well: she used to live across the street from where we are now, when she first arrived in Myanmar three years ago. The guesthouse at that time was not there yet.
Nora is from Mainz in Germany. Her mother is Italian, her father is German. She works with an NGO which cares about the hundreds of thousands of internal refugees in Myanmar who have escaped the tribal combats and conflicts in the north-east of the country. She is particularly adamant to help women. Largely, women in Myanmar are a second-rate species, both in society and in religion. They have no rights, no voice and up north in the internal wars many of them have been abused, raped or tortured. The refugees and their children live in abominable circumstances in camp with no facilities whatsoever. The NGO funds programs that help improve their situation and to integrate traumas.
We decide to take a walk and look for a place where we can have something small to eat. We land at the same Thai shop where I was before we set off to the yoga retreat.
Nora has a dumpling soup, I repeat the vegetable fried rice. Together we share a portion of fried shrimps and a beer.
Our exchange continues. When Nora hears about the body/heart/mind work that I do she pricks up her ears and becomes very excited. Would it not be possible for me when next I come to Myanmar (if the Flowering retreat can be realised) to also join her to the refugee camps for a couple of weeks and to do something with the people there, to lift their spirits and improve their morale? She thinks that it might be possible obtain some funding for such a program.
Although I have no idea of what I can expect or contribute to make a difference, I do feel that something is stirring inside. I tell her that I'll give it a thought, that I would need more information – and that we'll be in touch about a possible project.
Before we walk back to the guesthouse, Nora has a farewell present for me: a little golden paper mache owl, the symbol of wisdom and prosperity in this country.
She walks me back to Thanlwin and we part ways with a big hug.
I spend the evening at the long table, where new guests are gathered.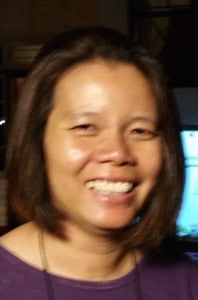 First I take some pictures with Aye (Tjoh's wife)…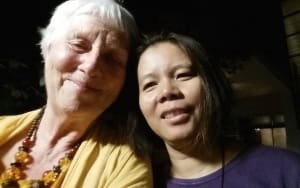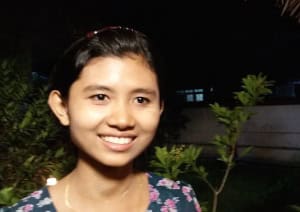 …and my darling Win-Win (the delightful young head of staff).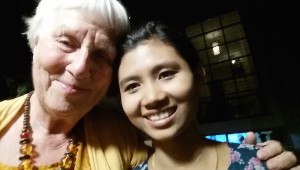 Then I have a chat with a German girl from Frankfurt and three French people.
When I have had enough conversation I withdraw to the dormitory, after having paid for my room – the beer is from the house – and checked if the taxi has been booked for seven tomorrow morning: the right time to get me to Yangon airport for my flight to Manila. My bags are all packed.
As I sit on the edge of my bed, a brown girl comes and sits on the bed opposite of mine. Her name is Bella and she appears to be talkative. I am tired and about to tell her that I want to go to sleep. However, she has an enthusiasm about her that wakes me up. She tells me that she is from the Philippines and will return home tomorrow. I tell her that I'm also going there. She is flying via Kuala Lumpur and I via Singapore.
When she hears about my life and work – and my (as yet unrealized) plan to give a Flowering retreat in the Phils in March, she jumps up and gives me a high five: as it happens she organizes workshops and retreats for yoga, personal development, healthy living and spiritual awakening. "Wow, for this March it may be too short a notice: you have to start spreading the news at least three months before the date. But if you come to the Philippines again next year I can surely help you to organise that for you!" Then she shows me flyers she has made for yoga retreats and other spiritual growth related activities.
I am happily surprised. Synchronicity? We exchange e-mail addresses and will be in touch. Then we go to sleep. She has to get up an hour earlier than I.
Soon I sink into a pleasant slumber.
SUNDAY, FEBRUARY 21
At 6.30 I have a shower a light traditional breakfast and a tea. The driver has already arrived. We have a smooth journey to Yangon Airport – there is not too much traffic on the road on Sunday morning.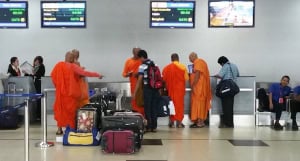 At the check-in my suitcase appears to be 4 kg overweight, but with my clumsy charm I just escape from having to pay extra.
There is time to look around in the airport and have an Irish coffee.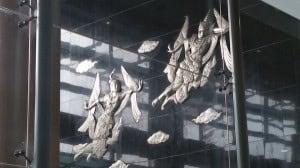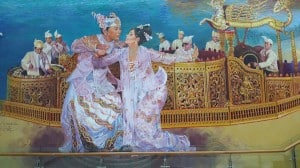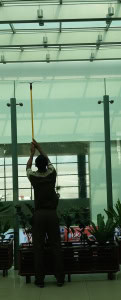 From my place in the coffee shop I see a ballet of window cleaners.
There is a little delay and we leave one hour behind schedule. Once up in the air we hear that there is more bad news: we are going to have another delay of approximately an hour in Singapore, as the airport will be temporary closed for entry (for reasons that are not clear to me). I do not have to worry, though, because my connection to Manila isn't before 5.15 p.m., and it looks like I'll have enough time to go to transfer and get my boarding card. My luggage will be sent on anyway, so I do not have to bother about that.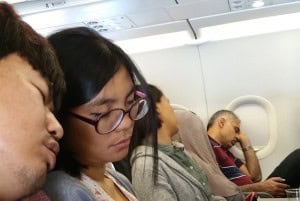 The young couple next to me slowly dozes off, hand in hand. Tucked into my pillow I follow their good example.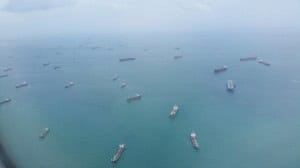 On descending I see a lively traffic in the harbor.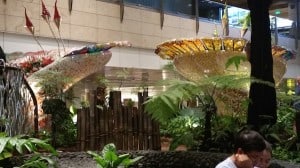 Once landed in Singapore (a very nice airport by the way, with carpeting all over the please and beautiful decorations) is takes some time to find out where the transfer desk is and then it is a long, long walk to get there.
When I finally reach the place, there is a huge line waiting, which advances at super snail speed. All the passengers seem to have problems and need ages to get their boarding cards fixed. I do get a bit uneasy now. To calm my nerves I get out my laptop and put it on top of my pillow on the baggage cart, so that I can continue with my blog. That helps.
Finally it is my turn and I hand my passport and travel documents to the man.
"Where will you be going after Manila, and when?", he asks. "I don't know yet", I answer. Probably to Hong Kong, in a week or three, four." "Then I cannot let you on the plane, he says", "You need a flight ticket to somewhere outside of the Philippines if you want to get in."
I am dumbstruck. How is it that I did not know this? Leny had said that for the Philippines I do not need a visa. Oh, no, wait – in one of her e-mails she said something about having to prove that you'll leave the country within a certain time… But I did not expect to have to do something here already.
The man looks at his watch. "I give you forty minutes to get yourself a ticket to wherever. If you don't have it by then I cannot let you go." "B-but where, and how?" I stammer. "There are free computers over there and you can book online with your credit card." He writes down the address of a booking site. "Can I have at least some help?" I plead. "Look at this line, Lady that stands in waiting. I have to get them all through the gate." Indeed, there is a long line behind me.
With a pounding heart, a dizzy head and trembling fingers I proceed to work my way towards a ticket on the first machine that I manage to activate. "Keep calm, relax, focus", I tell myself again and again. I have to go back to the man at the desk twice. One time to check the site address which has not been written legibly. One time to ask how long I can stay in the Philippines. 30 Days, it appears.
I find the website, book the cheapest flight to Hong Kong for March 20 with Air Asia for $ 160, fill in my name, address and mobile phone number and scramble in my bag for my passport number and credit card data. After what seems hours I get a message that the flight has been booked! I just have to wait for the final confirmation and must not leave the page. However, on top of the screen is a message that this pop-up page is going to close in 4 minutes. Meanwhile I realize that my local SIM-card is still in my smartphone – and the SIM-card for my Vodafone mobile phone number is in one of the zipped frontpockets of my shoulder bag – so they can't sms me… I manage to put the original in place two minutes. Then plop! – the screen gets dark and I am back on the homepage. With no final confirmation or booking number…
Exasperated I look at the desk. The man is helping the last passenger in the line. He sees me and asks what I have. "Nothing, I say", and explain what has happened.
He calls the booking organization. I give him my passport. No, they have not received a booking just now.
"Shall we do it all over again one more time? I suggest hopefully. He rushes with me to the computer. We get to the site but this time the Air Asia flight I selected is no longer there and the cheapest flight is now $ 220, When he hears me say that I booked with Air Asia, he says that possibly the money may have been taken off my credit card by them. He runs back to his desk and calls them. "What is your departure time from Manila on the 20th?", he asks me while waiting for them to pick up. I don't remember exactly. "Eh… eight something", I venture. There is someone on the line. He quickly explains the situation, gives them my data and credit card number and they start looking. Two minutes pass, three minutes… and YES! They found me. I am booked. I jump up and down for joy. A man at the next counter raises his eyebrows, then laughs.
My savior at the desk scribbles the booking data on the back of my boarding card. "Am I going to make it? I ask. "Yes, he says. Just. Gate 20. Go!" I say: If it weren't against your culture and against the rules I would jump over this counter and hug you here and now!" He smiles from ear to ear, hands me my documents and repeats: Now!" off I run, with my cabin suitcase, handbag and pillow.
He was right. I make it. Just as the gate is about to close after the last call I hand in my boarding card.
The flight to Manila is three hours and I need at least half an hour to recover. The stewardess grants my request to change my aisle seat. I had noticed there were several empty 3-seatrows and she gives me one. I heave a big sigh of relief. Now I can unwind, sprawl all over the place, and snuggle into my pillow.
After a smooth flight (the only incident is a man behind me who gets unwell and needs a doctor – there appears to be none among the passengers – but the crew take care of him, take his blood pressure and give him some medicine, after which he seems to be sort of OK) we arrive in Manila around 9:30 p.m.
The ATM machine accepts my credit card! I withdraw enough Philippine dollars for the next few days, buy myself a local SIM card – which a friendly man helps to put into place – , head for the yellow taxis, which Leny had said I should take instead of the white ones, and show the diver the address. When we are on our way I give Leny a call, and another one 45 minutes later, when the driver cannot find the address – and then, there she is, standing in de middle of the street in front of their house, and we are in each others' arms. Peerke is also there – and it feels like a homecoming.

MONDAY FEBRUARY 22 – WEDNESDAY FEBRUARY 24

It is good to be with my old friends again and sit with them around the kitchen table.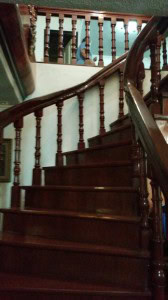 The three days in the rented office/house – which is their abode when they are in Manila – give me time to unwind. It is an old house with a lot of dark woodwork, in a protected compound.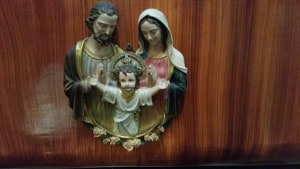 There are simple wooden crosses above the doors of every room (the Spaniards have successfully introduced Catholicism here a few hundred years ago) – and a ceramic Joseph and Maria with child adorns the staircase.

The owner of the house, Elgin, is the contractor who built the guesthouse in Bulalacao and will also build the Master house this summer. He has his own room on the first floor – for when he is in Manila – and pops in from time to time during the day or night. This big shot is also an optometrician, entrepreneur and real estate broker – and owns lots of land, cows, plants and houses.
Right now he is running for mayor ship in Bongabon, a town at the east coast of Mindoro, two thirds of the way from Calapan to Bulalacao. The elections will be in May. He has two opponents, one of which is a famous musician. His dream is to improve the quality of life of the people who live there. Better education, better health care, better housing. One night we have a nice conversation about his work and mine.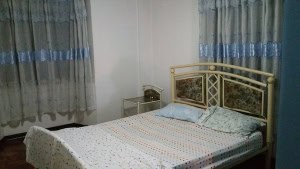 I have my own bedroom with fan on the first floor.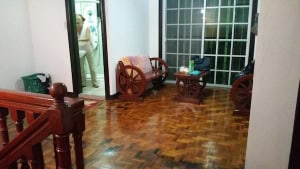 The shower in the upstairs bathroom does not have enough pressure, so for showering we use the one on the ground floor. There is no hot water, but the cold water is not very cold – and actually sort of refreshing with these temperatures (32 degrees Celsius).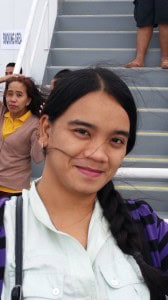 There is a helper girl, Arly, who cleans, washes, irons and prepares the meals (mostly under supervision of Peerke, as she does not yet know about European – or refined Eastern – cooking. Her family lives in Victoria, a town south of Calapan on Mindoro, and she has a 10-year old daughter whom her mother takes care of while she works for Peerke and Leny each time they are in Manila. She will come with us on the boat to Calapan on Thursday 25.
Leny talks with her in Tagalog. She has learned the local language long ago, during their first time in the Philippines, when she started up schools for handicapped children.
The first night I cannot sleep and so I work my blog and e-mail till early in the morning. Then I slumber till about eleven. Peer and Leny have gone out for catering and I have my brunch served by Arly: tea and honey, yoghurt, a (sweet, sweet!) mango, toast and fried egg – sunny side up.
In the afternoon I have a siesta and in the evening my friends take me out for dinner, to initiate my birthday, which is to-morrow. The Japanese restaurant is a quality 'all-you-can-eat' place in a 4-storey Mega Mall, 1,5 km long and 150 m large, where practically everything you can think of is for sale. There are gigantic food plazas, smartphone and beauty departments – and the even have a skate rink.
Before we head for the Japanese restaurant we visit the print office where Leny has my poems printed in a picture book. She has been here many times, to prepare the layout and insert the illustrations. There have been multiple setbacks and misunderstandings during the realization of this project. However, tonight – they said – the first printed copy would be ready. A real birthday present!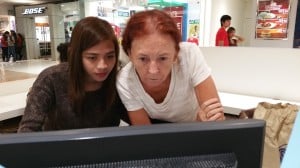 When we arrive at the booth this appears to have been optimistic. There are still a few questions and Leny spends ten minutes clearing the confusion.
OK, they will send the proof to her by e-mail tonight, so that she can do the last finishing touch before they really start printing tomorrow (we'll find that none of this will happen – it will all take another week).
Up we go, to the Japanese food-paradise on the third floor – which also has a Philippino department with local food.
We are welcomed by two hostesses in Spanish dress (the Spanish influence is great here since the Spanish dominated the country between the 16th and 19th century).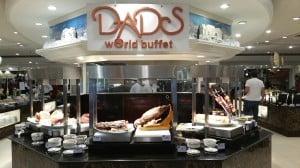 Indeed, this is pure abundance.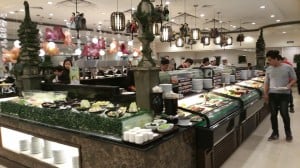 I walk around the buffets in utter astonishment over the variety of food presented here in the most creative and mouth watering ways.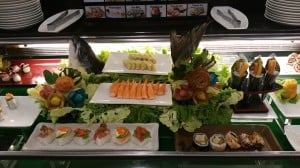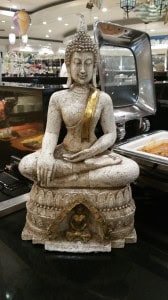 Even the spiritual hunger is being provided for…
The waiter comes to our table and asks if there happens to be an anniversary in our company.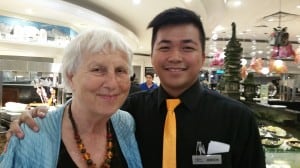 Well, it is going to mine to-morrow – and when he has seen my drivers' license with my date of birth, he announces that he has the pleasure to offer me all I can eat and drink for free! Peerke had planned to treat me to this meal, but of course we gracefully accept this offer.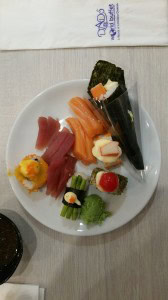 After we have had several rounds of delicacies, the Spanish musicians that play in the restaurant come to our table to bring me a serenade.
I am asked for my favorite song and without hesitation I choose 'Para bailar la bamba'. Immediately they burst forth with great enthusiasm.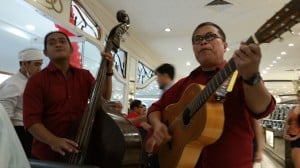 I cannot sit still, so I jump up and have a little dance around the floor. People clap and cheer and in the end I spontaneously kiss the musicians.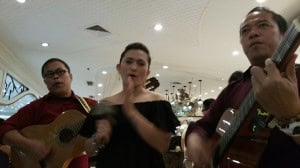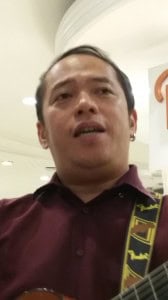 Then I head for the waiters who have bunched up around us, but they back away in terror, not used to this kind of intimacy.
Peerke and Leny are in a fit of laughter – and for the rest of the evening the tone is set.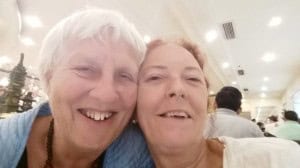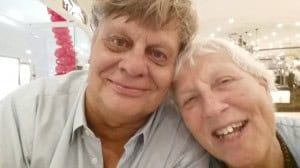 On the way back we cash a stack of money at the ATM of the mall – for our time in Mindoro (there are no cash machines there). Fortunately my credit card works here!
That night – with our tummies well-filled, we all have a good sleep.
My birthday passes in a wholesome calm and I have some undisturbed quality time for my blog and correspondence.
In the evening we pack our bags and go to bed early, because the next day we leave Manila and head for the South.
THURSDAY, FEBRUARY 25
We get up at 5:00 a.m. in order to get out of Manila before rush hour (Manila is big: it has 12 million inhabitants. So it takes a while to come to the end of it, from the centre). The ride to the coast, where we shall catch the ferry to Calapan on Mindoro, will take two and a half hours. Peerke proficiently steers his sturdy four-wheel-drive, with Leny next to him. I sit in the back – with helper girl Arly at my side – , tucked into my pillow and drifting off to sleep from time to time.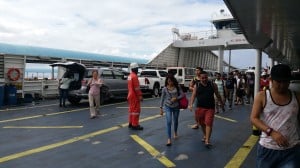 At the harbor there is some hassle with forms and papers before we finally get to the line that leads us to the ferry that is ours (there are many!).
It takes another half hour before we can board. Amazing, the amount of cars and trucks these ferries can hold!
Upstairs we find our place in the rows of seats. Do we have to sit still for the next hour and a half?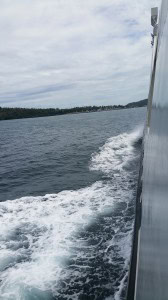 No, we can go to the upper deck, which is more airy – and a lot windier – , from where we can have a nice view and get mesmerized by the tailspin of the boat.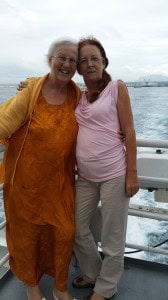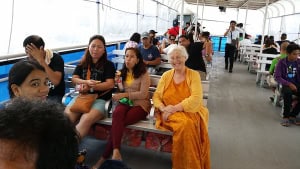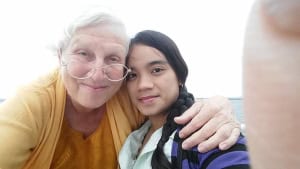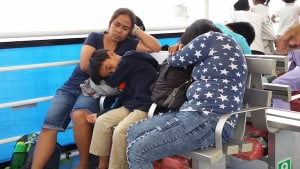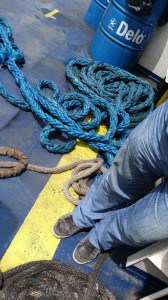 Before we land we have to go down to the car deck.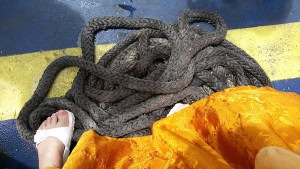 We watch the ropes…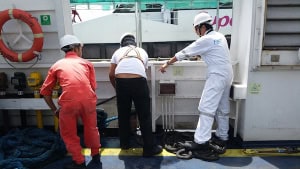 and the mooring hands securing the ferry.
Then we get into the four-wheel and off we roll.
In Calapan, the capital of Mindoro (the seventh biggest island of the Philippines, about the size of The Netherlands) we first drop Arly, who will join her family in the neighboring town of Victoria, and is eager to be with her 10-year old daughter, who has been ill for the past three days.
Then we drive to a big store, where Peerke hopes to find a replacement for the little fan he uses at night to keep his head cool – and which does not work properly anymore.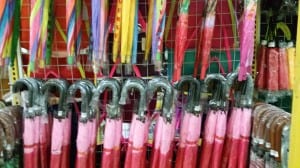 He is happy to find one, and while he checks it out I take a few shots of the wares that are on offer here.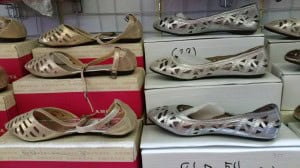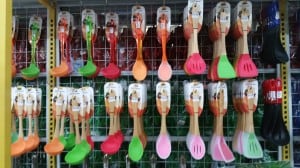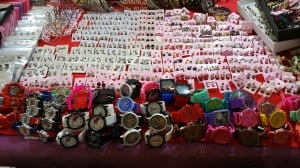 Then we visit the (female) architect who has translated Peerkes designs for the Master house into technical blueprints from where the building can start this summer.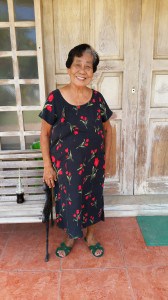 While Peerke is talking with her in their beautiful bungalow, Leny and I sit in the courtyard with her mother. A tiny 86-year old lady, bubbling with joy. We sit down and listen to her telling about her challenging life.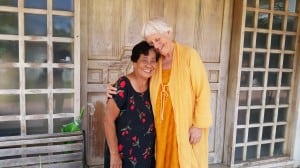 She has raised four kids – two girls and two boys – by herself, after she sent her husband away when it became clear that he could not stop frequenting the local cabaret and squandering his money on the booz and the prostitutes there.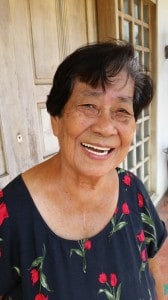 She earned their living as a seamstress. They were so poor that sometimes they only had one meal per day – or nothing at all. At one stage she could only give them one set of clothes each, which had to be washed by the end of the day and dried during the night. Nevertheless she managed to have them all go to university.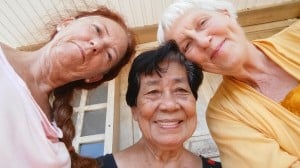 The sister of the architect became a social worker, one of the boys an accountant and the other one a clergyman.
By now is is about 1:30 p.m. Peerke and Leny are going to find me a nice hotel where I can stay for the night: The friends who are accommodating them do not have enough space for three.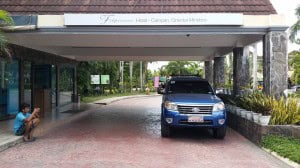 They drop me off at the Philippiniano hotel in a quiet neighborhood. It looks good, facing a cosy semicircular square with a couple of shops and cafés. We'll meet in one of them this evening around 6:00 p.m.
I take the deluxe en suite room – with Senior discount it's a reasonable price. Wow, they have a big swimming pool!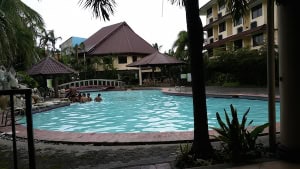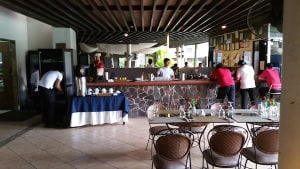 After a light lunch, a swim and a shower I spread my limbs on the royal bed for a nice siesta. Aaaaah… what a treat after this long journey!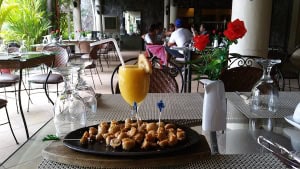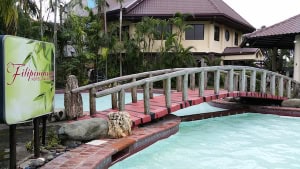 Peerke and Leny pick me up at 5:30 already. They have brought Robert the brother of Majet, one of their two adopted Philippine daughters (she and her husband now own the woodlands that have provided the tropical hardwood that most of the guesthouse in Bulalacao has been built with – and which will also be used for the Master house).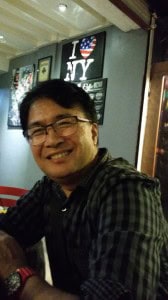 Robert has also been one of their protégés and is now living a fulfilling life as a nurse in Canada, where he heads back one of these days.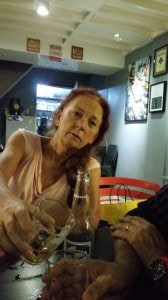 We have a nice conversation, something to eat and a coupe of drinks.
Then we part ways, for an early sleep: to-morrow the journey continues to Bulalacao!
FRIDAY, FEBRUARY 26
I am all packed when Peerke and Leny join me at the breakfast table at 9:15 a.m., when I have almost finished. Meanwhile Dodong has arrived, Peerke's driver: a dedicated young man from the Mangian community that lives next to their land (Mangians are one of the oldest tribes in the Philippines). He has come all the way from Bulalacao to take over the wheel and drive us all home.
First we head for the Calapan market, to cater for meat (Peerke is a meat eater, Leny a bit less and I even lesser).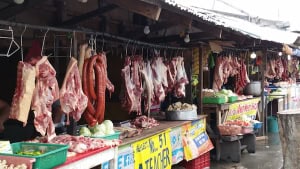 I cringe when I see the raw facts of slaughter hanging shamelessly in the booths.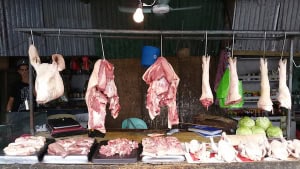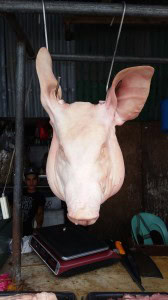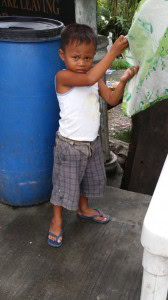 So I focus on the little boy who is playing hide and seek with the tent cloth and then move to the other side of the street.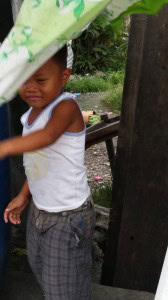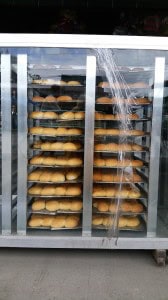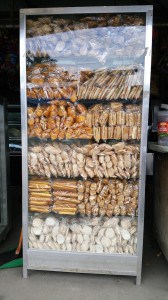 There I take some nice shots in the supermarket…
.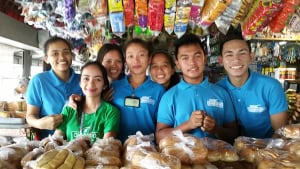 … and have a chat with the staff.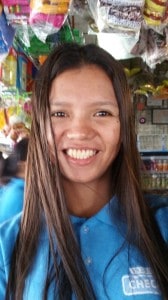 When Peerke and Leny have made their choices we are on the road again and drive for a couple of hours.
Our next stop is Bongabong, a medium-sized town, where Elgin (the Manila-house owner) lives and runs for mayorship. Peerke and Leny want to say hello and wish him good luck with the campaign.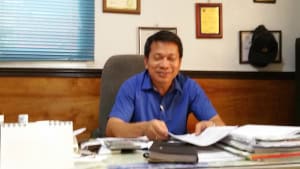 We find him in his office, where he is doing his job as an optometrist. Quite a few clients in need of spectacles are waiting for their consultation.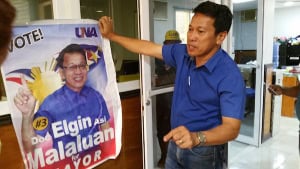 Nevertheless, he takes time for us, proudly shows us his campaign poster, and tells his wife by phones to prepare us a lunch. Peerke would have preferred to drive on, but in this country you cannot refuse such an invitation.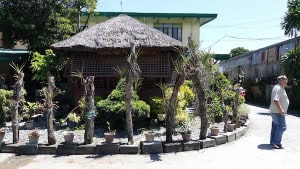 So we move to the little pavilion next-door…
…and enjoy the generous meal that is being served ten minutes later.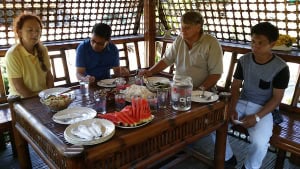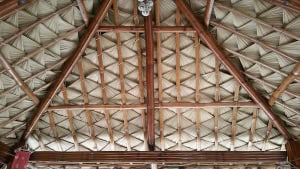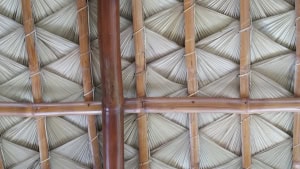 After lunch we have a look at the hardware store next to his private house, run by his wife.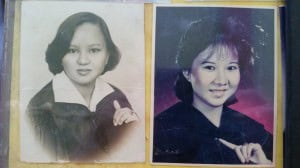 Under a glass plate on the counter we find old photos of her and her sister (she is now middle-aged) – and a couple of antique Philippine banknotes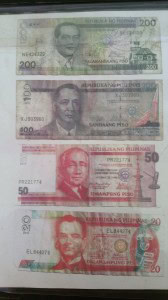 .
Meanwhile Peerke has asked Elgin where he can buy a couple cows (this will save them a lot of grass-mowing). It appears that Elgin has a whole flock of cows and he immediately summons one of his boys to lead us to the fields where they are, on his motorbike.
Well, this certainly calls for a nice picture!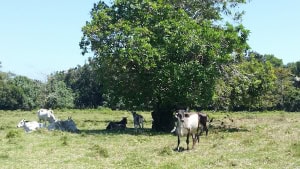 When we have checked the stock we thank the boy and then we are on our way again.
We pass by the stone quarry (also one of Elgin's assets) where Peerke and Leny have parked a container full of furniture from Jakarta – waiting for the big house to be built. The stony road to their house also originates from rocks that have been cracked here.
Then we move on to our last station before arriving 'home': the marketplace of Rohan, one hour north of Bulalacao.
Here we cater for vegetables – and I buy us a Magnum in the local supermarket.
The last stretch of the way the roads become emptier and emptier. The rice fields give way to small family huts in the bush, with banana trees, a couple of chickens and an occasional buffalo in a field.
Concrete roads are under construction to replace the dirt roads: a government project to unlock the backlands, called 'Farmer to market'. Peerke and Leny also profit from this. However, the last road leading down to their house on the beach is a stony and bumpy one all-right. Dodong carefully manoeuvres us down to the green gate with a sign reading 'Private Property, no trespassing'.
Leny opens the gate and reveals the vista of their little paradise-in-the-making: House of Winds.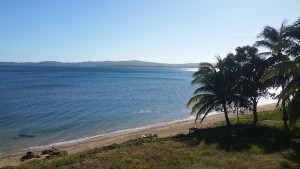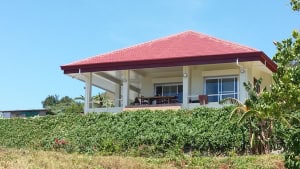 This is going to be my haven until March 15.
SATURDAY, FEBRUARY 27 – WEDNESDAY, MARCH 3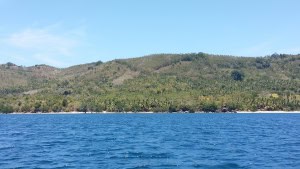 In 2006 Peerke and Leny bought a piece of land (6 hectares) in a white sandy bay outside of Bulalacao, a township in the south-east of Mindoro (the 7th largest island of the 7000 that form the Philippine archipelago).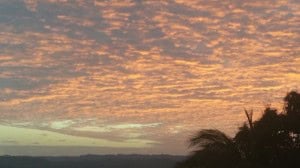 There, some day when they would retire, their dream house – with a guesthouse next to it (they had the sketches ready) was going to manifest.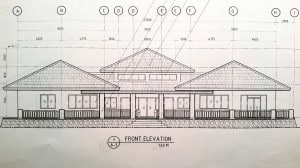 Due to his demanding job with the UN it took Peerke till 2010 before he could create pockets of time to travel back and forth between Jakarta, Manila and Bulalacao and start preparing the grounds for building. There was no road, no water, no electricity.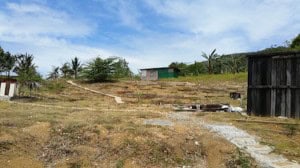 It was a milestone when finally, in 2012, a gravel road had materialised and Elgin, the contractor, could begin to level the soil for the construction of the guesthouse. Then a 6-unit solar energy plant was installed and pipes were connected to the village cistern, which collects rain water from the mountains.
20 Years earlier Majet, one of their two adoptive Philippine daughters, had started a big tropical hardwood plantation in Mindoro with her husband. Now the trees were full-grown – and due to a typhoon a lot of trees had been blown over. These were transported to the site and sawn into the planks that were going to constitute most of the guesthouse, which was the first to be built.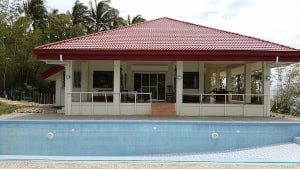 Three years and a lot of hardships later, the guesthouse – and the swimming pool (which, because of the draught, has not been filled up till this day!) – were ready and when Leny retired from Terre des Hommes in the beginning of 2015 (she had been the director for the South-East Asia department of the organisation for years) and Peerke was slowly completing his last assignments, they put their stuff in a big container and said farewell to their cosy Jakarta home.
Before my arrival, on February 22, they had been in Bulalacao off and on (also rounding off their loose ends in Manila) since August 2015. Beginning 2016 they received their passports for their permanent stay as Philippine citizens. After their trip to The Netherlands – they take a break from all the hard work from April till July 2016 – they plan to take residence there, so that they can monitor the construction of the Master house (the guesthouse, for lack of monitoring, is having quite a lot major and minor imperfections), which may be ready by Christmas 2016.
Life in Bulalacao
The evening we arrive there is a strong wind whistling around the house. The Amihan rages irregularly between November and March and alternates with periods of stirless calm. When it blows, you cannot eat on the porch, because your plates and cups will be swept away. The stormy gusts are really frightening at times!
Also, it is Friday, and that is disco time for the Mangians 'nextdoor', a few bays up The pounding of the beat will continue till far after midnight.
Normally people go to bed around 8:00 p.m. and get up around 4:00 a.m.
Leny and Peer usually call it a day between 9:00 and 10:00 p.m. and rise between 6:00 and 7:00 a.m., to discuss the chores of the day with the workers (there are two boys and there is Tito, the caretaker, who lives with his wife in a hut a little up the hill near the guest hut and the geese/turkey den.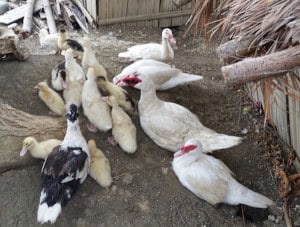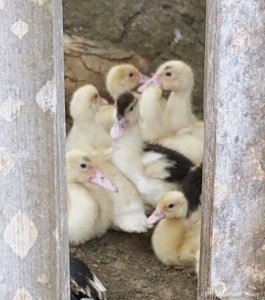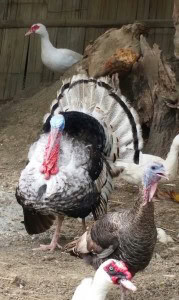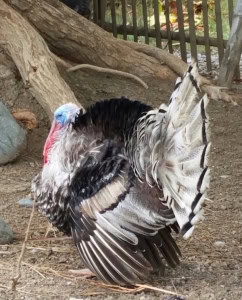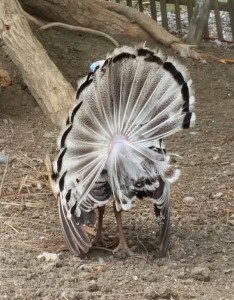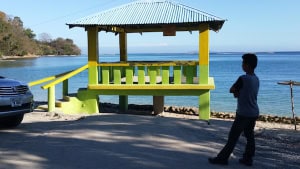 Dodong, the sympathetic and dedicated Mangian driver – adopted and 'bred' by Peerke – lives with his family in a small squatters settlement at the west end of the beach. Sometimes you can see their fires lighting up at night.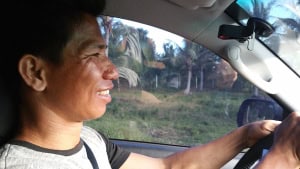 He is standby all the time, for errands, catering and transporting people back and forth over long distances.
His brothers (he has a lot of them), most of them fishermen, can be incidentally called upon when there is need of a boats man, for a trip to one of the nearby islands.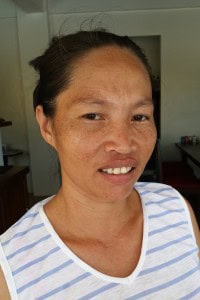 Judy, the (mostly) smiling and often singing Mangian helper lady, lives with her family in a hut village 15 minutes walk to the east. She has five children. Her a 22-year old daughter, Develin sometimes fills in for her when she has district meetings usually appears around nine for the housekeeping.
Usually she shows up for work around 9:00 a.m. and then works till lunch.
It is nice to see the calm and grace with which she accomplishes her tasks around the house.
Though the Mangians are the oldest tribes in the Philippines and live under relatively primitive circumstances, one should not think that they are still walking around in loin-cloths with a bone through their nose. Also here the jeans, T-shirts and smartphones have penetrated the close-knit communities.
Gradually, as the days pass by, I adapt to my hosts' sleeping/waking rhythm – including the siestas – , instead of working the whole night.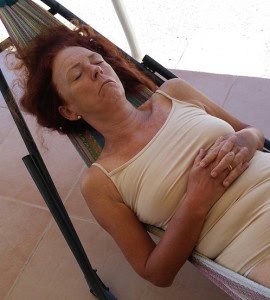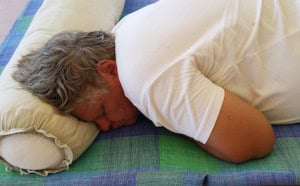 Over the years, during previous visits to Kenya and Indonesia, I have had the privilege to witness how their relationship has unfolded – with ups and downs, through hardships and innumerable challenges – into the mature loving and un-clinging partnership they have now, which allows them to realise this ambitious project. Here is a good example of how man and woman can effectively complement each other where they have learned to accept each other as they are.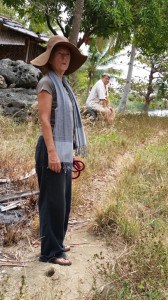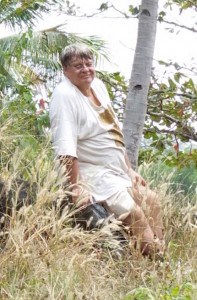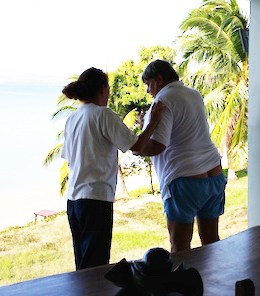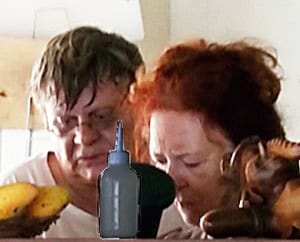 They discuss everything that is happening and needs to be decided or accomplished. They often shop together, take turns in cooking and basically do what each of them is best at.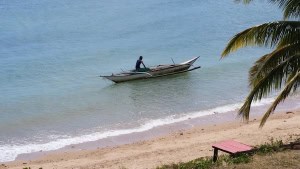 The transparent lukewarm sea – just 50 steps down a light slope – has all shades of blue and green. It is always very calm, gently lapping the shore, sometimes close, sometimes a little further away, according to the tides. In the distance we see an island and behind that the mainland on the other side of the laguna.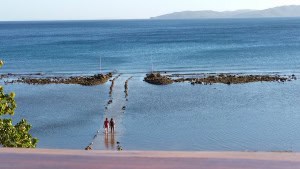 There is a low reef approximately 30 metres from the shore. In front of that there is sea grass and a lot of stones. Peerke has had the boys clear a sandy corridor to the deeper waters behind the reef, which makes it also easier for boats to land. It needs constant maintenance, because sea stars, slugs and sea urchins tend to sneak in.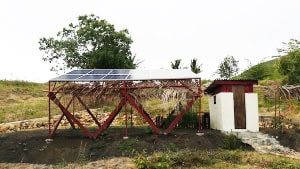 We have to be conscious with energy use. The eight solar panels on the land suffice to provide the whole compound with electricity if we use cold (well eh… lukewarm J) water and do not squander it.
Water is a problem. It has not been raining for months – and probably will not rain until July!) and in the cistern that provides water for the village uphill and for this place the bottom comes into sight. People in the hut villages sometimes have to walk for hours to a place to get their daily supply.
Accordingly, for the time being there is no question that the big swimming pool next to the guesthouse can be filled up. In the worst case tanks of drinking water will have to be ordered.
The shower (I have my own bathroom next to my bedroom) has a large shower head, but the low pressure makes that only thin dribbles pour out. And we flush the toilet only after every other pee.
Recently my friends adopted a dog from Elgin. Her name is Sandy. She is a beauty and a honey and loves to be stroked and cuddled. When we are not walking her she is lying on the porch, secured with a long chain, to keep her from running wild.
When she comes with us to the beach she goes berserk, runs like a cheetah and jumps in the shallow water like a deer. For a long time she did not dare to swim. But after a few days all of a sudden after some frolicking in the shallow water she came after us in the corridor and discovered that she could! Now she is really enjoying her new skill and happily paddles away to and fro or next to us.
Luckily there are no mosquitos here. Nevertheless, over the weeks I collect quite a number of bites and sores all over my body. There are minuscule little flies that could be the culprits for the bites. But the sores – Leny has them also – are enigmatic. Judy, the helper girl, says they are from sabatis – a sort of tiny jellyfish. Indeed, with my snorkel on I remember one time I have seen a transparent bulblike creature passing by.
Peerke and Leny take turns in cooking. I lay and clear the table.
Usually they eat meat and fish (like the Philippinos), sometimes a vegetarian meal.
Catering is not an easy thing. The market in Bulalacao town is about half an hour away and does not have a lot of choice. To do some decent shopping they have to go to Roxas, which is an hour by car. However, a lot of things are only available in Calapan, for which they have to drive four hours back and forth.
One thing there is never lack of is coconuts. I love the way they are being served, with the top cut off and a straw to drink the milk.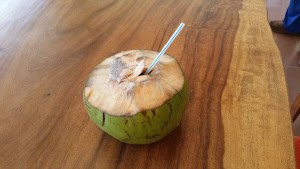 After that they can be split and you can scrape the tender meat out with a spoon.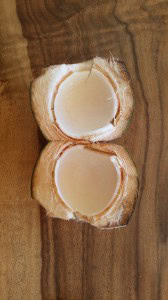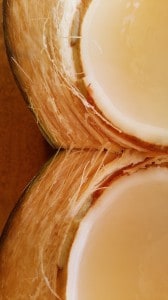 THURSDAY, MARCH 3
Yesterday Peerke has left for a couple of days, to another island, where he has to check a Korean diesel installation for generating electricity and see if it is a system that may be used for a project with a French company, that he is working on.
Today Dodong takes Leny and me to the other side of the laguna. A five-hour trip on which we can see simple farmers' life in the outback of Mindoro.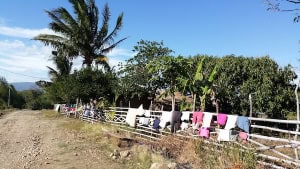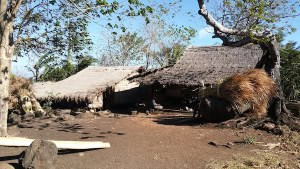 After having taken in the atmosphere of the rural environment we land at the far end of the peninsula in an old fishing village.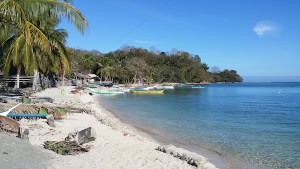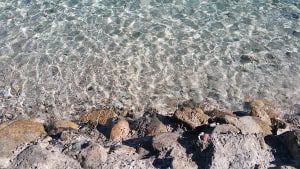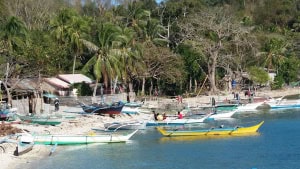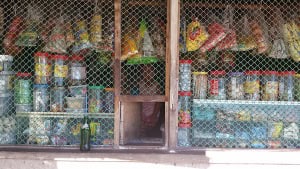 Here we have a Sprite in the kiosk…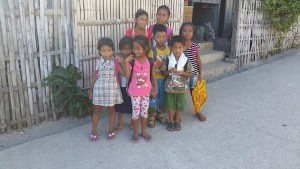 .. and a look at the curious local children.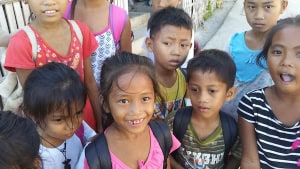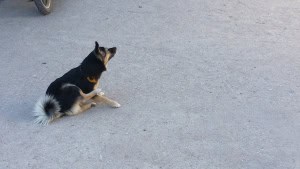 — not forgetting the flee-infested village dog.
SUNDAY, MARCH 6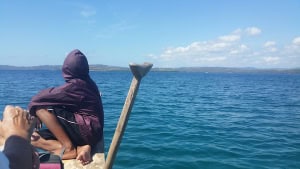 Yesterday Peerke has come back from his mission and he has to leave for Manila to do some serous office work on his project next Monday already.
So that call for a leisure trip.
To-toi, one of Dodong's brothers, and his teenage son, take us by boat – with our snorkels – to the island in front of us, in the middle of the laguna, to see what the corals are like out there.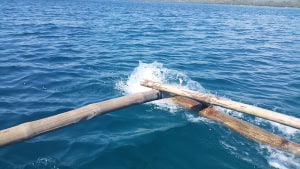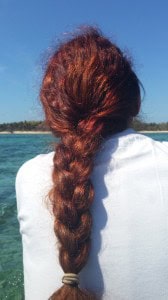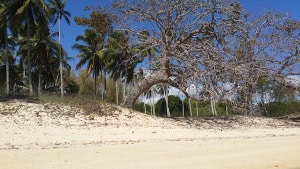 The island belongs to Sandico, the man who also owned the land that they have bought. They could also have opted for that island, but the surf is much wilder there and you are very far away from everything with construction and in case of illness or disaster.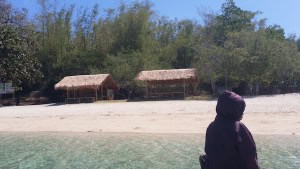 Also, there are squatters (indiginous people who have lived there for generations, but do not have a legal right to be there when the land has been sold) that are very hard to remove. A couple of them have now built a complete 'resort' around a few huts.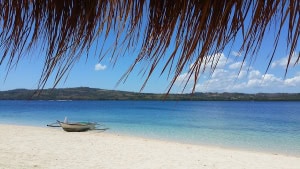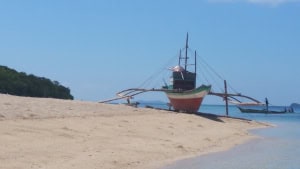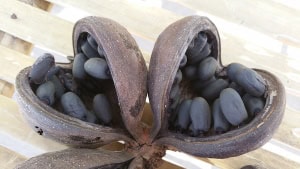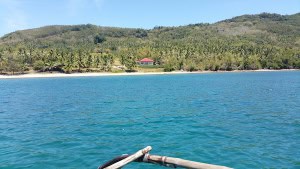 On the way back we have a nice view of the guesthouse. It definitely stands out with the only red roof on the coast!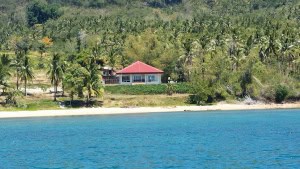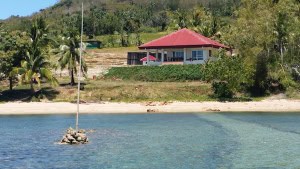 Tomorrow Peerke already has to leave us for a visit to an island where a Korean electricity plant that works on diesel has to be checked on its merits for the French project that he is working on. He is back after three days only for the weekend.
Right after that he will have to leave again, this time to Manila, to continue with the project (which looks like it is his last one).
But today he and Leny go on an important mission: to pick the two white bulls that are going to replace their Kawasaki grass mower. They come back happy, with the name of the two bulls – that will arrive next week already decided upon: Kawa and Saki.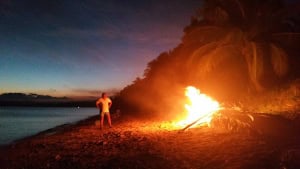 That night we have our beer farewell beer & sunset on the beach – and Peerke lights the pyre that he has been building up for some time.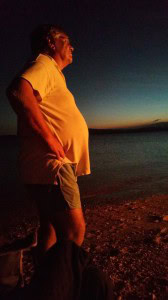 \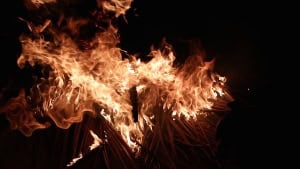 And after that… pancakes!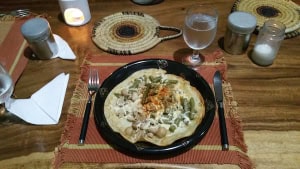 MONDAY, MARCH 7
After breakfast Peerke with his men take time to mark the outline of the master house, on the other side of the swimming pool. Soon the soil will be equalized and fallen trees from Majet's land will be transported and processed here for all the woodwork.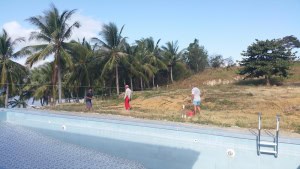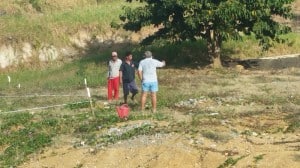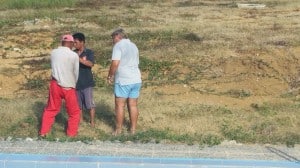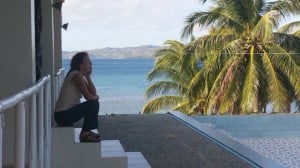 Leny is watching…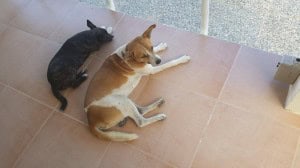 Giant and Putchi take it easy.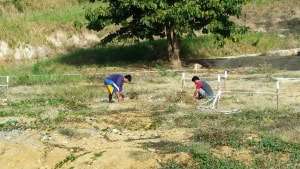 While Peerke is away, we shall see the boys patiently going back and forth, removing stones from the land and carrying them away in sacks every day.
MONDAY MARCH 7 AND TUESDAY MARCH 8
With Peerke gone, Leny and I have som quality together, in between her daily chores and my 'working sessions'.
TUESDAY, MARCH 9 – SATURDAY, MARCH 12
We have visitors! Recently Leny happend to meet an old colleague from 20 years ago in a mall in Manila: Céline. She invited her and her husband to come over to Bulalacao and stay with us for a couple of days. We have to improvise, as the accommodation in the guesthouse is limited. They do not have a problem, however, with sleeping on mattrasses in the living room.
Céline is a cheerful and talkative Philippina. And like all Philippinas she is much concerned about her looks, particularly her skin and hair. In the three days that they share with us we see a whole array of elegant outfits passing by.
She has been living with Stanley (who is much older than she) in Victoria, U.S. for fifteen years. Her previous husband, with whom she has two children, died of cancer. They love traveling and have spent the last four months moving around The Phils, where they have a house in Manila. Mid-April they will return home.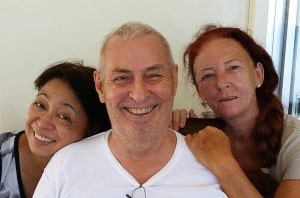 Stanley is a Vietnam veteran, a real ironside, ex-counter-intelligence officer. He has a numb 'charcoal foot', as a result of chemical poisoning during the war, and walks with visible difficulty, dragging his leg which is supported by a brace.
I have never before met a convicted American Republican and it is interesting to see the world through his eyes and come to understand what made him adopt the conclusions and judgments that mark his view on life. He carries a gun, always alert for possible enemies and bad guys that could show up around the corner. He has a clear opinion on which part of humanity and which individuals in particular should be eliminated.
For hours he sits on the balcony, spying the horizon with his binoculars and speculating on what that boat over there near the island on the other side of the bay might be up to.
THURSDAY, MARCH 10
In the afternoon we have an excursion to Bulalacao village (we live half an hour's drive from there), where Stanley will offer us a nice dinner. First we have a look at the market and do some catering.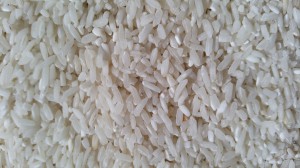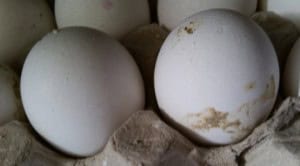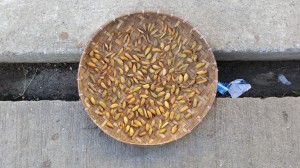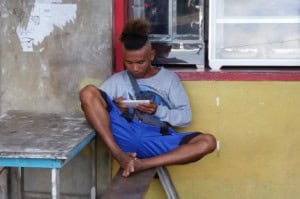 Then we head for South Drive, the restaurant that Leny has in mind…
… only to find that it is closed! However, the neighbors manage to find the caretaker, who then and there decides to open up and proceed, with the help of two girls, to prepare the dinners of our preference. The girls appear
That gives us time have a look at local life around the nearby harbor.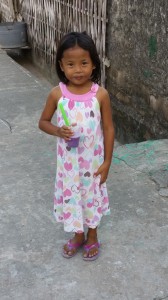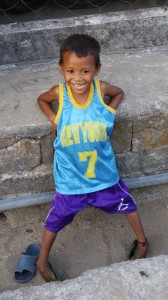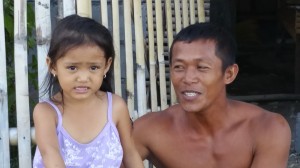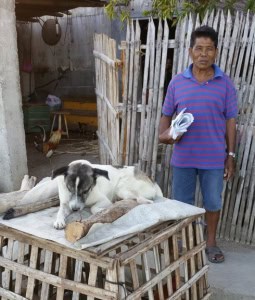 Back home, with our tummies pleasantly filled, we all feel like going to bed right away.
Before going to sleep I have a look at my e-mail and find a message from Marijke Zilverberg, the close caregiver of Selma. Selma is one of the Flowers from the first hour – and a dear friend. She has been suffering from Alzheimer's disease since over a year and with the diminishing of her memory she is becoming more and more dependent on others. It looks like she will not be able – even with the help of friends and professional care – to stay in her house for very much longer. Friends and family have found a small, intimate home for Alzheimer's patients in Arnhem, where she can move to if needs be. Marijke has taken her there a couple of times for a coffee. However, Selma is adamant in not wanting to leave her home…
Marijke writes that lately she has insisted more and more strongly that she does not want to continue her life and would rather die then move to a home where she can see herself slowly becoming a zombie. So a procedure has started a couple of weeks ago to get the green light for euthanasia. Tomorrow the doctor will come with the final outcome. If it is positive, Selma would like to leave as soon as possible, which could be already next week Friday.
I am deeply shocked. In the picture taken from her yesterday she looks so happy and radiant…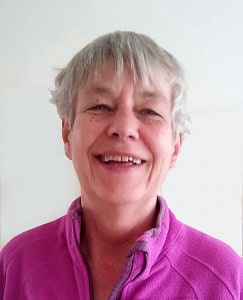 Though we do not see each other very often, she has been part of my life for so long – and when we meet we have such fun together that I can hardly imagine that she really wants to leave so soon…
On the other hand I can also understand that the increasing confusion and the prospect of withering away in a home are frightening..
That night I cannot sleep. Finally I sit upright and start a poem, which is finished at dawn I dedicate it to Selma and send it to her, with a picture of the pastel drawing I made of her a couple of years ago.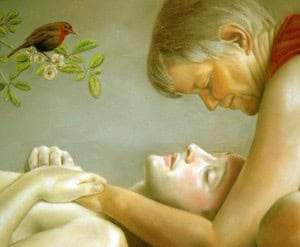 FRIDAY, MARCH 12
The next morning over breakfast I am happy I can talk about this with Leny and her guests.
To air my preoccupied mind.Leny suggests that we have a boat trip around the peninsula for a visit to another island. I think that is a good idea.
Water, however, is one of Stanley's enemies (since he has that charcoal foot). So he does not join us on the boat trip. So the three 'girls' board together with Dodong's brother Toh-toi.
It is choppy ride!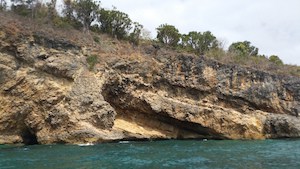 The coast becomes more rough and rocky.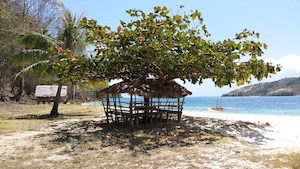 In a little over half an hour we reach the island Leny wants to show us. A tropical paradise that once belonged to a wealthy man who built his own solid concrete landing and a couple of bungalows for the rich & famous who came to visit. All that is left now are the ruins of that landing and the houses he had built.
Now it belongs to 'The Green Foundation' – whatever that may be – and it looks like they are going to remake it into a som sort of luxury resort for tourist. Right now there are only a few guards and caretakers, who scrutinize us, but let us be when they see that we just come for snorkeling.
Not for long though, as the current is strong and there are streams of very cold water.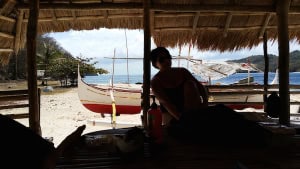 So we sit in the shadow of an open hut and enjoy the view – and the snacks that Leny has brought.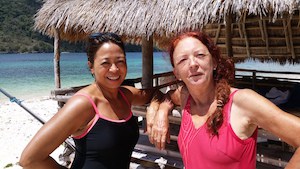 After we have had an explanation from the guards regarding the procedure for drying fish in the sun, it is time to head home and join Stanley again.
In the evening I hear that Selma has received the green light for euthanasia and will end her physical existence next week Friday. All kinds of emotions fight for supremacy. I decide to take time to feel and digest them all.
SATURDAY, MARCH 12
Though it was nice to meet Céline and Stanley, it is also nice to have the place for the two of us again. Leny is looking forward to the time when the main house is ready, so that both hosts and guests can have their own privacy. Indeed, I can use some space with myself, to come to terms with Selma's imminent self-chosen death.
Meanwhile life goes on. For dinner coconut milk is needed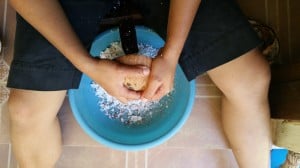 I watch Judy nimbly grating the nuts.
SUNDAY, MARCH 13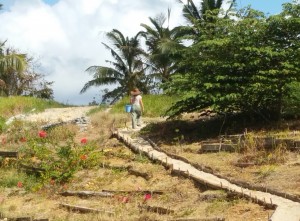 I watch Leny doing her chores, going up the hill several times that day, to discuss with the boys about the two cows that , .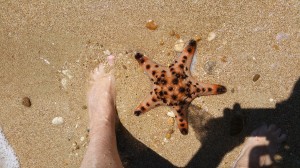 I lift one of the huge starfish from the water for a picture, and then place it back in.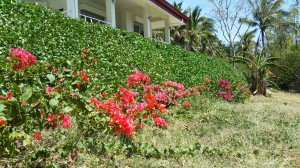 I marvel at the bougainvilles and the green wal that Leny planted around the house…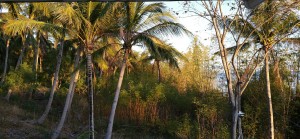 and see the light of the sun creeping up towards the tops of the palm trees in the afternoon.
MONDAY, MARCH 14
Today the bulls Kawa and Saki have arrived. During the weekend the boys have built a thatched enclosure for them.
As yet I do not feel like going up to see them. I prefer doing my e-mail correspondence with all the friends who have heard the news about Selma's oncoming demise.
TUESDAY, MARCH 15
Today, however, I feel like having a look and I join Leny on one of her walks up the hill, to make the acquaintance of the two new members of the family.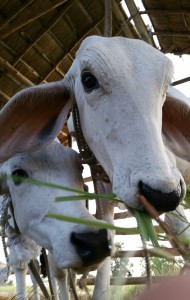 They seem quite happy with their new surroundings.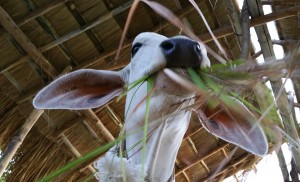 The next day I already see them walking free in the field next to the enclosure.
That evening, while sipping our gin-tonic, Leny and I enjoy another stunning sunset…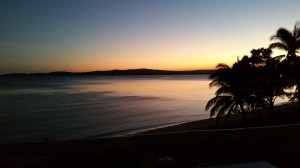 WEDNESDAY, MARCH 16
Today, with Marijke, we have planned a skype session with Selma in the evening, to say goodbye.
However, at the supreme moment the internet does not work – and we have to make do with a phone call.
She says she is looking forward to the end. Her body is aching all over.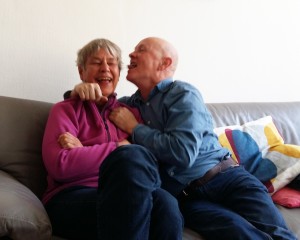 She enjoys the bitter-sweet moments she has with friends who come to say farewell…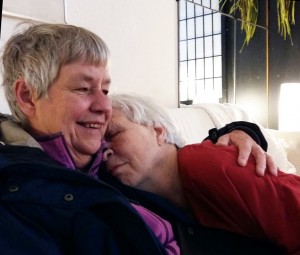 … and thanks me for the good moments and all the adventures we have shared…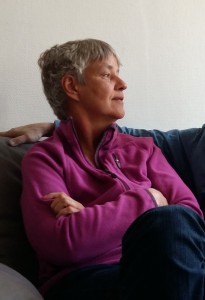 Marijke will stay with her now day and night. Another dear old friend, Tine, will come over tomorrow and is going to be with her, together with Marijke, at the moment of passing.
'All is well', she says. 'I am ready to go'.
In the evening I pack my bags. It is also my time to go… on the road again. Tomorrow we are leaving Bulalacao – after two and a half weeks, how time has flied! – and head for Manila, with a two-night stopover in Puerto Galera, a place in the north of Mindoro, where we may find a venue that is suitable for a possible retreat next year.
THURSDAY, MARCH 17
Including the breaks, it takes Dodong a little less than eight hours to drive us from Balalacao to Aninuan Beach, west of Puerto Galera, where we have booked a cottage for two nights.
On the way we visit Majet's (Peerke and Leny's adopted daughter's) tree plantation, to check the number of fallen trees that will be transported to Balalacao for the new house-t0-be.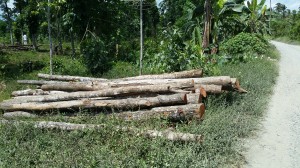 While Leny and Dodong do the counting, I amuse myself with a couple of baby goats that are frolicking around in the woods.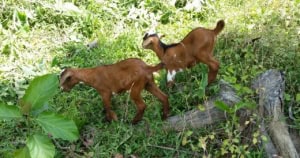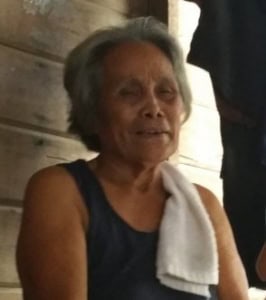 After a nice lunch in Calapan, we pay a short surprise visit to the blood-mother of Peerke and Leny's foster daughter Elisabeth.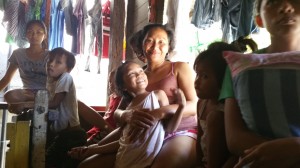 She has six more children, who are also all grown now with have children of their own.
The whole family is living cosily together in a big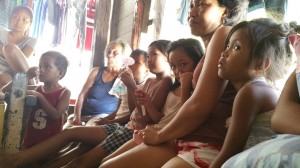 old compartmented wooden house. They are delighted to see us. We are invited to climb up a ladder to the jam-packed living room, where Leny has a lively conversation with them in Tagalog (a connecting language, which almost all Philippinos speak – next to their local language or dialect (there are some 300 of them!) , while we enjoy a drink of water.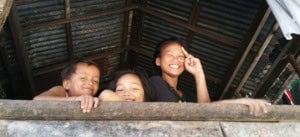 After having been waved farewell…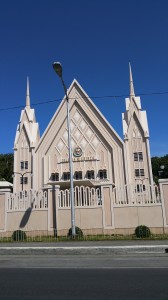 …and taken a picture of a very dogmatic Catholic church, which is against anything that can make life pleasurable…
… we resume our journey and head for La Galera, from where it is another half hour to Aninuan Beach. We stop to have a look at and enjoy the freshness of the impressive local waterfalls that La Galera is famous for.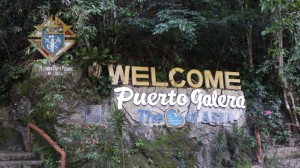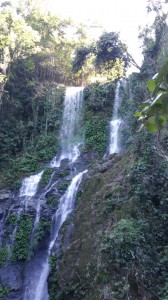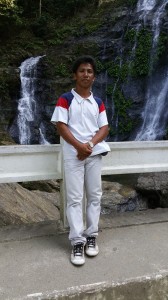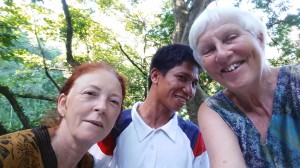 Just before sunset we arrive at the hotel, where we are escorted to the beach cottage that Leny and I share.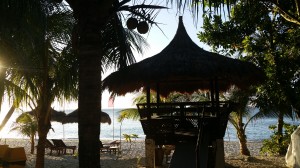 The sea is at our feet…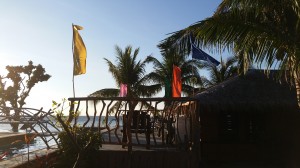 … and the 'infinity' pool next-door…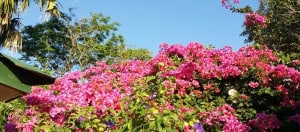 …as are the bougainville bushes
In front of us, on the beach, is the massage hut. The ladies are crowding around us and coaxing us to come in.
However, we decide to postpone our session till tomorrow.
After a drink on the beach and a nice dinner with Dodong, – who has his own room in the hotel – we have an early sleep.
The next morning after breakfast we go to the other side of the street and up the hill, to look for a couple that are acquaintances of Peerke and Leny: Monica (an African/Philippino lady) and Lars (a Danish architect). They have an NGO, 'Stairway', that offers programs to street children helping them to break free from a hopeless life in prostitution.
It has been a while since they last saw them. However, Leny thinks that they might also have ideas about a venue for a possible retreat – and she is also curious to see how they are doing.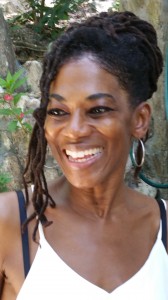 It takes us a while, but finally we find Monica in their home (an stunning architectural master piece) above the centre. She welcomes us cordially and before we know we are in a deep conversation about life, her/their work, Leny's time with Terre des Hommes and my activities.
We listen in awe when she tells about the hardships she has had to overcome when during her first pregnancy (21 years ago) she caught an infection that slowly paralysed her body completely. It took her eight years to get most of her motion faculties back and she is still improving slowly up till now.
For walking though, she still needs braces around her ankles – and her toes are numb. However, the passion for her work and the many ways in which she can use her creative skills in it have helped her to become the strong and vibrant lady that she now is.
She seems quite fascinated by what I share about my workshops – and it looks like there may be ways to somehow bring my expertise to use in Stairway some day.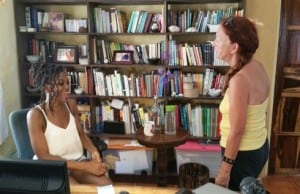 After she has shown us the house, we are invited for lunch.
Lars, her husband, is quite busy, because tonight the kids that follow a year program here will give a performance (conceived, choreographed and directed by Monica) for a group of volunteers from many different countries, who have worked and studied here for a couple of weeks.
In the coming months the show will be repeated for school classes and other interested groups.
On the way down to the restaurant we bump into one of the volunteers – who appears to be a dear old Terre des Homme friend of Leny's.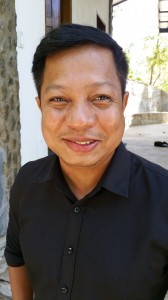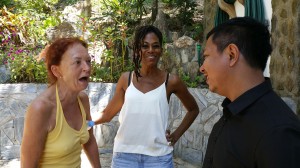 Leny is dumbstruck and delighted.
They engage in a lively chat, interrupted by Lars who greets us and reminds us lunch has started.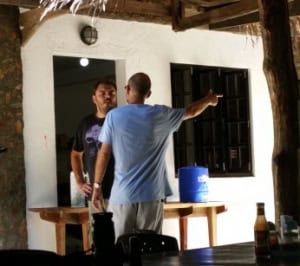 While we are enjoying a healthy meal we see Lars giving directions…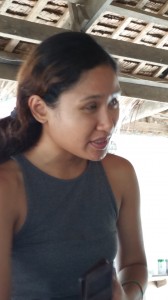 … and we meet one of the volunteers, who shares her experiences.
Monica explains that most of the veggies that are served here come from the farm. Way up in the hills, half an hour's drive from here, they have started an ecological project that helps the centre to become self providing. She warmly recommends us to have a look there, when we head for Calapan and Manila tomorrow. Meanwhile she invites us to attend tonight's performance about environmental consciousness and the ensuing buffet . We gladly accept.
Before we leave we have a look at a group of kids who are making dreamcatchers. Bringing out hidden talents is one of the aims of the work that is being done here.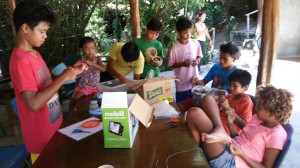 On the way back we admire the colorful school bus that is standing in the yard.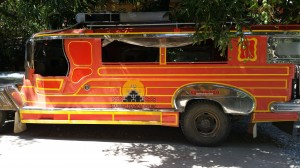 Back in our cottage we agree that it is high time for a siesta, digesting all the impressions of this morning.
When we have a nice snooze, we go for a swim – first in the sea and then in the pool. After that we finally head for the massage ladies.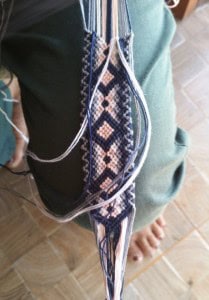 It appears that next to their body treatments they have other things to offer: hand-woven friendship bracelets.
Of course, when waiting for clients the whole day, they need to have some sort of useful occupation…
I ward them off as they crowd around us, promising that I will take my pick after the massage.
Then Leny and I, side by side, drift away under the firm but gentle hands of our respective masseuses…
An hour and a half later, refreshed and relaxed, we face the other ladies thronging around us with their handicraft and pick a neat collection of colourful bracelets that will make nice presents back home.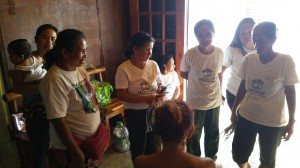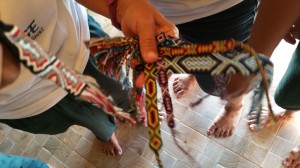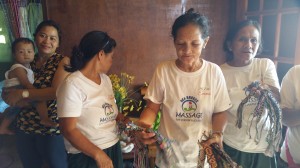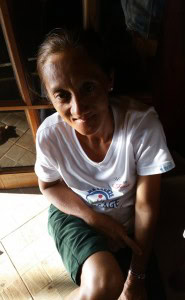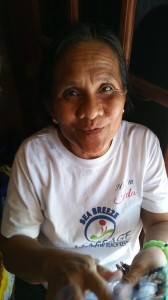 We are just in time for relishing our sunset beer – and then we are on our way to the show that starts at 6:30 p.m.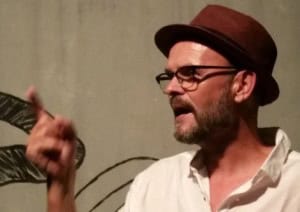 After Lars' prologue we are in for a wonderful surprise: it is absolutely stunning what these kids – inspired by Monica – have managed to create over the past few weeks. It is a stern yet playful indictment against deforestation and greed, and a solution/antidote as well.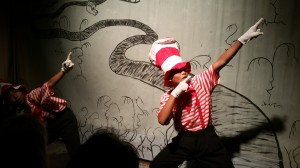 I am breathless and totally absorbed by what is happening on stage for the next hour. The enthusiasm, the colours, the props, the costumes, the lighting, the songs, the dances…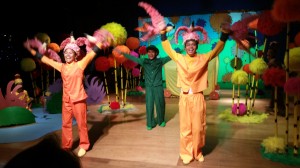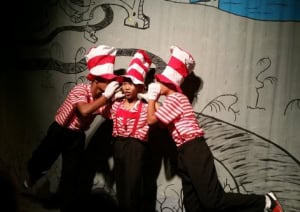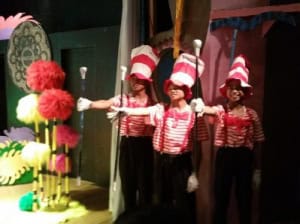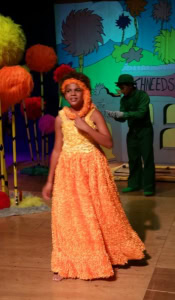 Monica's 12-year old daughte Izana is starring as 'The Lorax', who is the protector of the trees and the surrounding environment.
Her counterpart is "The Onceler", the 'baddie' who wants to destroy the environment due to his greed.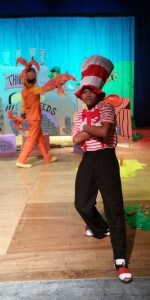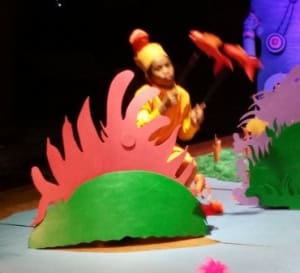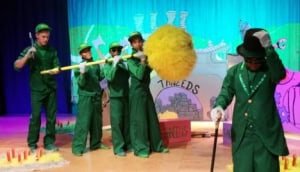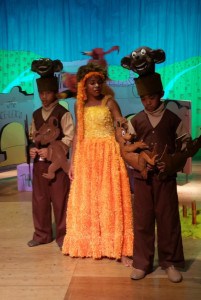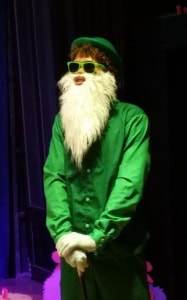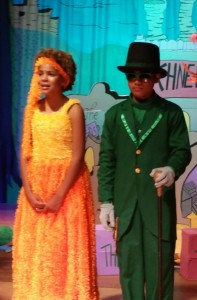 … In the end he 'baddies' come to their senses and repent… The 'ennemies' get together and harmony is restored.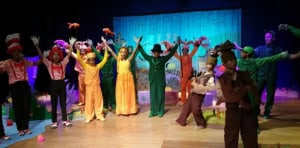 All is well that ends wel…
After the show there is a nice dinner party – and live music that is so inviting that many of us – including myself – enter the stage for a dance and some frolicking. Later Monica's 20-year old son, who has come over from Denmark, where he studies, informally plays the guitar off-stage.
Wow, wouldn't it be nice to some day take part in and contribute something to this joyful community…
FRIDAY, MARCH 18
After another nice breakfast with scrambled eggs we pack our bags and head for Manila,which is at least another five-hour journey.
Nevertheless we decide to have a stopover at the Stairway farm, not realising what we are in for… The road winds up and up and ends in a track, where trucks are dumping sand for the construction of a new road to be (next to the farm there is going to be a weather station). Even the four-wheel drive has difficulty to get to where we have to get out and climb our way further up.
With Dodong's help I manage to drag myself up the steep and bumpy path that leads to the farm.
Finally we arrive, breathless, and…. find ourselves on the rooftop of the world, with a stunning view of the countryside and the sea below.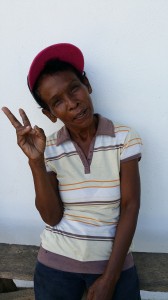 The helper lady who welcomes us does not have a key to the old renovated farmhouse.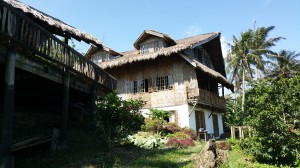 So we first look around the premises, until the caretaker shows up.
What an exquisite place this is…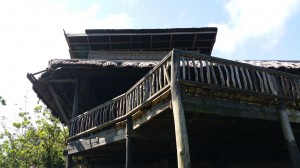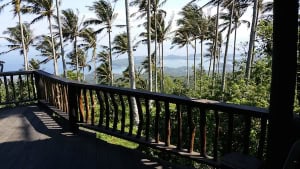 The view…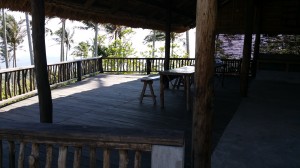 The group room.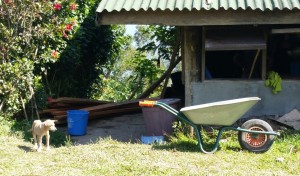 The shed.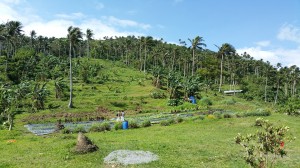 The 'back garden'.
The eco project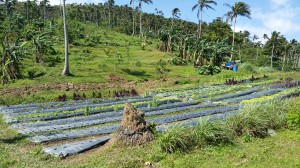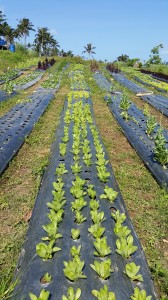 … yielding nearly enough vegetables to feed the community…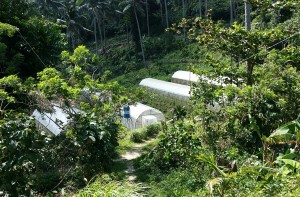 The greenhouses in the valley.
Basic accommodation.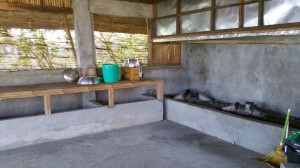 Kitchen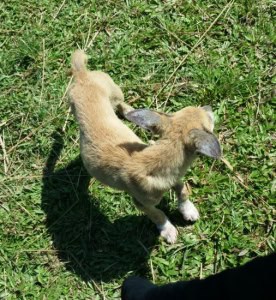 Watch dog.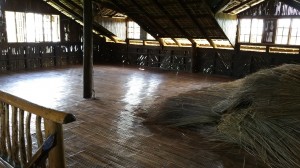 More accommodation in the attic.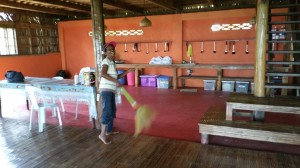 Another kitchen.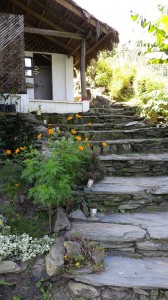 To the main house.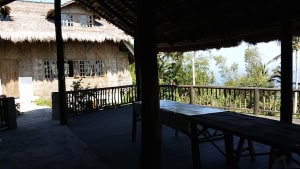 View of the main house.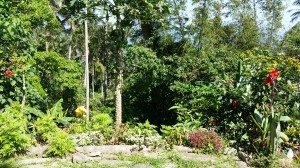 The 'front garden'.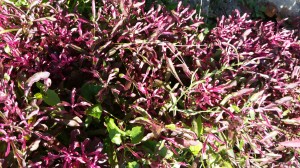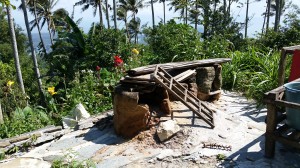 Outdoor kitchen in progress.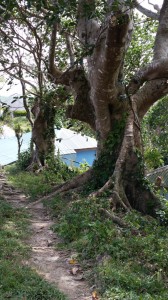 After having seen it all, thanked the kind ladies and had a chat with the medical doctor who has just arrived (there is a small clinic in main building) we scramble down the hill – in a slight state of overwhelm – to where the car is parked.
It takes Dodong some clever and careful maneuvering to turn it, but he manages – with the help of a few Mangians (visibly a different breed from those in Bulalacao) who live there.
On we go, full speed direction Calapan, where Dodong just makes it to the 12:15 ferry to Batangas.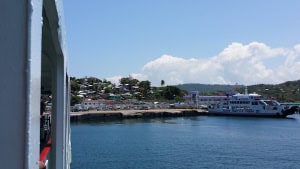 Bye-bye Calapan…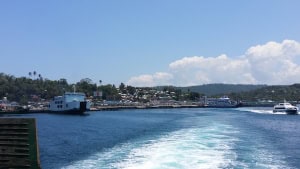 Bye-bye Mindoro…
An hour and a half later we are on the road to Manila, where Peerke is awaiting us with two colleagues, Heinz from Germany and Cyril from France.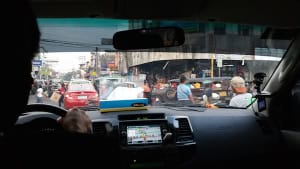 The board navigator deceives us (to Dondong's great amusement) which become particularly clear when we enter Manila. We get hopelessly caught up in the peak hour.
In between the rows of cars children and adults try to make a living by selling newspapers and snacks.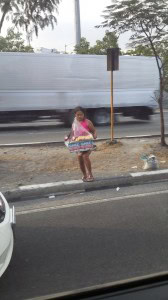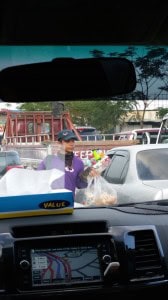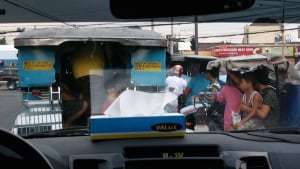 Leny becomes more and more exasperated: each time it looks like we are close to where we need to be, we appear to be moving in circles.
However, we finally make it just before dark.
And with a warm welcome from Peer & Company, and a beer around the kitchen table all misery is forgotten and we can relax again.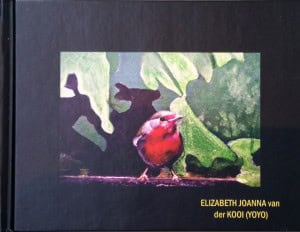 Then, tada! There is the long awaited birthday present, collected by Arly from the Mall: a copy of the illustrated collection of all the poems I have been able to retrieve, which Leny has been working on for months. It looks stunning… Though there are a few flaws in the lay-out – and the typecast is not always readable against the background of the illustrations, it is nevertheless a genuine piece of art and will serve as the foundation for an improved version. I am delighted!
As yet they are in Dutch. Translating poetry into another language is not an easy thing to do. But who knows… I may get to that some day!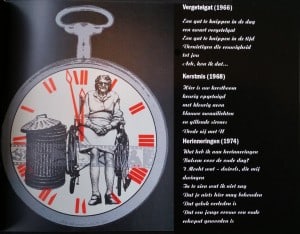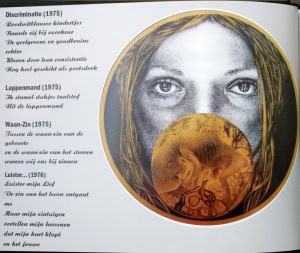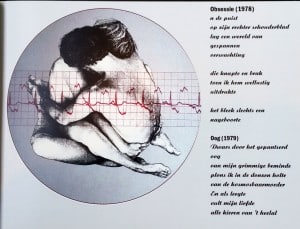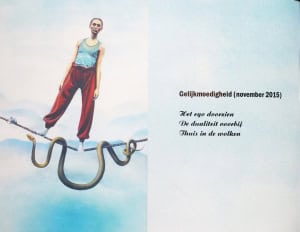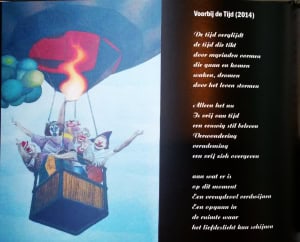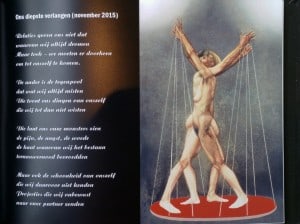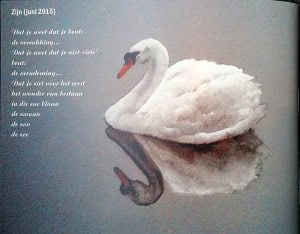 Over a wholesome meal, prepared we exchange experiences and make jokes.
Then the hour of 8:30 draws closer. We share the story of Selma's decision to put an end to her life today. It takes the conversation to a deeper and more intimate level. And when the time is there, we all raise our glasses – to Selma's passing and to the mystery of life and death.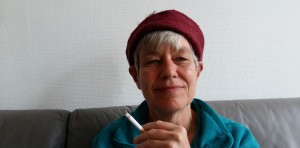 Selma, enjoying her last cigarette, two hours before leaving her body
We sit intimately together for another half hour, finishing the bottle of wine, before we we break up for the night.
Because of our two guests I have a different bedroom now, with a fan instead of airco. Nevertheless I have a sound and dreamless sleep.
SATURDAY, MARCH 19
After breakfast we say goodbye to Heinz, who is leaving. Cyril has a few more hours to go and heads for the shopping mall, to gather some gifts for the family in Lyon.
We invite our outstanding masseuse Glenda again, for the three of us. While waiting for my turn I tend to the emails and Whatsapps around Selma's departure. I can feel the strong bond of friendship traveling through time and space.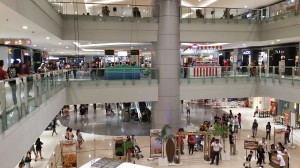 After we have all had our bodies straightened out, we decide to round off our time spent together the same way we started: by having a gorgeous meal at the Japanese All you can Eat in the Mega Mall.
On the way Leny collects two more copies of the poem collection, that she will bring when they come to Holland on April 21, for a 4-months holiday.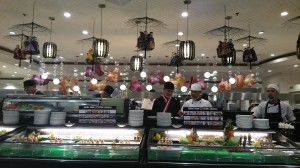 Then the celebration can begin…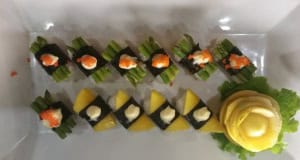 … Embarrasment of riches…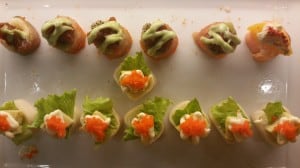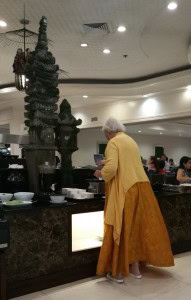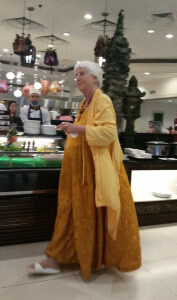 A real matron… Here you can clearly see that my body is as deep as it is wide… :-)!
When we are well-lined we happily return home.
After the 30-minute taxi ride we do not dilly-dally before retiring to our rooms: tomorrow I have to get up at 5:00 a.m. for my flight to Hong Kong… and my hosts insist on getting up to see me off…
My bags are packed.
SUNDAY, MARCH 20
Drowsily we get together in the morning, for a last cup of tea/coffee shared. Arly prepares a croissant for the road.
The taxi is a bit late, but I have still have some slack.
When it arrives, we hug and kiss and say goodbye – but not for long: soon we will meet again in Holland.
With my pillow I nestle on the back seat – and during the ride I have ample time to thankfully reminisce the wonderful weeks I have spent here and the many adventures we have shared.
The flight to Hong Kong is almost on time and I have a smooth journey. At the Immigration desk I have my flight confirmation to Bangkok ready on my smart phone to prove my departure in six days. But they do not even ask for it.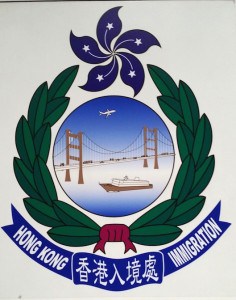 Hello Hong Kong I feel welcome!
On arrival I remember Peerke's advice to get myself an Octopus card and a local SIM card. And of course: some cash for the road.
There is an information desk next to the ATM. with a friendly girl wearing a mask (many people in Hong Kong wear masks to protect themselves from exhaust gases and bacteria.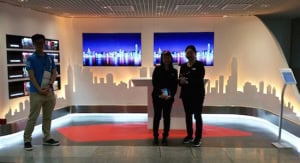 She takes ample time to provide me with a map of the city and the MTR (metro) and comes up with all kinds of suggestions about where to go and what to see. She also knows where bus A21 is (just around the corner), that will take me to a Nathan Road stop 3 minutes walk from my hotel. OK, I'll opt for venturing this ride instead of taking a taxi.
Before I go I take a picture of their booth…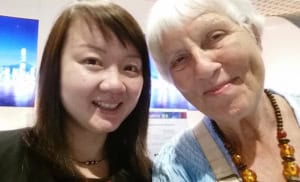 … and a selfie with the helpful hostess.
For the occasion she takes off her mask.
It is about an hour's ride to the centre, which gives me time to digest the impact of the high rise buildings that slowly but steadily invade the view.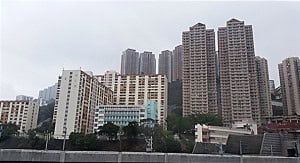 I arrive at the hotel without problems shortly after 2:00 p.m. Well eh… hotel?
The lift (it works!) takes me the fifth floor of a building under renovation (all packed in scaffolding). At the end of the corridor I find a small notice 'Miu Ceon Wing On Hotel'. When the door opens, I stand in a narrow office where I can hardly fit in my two suitcases. I am welcomed by a small woman – who does not seem to speak English and looks somewhat embarrassed.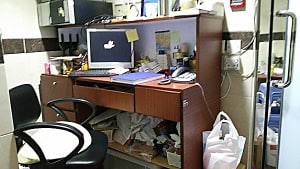 She gestures me to sit on the only chair propped up against the wall opposite the entrance and next to the washing machine. Then she sits at her desk and starts looking for my booking. Ah! it is there.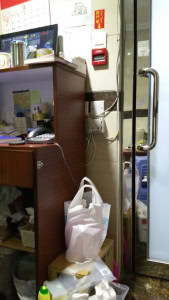 She mimics that I have to wait and off she goes, maneuvering her way through a narrow corridor packed with dirty laundry and big bags with washed laundry. Apparently my room is not yet made up, as I see her dragging back and forth with all kinds of stuff.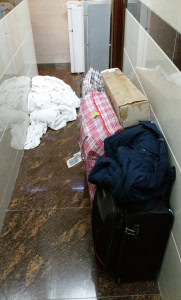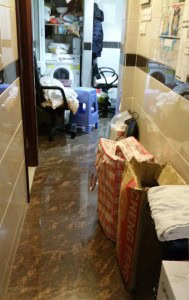 Fifteen minutes later I am ushered into a tiny room with a covered window, just big enough to hold a queen bed and a single bed, positioned in an L-shape. They look clean. I have to put my suitcases on the single bed as there is no room on the floor. There is a minuscule bathroom, with the shower above the toilet pot.
Ouf, maybe I should have opted for the Economo Guesthouse that Peerke recommended after all…
It will take a while, but I manage to make this minimalistic scurry a cosy little abode for the six nights of my stay – even though during the day – when I stay home for writing – the drilling and sounds of the construction works are at times annoying.
I will find that it is actually very nice to have a shower sitting on the toilet, particularly with the jet being hot and powerful.
As the days pass I also get to know the hostess Shoon Yang better and start to make sense out of the bits of English that she produces. Of course she appears to be a honey, doing the best she can under the circumstances.
When I have unpacked what I need right now and taken a little rest I venture into the MTR. It is an overwhelming labyrint with many levels and numerous exits… Scary at first. No one speaking English… ah yes, there is an information booth where they do – sort of.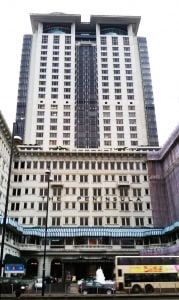 I head for the famous Peninsula Hotel at the River Front, recommended by Peerke. Indeed, there is a constant coming and going of expensive cars and limousines.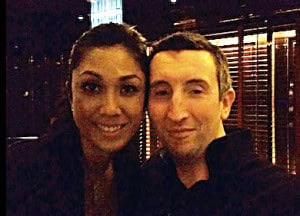 In the bar I have a gin-tonic – and a nice chat with the female bar manager, two guys from London and a girl from the US (who appears to also be a life-coach).
Left is the witty bar manager.
The quys are not quite sober, as they just come from a posh wedding party. We have a lot of fun exchanging jokes.
After a couple of drinks they invite me and the girl to join the family of one of them (his wife called and was apparently displeased with him being late for their dinner appointment) – and be their guest – in a nearby steakhouse.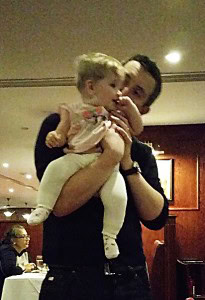 This is the daughter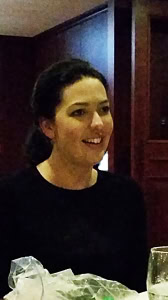 This is the wife, quickly appeased.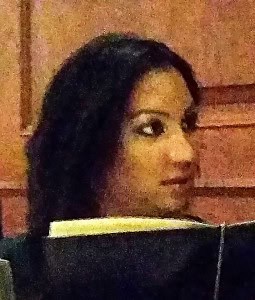 This is a colleague
This is the single one of the two friends, who visibly has a crush on the Canadian lady.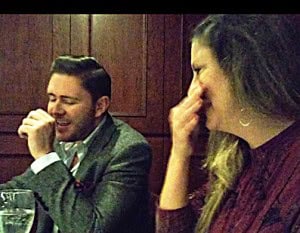 This is the singel one of the two friends, who has a visible crush on the American lady.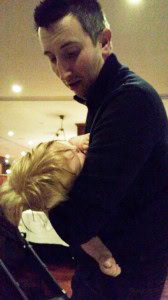 Sobering up with the baby daughter…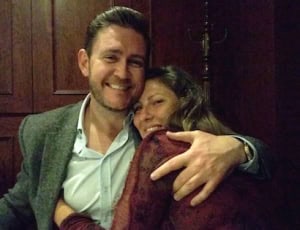 Getting more intimate…
When we are finished they insist on paying my taxi back to the hotel.
MONDAY, MARCH 21
A quiet day, writing my blog and doing my correspondence. Selma is very much in the air.
TUESDAY, MARCH 22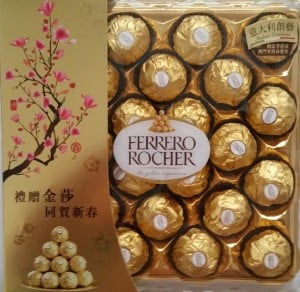 A sweet present from the hotel hostess this morning. To make up for all the discomfort. The corridors are now empty of dirty laundry…
I get more familiar with the MTR and really take pleasure in finding my way in Hong Kong.
Today I visit the Science Museum.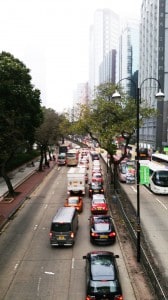 Looking down from the walkway to the Science Museum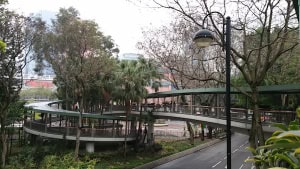 Walkway to the Science Museum
In the Science Museum the main exhibition is about the Collider: the newest particle accelerator.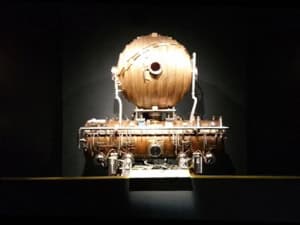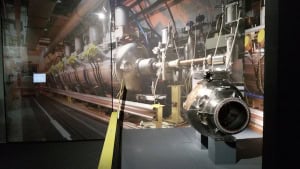 Billions spent on building miles-long devices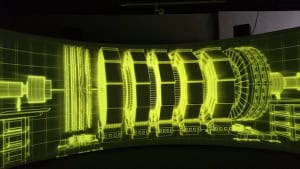 for having particles collide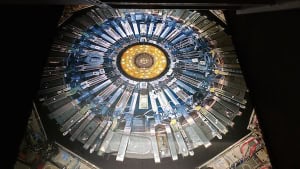 in an attempt to penetrate to the origin and workings of what is already there prior to all devices, sprouting from an Intelligence that is also at the basis of our own human existence…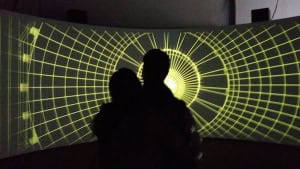 In the face of this infathomable mystery the lovers tightly cling to each other – in awe.
The Hall of Mirrors is great fun.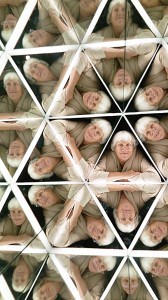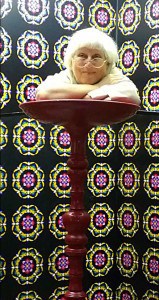 Where is my body?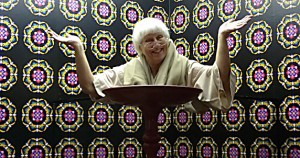 Dunno.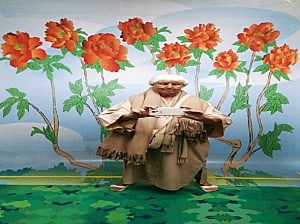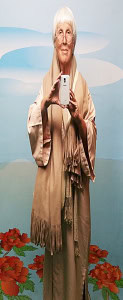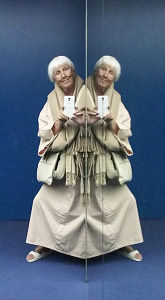 As is the Hall of Optical Illusions.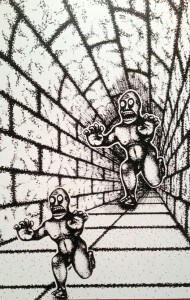 Both figures are equal in size.
What is wrong here?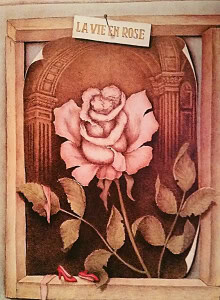 What is is that you see?
Close to the Science Museum I find a vegetarian restaurant. Wow, I am hungry!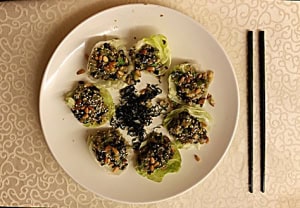 Before going home I have a look at the Space Museum by night. Impressive!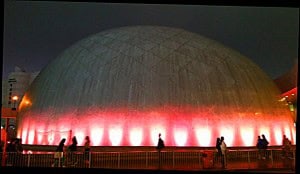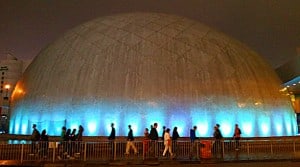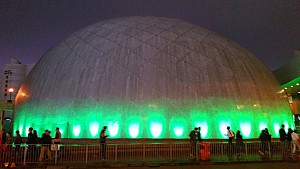 … and a – this time solo – drink in the Peninsula, with just a nice chat with the bar manager
On the way back I pass lots of expensive jewelry shops. Jewelry is really a feature her in Hong Kong.
— and huge Samsung posters.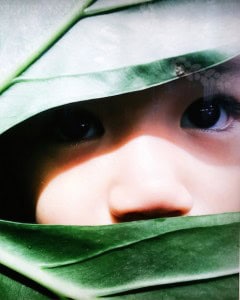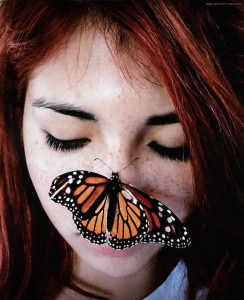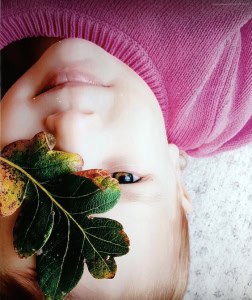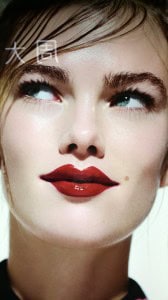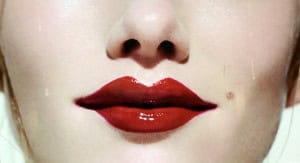 That night I do not put my alarm clock – and have a sound sleep till late the next morning.
WEDNESDAY, MARCH 23
A rainy day. I am glad I brought my rain poncho.
After brunch in the Danish bakery around the corner I head for the Apple repair store that happens to be close to the Science Museum. With the GPS of Google maps I can easily find it.
A few days ago I accidentally leaned on my iPad. There was already a crack on the top of the screen, resulting from a fall off my bed last year in Thailand. But now there is also a big star in the lower left of the screen, which scratches my fingers. So I called the store and they can mount a new screen in one day.
On the way there a flowery van brightens up the day.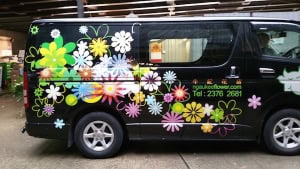 Close to the repair shop there is the big Kowloon Park and I have a little walk in the rain (hardly anybody there :-)), after having had a nice sashimi snack in the Japanese restaurant across the street.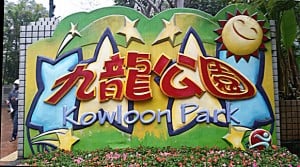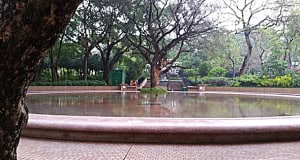 .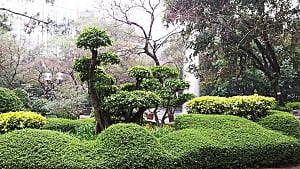 THURSDAY, MARCH 24
Today is Selma's cremation and it is raining. The last few days there was a lively correspondence back and forth with mutual friends about her demise and the mystery of existence with its two opposing components: the lust for life and the yearning for death.
For Selma's orbituary click: kaart Selma
It appears that the photo of the kingfisher in the obituary is exactly the same as the one I have used for the altar in the mural I made last year in the St. John's memorial corner for deceased children…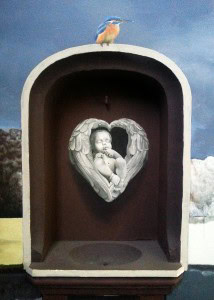 This is a good day to spend in the Space Museum. Looking a bit further than this tiny little speck of dust which is our world…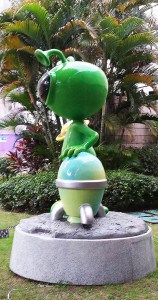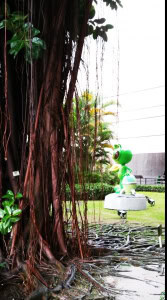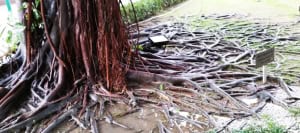 The default exhibition is closed due to renovations. However, there is a choice of three one-hour films. I book all three of them.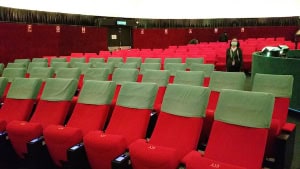 They are being projected on the inside of the large dome in a huge auditorium.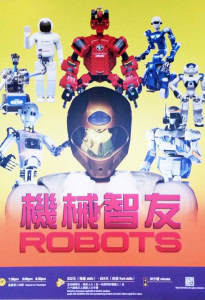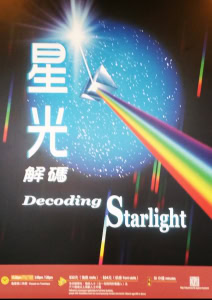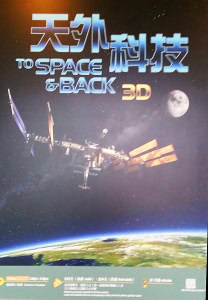 In between the performances I have half hours that I spend in a nice restaurant near the cultural centre, another grand building next-door, now featuring the prestigious Asian Film Festival.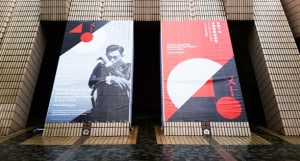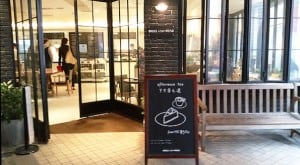 During one of the breaks I encounter a wedding party on the steps and square in between the to buildings. The radiating couple gladly poses for me…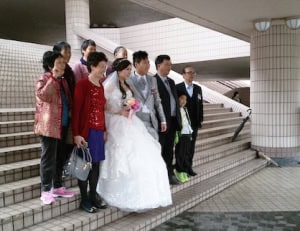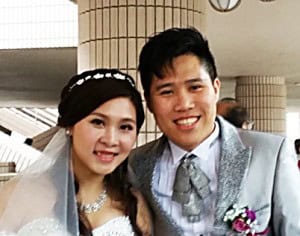 The films make me humbly realise once again how little we know – even with all our scientific development and technical equipment – about the micro and macr0 cosmos and the mystery of life.
To get back down to earth I have a few tasty snacks in a Japanese 'assembly-line' restaurant.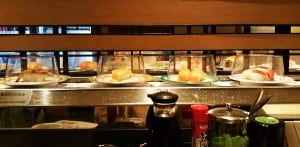 In the evening I attend one of the films of the film festival, in a cinema not far from my hotel: a gripping story about abuse, prejudice, courage and love in the Chinese countryside.
On the way in the metro I meet the other side of glossy Hong Kong: The Beggar.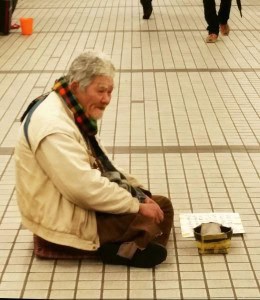 FRIDAY, MARCH 25
t appears that Selma's take-off was a wonderful celebration, with a mixture of sadness and lightness. Some 30 of my (former) Flowering students were attending the funeral.
The morning is for reminiscing and writing. In the afternoon I take the metro to Hong Kong Island, on the other side of the river, to see the exhibition Basel Art, a huge international spectacle pompously spread out over 5 enormous halls. After a 2,5 hour walk, scanning thousands of artworks, I have collected a handful of items I deem interesting enough to share.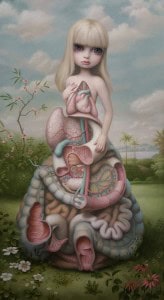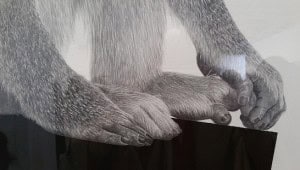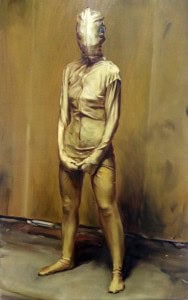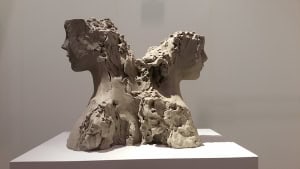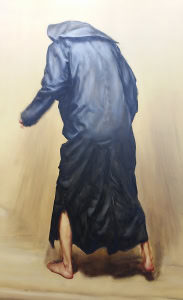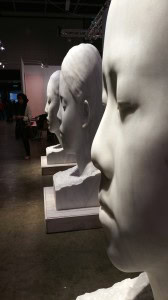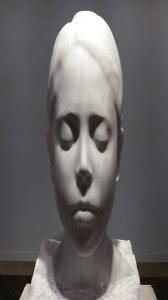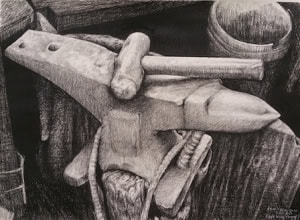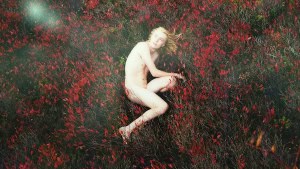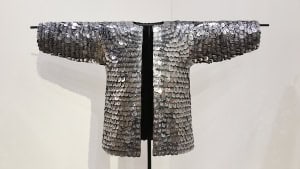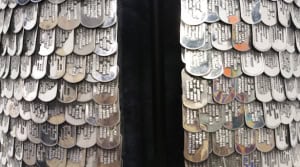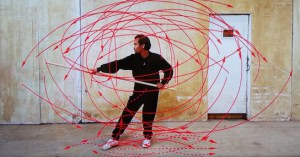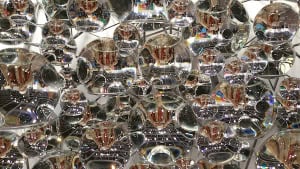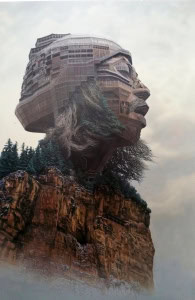 Though after this marathon I am pretty tired, I decide to venture to another cinema that shows Festival films. At the bus stop I bump into the lady who was the hostess and translator in the post-film discussion with the director of the film I saw yesterday. She recognises me, because I was among the few people who had a question. I am lucky, because it appears to be complicated to find the cinema, that is located in a hug mall – and she happens to go there herself, for the the next post-film discussion…
Alas… the film of my choice is fully booked. And so is my second choice. Thus after wandering trough the glossy mall and watching the ice-rink from above I slowly head home, this time taking the ferry to cross the river: Peerke had enjoined me not to miss that opportunity…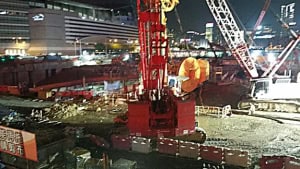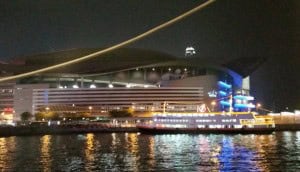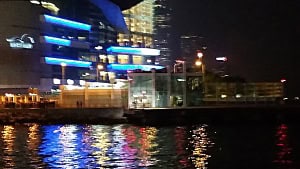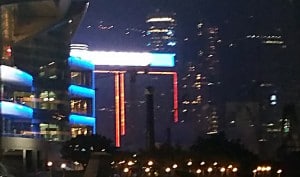 On the way to the metro on the other side I pass another over-the-top hotel with winged figures in the fountain.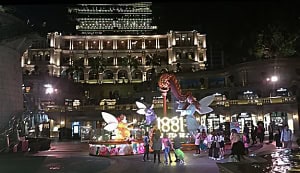 Then it is ten more minutes by metro and five more minutes walking before I recognise the familiar poster that marks the passage to my hotel – nd the sacredness of motherhood and family life in this country.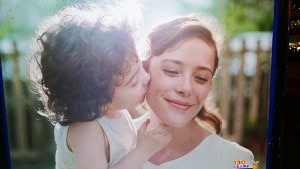 I am ready for my last Hong Kong night, which I spend in what feels like a coma…
SATURDAY, MARCH 26
I have the whole morning before I have to catch my airport bus. My flight to Bangkok Don Muang is a quarter past five. There is some confusion about the exact location of the stop, because of the construction works around my hotel. A few days before I was peeking at the almost illegible notice when a young man explained to me that the stop was some 20 metres further on.
Today I go again just to double-check and… meet the same young man. He smiles at my incredulity and explains that he has to take the airport bus every day from there: he works in the airport! At that moment the bus arrives and I can see with my own eyes that is stop precisely there. I thankfully waveanother guardian angel goodbye…
I decide to skip the Danish bakery and cross the busy street via the subway, to see the Saturday market in Mongkok. It is the day before Easter and it looks like all the Hong Kong families are out shopping.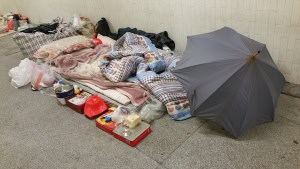 The subway is home to two beggars who today – it seems – are also out doing their courses. They always greet me cordially, because I treated them on Ferrero Rochers – and a few bucks.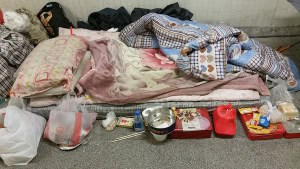 Especially the animal market section draws crowds of people. It seems like I am the only one whose heart bleeds for the tropical fishes in plastic bags (some of them have already expired), the birds and chickens in narrow cages and the kittens and puppies behind glass. No-one seems to bother about there condition or their feelings.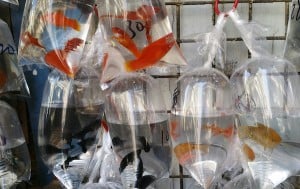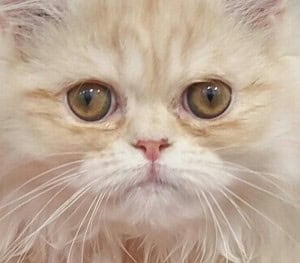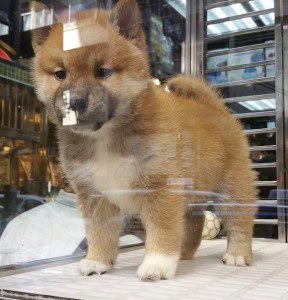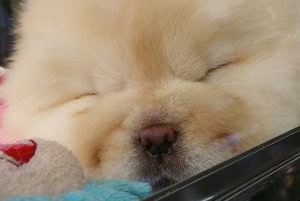 I escape to the mall on the corner of the street. There it is cool and relatively quiet. In the basement floor I sit on a bench next to three (other) old ladies and we exchange smiles and (mimick) ages.
Then I buy a few gadgets and take the lift to the top floor, where I have a spectacular view of the surroundings.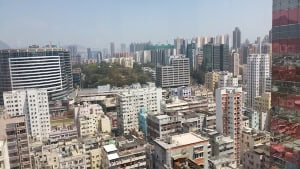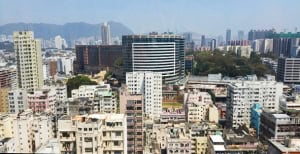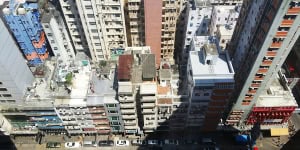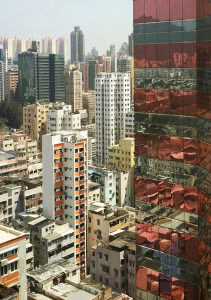 Back down in the basement I treat myself to a Japanese brunch (which looks tastier than the Chinese food on the other side), before returning to the hotel to pick up my luggage.
The bus in on time. When I arrive at the airport I have more than two hours before boarding.
Hong Kong airport is huge… The man in the lift tells me that Departures is on the 3d level. After having looked for Air Asia departures in vain it appears that for that I have to go to level 1.
It takes some time to find the check-in desks – and there are long queues. In time I realise that I have a Flex ticket and that there is a separate Flex-counter. There is only one passenger before me. Unfortunately, this person needs at least ten minutes to check in.
Then it is up to level 3 again, where I suddenly remember that I still have credit on my Octopus card, which I can claim back. It takes some asking around and a long walk to get to the train service desk, but it is worth the while: I get 40 US dollars back. Ah, I have to change my money into Thai Baht… That takes another walk.
Finally I can head for Security and Immigration. At Security they find that I have a small bottle of water in my handbag. I had forgotten about that. I drink the water and they let me pass. Next there is a long queue at Immigration.
Halfway to the checkpoint a uniformed lady comes up to me and says: "Madam, have you maybe left your cabin suitcase at Security?" My God, she is right! After the handbag check I must have had a black-out…
I go back with the lady (later I wonder how she has found me in the crowd?) and have to mention a few items that are in my suitcase to prove that it is mine. Then I run back to the queue and fortunately the lady that was behind me has kept my place.
Oups… at Immigration they tell me that to get to my gate I have to go down to level 1, take a train to the terminal, then switch trains and go to the next terminal. And that I have to be quick, because the gate will be closing in half an hour…
Panic-stricken I start running. I lose my way several times and get new information: I only need to board one train and go to the terminal. From there I have to go up a few levels to get to my gate. Confusing. However, it appears to be right and finally I make it just in time before gate closure. That was peak hour for my guardian angels!
On the plane I can relax in my window seat. With my Flex booking I have extra leg room – and a vegetarian meal.
All is well again.
We land at Bangkok Don Muang shortly after 10:00 p.m. Here Immigration (no visa needed and they do not ask for my flight ticket to Amsterdam) and bag claim go smoothly.
The hotel I have booked via Booking.com, Asian Boutique Club Homestays, is 20 minutes away from Don Muang airport – and apparently it is a little hard to find. By e-mail I had received all kinds of warnings about taxi drivers taken advantage of this by 'accidentally' making big detours. So they sent me the address and the itinerary both in English and Thai, plus a map of the route.
At the taxi counter in the Arrivals hall – I am about to book a taxi for 500 Baht (almost € 15,-), two young girls behind me interfere. "Too expensive", they claim decidedly. "Come with us". The man at the desk grins sheepishly.
This is the beginning of a run around the airport, with the girls approaching taxi drivers in various places. We finally land at the Amira Airport hotel. On the street in front of the entrance we find another row of – this time meter – taxis. The girls show the address and the map to the first one. The man nods understanding. No problem. I spontaneously hug the girls and they give me their phone number, in case anything should go wrong.
It takes a little searching after all in the last bit of the ride, but the driver gets me there all-right. The costs amount to no more than 180 Baht… I give him 200.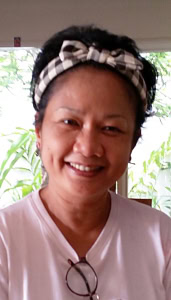 In the Homestays I am warmly welcomed by June.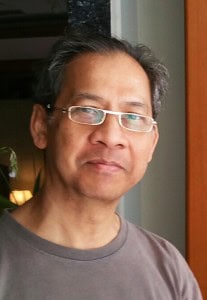 She and her husband Pom, who is an architect, are the owners of this place, a big old mansion in a quiet neighborhood, with nine rooms, that they bought some six years ago (plans for a second location elsewhere in the country are in the making, but have been put on hold in view of the declining economy in Thailand). Their formula is to offer 'a home away from home'.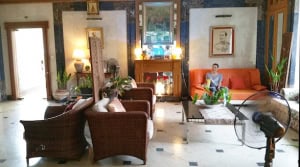 The lobby is cosy and comfortable, with lots of little things of beauty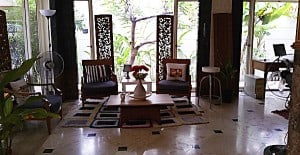 I am delighted about the way the have renovated, furnished and decorated the house in a stylish yet intimate way, with lots of plants, flowers and greenery inside and in the patio.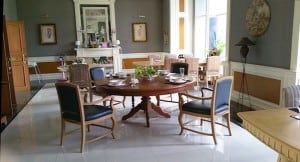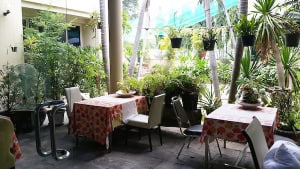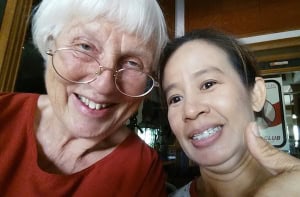 The staff are very helpful and endearing.
There is a big swimming pool shielded from the sun by a semi-transparant green sail. Hardly anyone is using it, but I surely will!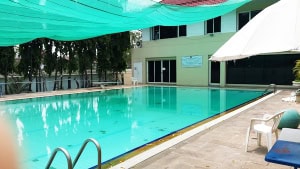 After the tight Hong Kong accommodation I feel I have landed in heaven. The room is grand and spacious, with a dark wooden floor and ditto furniture, a huge bed and a bathroom with a ice bath and a separate shower . And here I pay even € 5 less per night than there (€ 53,- instead of € 58,-) with a gorgeous breakfast included! Luckily I booked one more night yesterday, before heading south to Koh Sichang island.
After I have paid for the two nights I need some more cash and Pom gives me a ride to the ATM in the nearby village. Later he helps me to sort out how I can travel best to Koh Sichang the day after tomorrow.
Here I can relax and do my blog, my correspondence and my website update.
MONDAY, MARCH 28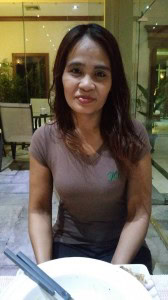 Nothing much to tell but that I enjoy it here so much that I almost regret having booked the next hotel. In the afternoon I get a nice massage from Duan (a Jack of all trades in the hotel), who keeps her hand to her mouth each time she laughs, as her front teeth are missing. She is curious about the kind of massage I give, so after we are finished I let her have a little 10-minute taste of Esbima.
She has a grown-up daughter, married with two children, and a 10-year old son that she has to provide for. He is being raised by her grandmother who lives far away.
Meanwhile I have found out that my next hotel, The Balcony, is at the beach all-right, but not on the island of Koh Sichang, but on the mainland, south of Pattaya. On the one hand that is a disappointment, because I love islands, on the other hand it is more easy to get there and it saves me a 40-minute boat trip back and forth.
TUESDAY, MARCH 29
After a wholesome sleep (the massage was really relaxing) I get up rested at 10:00 a.m.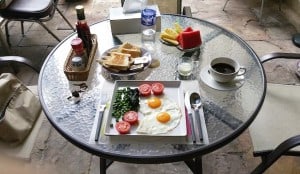 I have a last swim in the deserted pool and a leisurely brunch in the conservatory (no fixed times for breakfast here). June spoils me with all kinds of little titbits.
When I am packed and check out I decide to book a room for another night in the Homestays, for when I am on my way back to Bangkok Savarnabhumi next week. June and Pom are both delighted that we do not have to say farewell yet.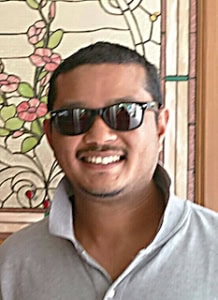 Pom has organised a private luxury 'limousine' van to get me there. The driver's name is Aht.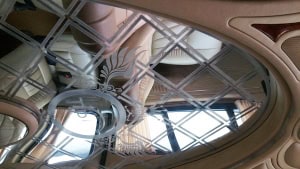 The 2-hour trip will cost me 2,300 Baht (€ 58,-), a reasonable price for an absolute 'VIP-feeling' in a car with this interior… J.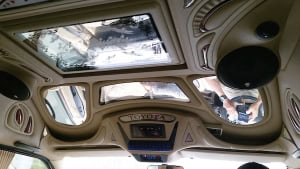 It is a nice journey that allows me to cast an eye on a part of Thailand that I have not seen before: the urbanised west coast south of Bangkok, towards Pattaya. As we proceed the high rise buildings gradually give way to bits of countryside and small villages.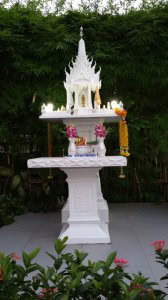 The Balcony hotel is modern, spacious and comfortable. With a beautiful little temple shrine in the entrance square.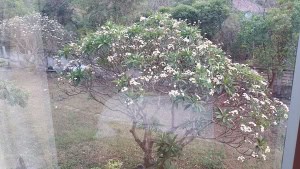 I have an apartment with a nice garden view: a tree-full of sweet-scented Thai flowers…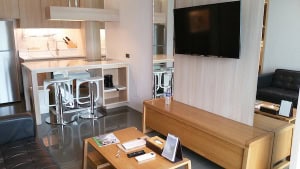 … a living room…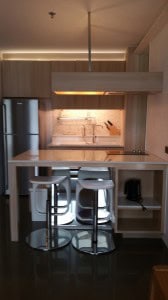 … with kitchenette…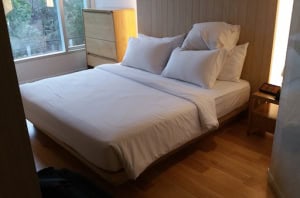 … a cosy bedroom with a queen bed…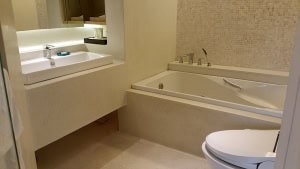 … and a bathroom with a bathtub and separate shower.
The toilet even has a special bidet-function dashboard… I have never seen (and used) such state-of-the-art crotch washer before. Nice to play with :-).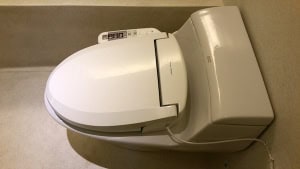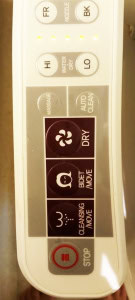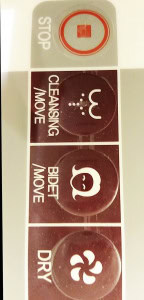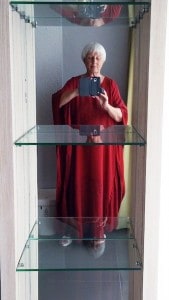 There is an unlimited free laundry service, so I can have all my clothes washed over the next few days.
The only disappointment is, that it is not possible/permitted to swim in the sea, because the coast is littered with sharp rocks just underneath the surface. So the hotel have made an artificial sandy beach at the seaside (sort of a big sand box), elevated about one meter above the real beach, and surrounded by a low wooden fence.
Ah… I should have opted for the island after all…! There are, I hear, magnificent sandy beaches there…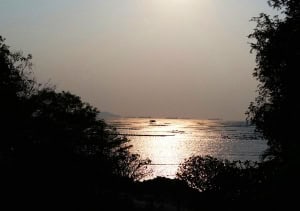 However, the view from the 'beach' is spectaculair – and we have sunsets – which are most of the time more or less veiled because of overcast and haze.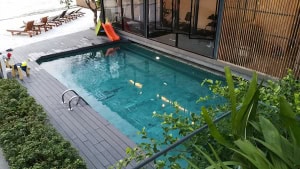 And… there is a swimming pool! For my movement in between the writing sessions.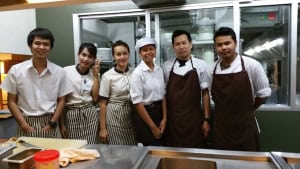 So I count my blessings and enjoy the heart connection with the kitchen staff…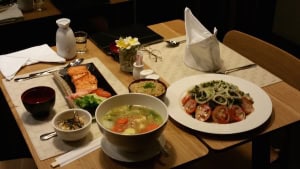 … the delicious and abundant food…
and the undisturbed 5-day quality time I have here for my writing.
WEDNESDAY, MARCH 30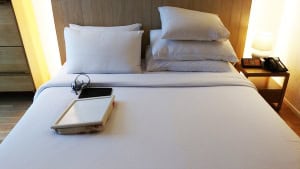 Today is for chilling in bed, with my laptop near at hand…
During meals there are nice chats, like those with two Scottish guys, Hamish and Colin, who do off-road motor biking. One of the next days Hamish comes home badly bruised and with contused ribs. He cheerfully accepts the consequences of his sports choice…
THURSDAY, MARCH 31
The days glide by in undisturbed bliss, to a rhythm that follows my moment-to-moment needs and impulses. Usually ending in a bit of Bentinho Massaro on Youtube for a nightcap.
Today in the afternoon, after a fruitful writing session, I decide to make use of the free shuttle service to the branch office of the hotel in the centre of town.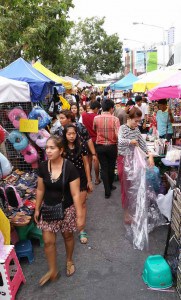 There is a market going on, which I skip because of the heat, and an airconditioned big mall with all kinds of little shops.
There I leisurely explore all four levels and while taking photos here and there – the entourage is quite different from our big stores at home.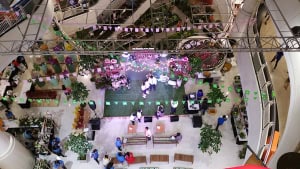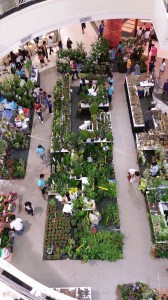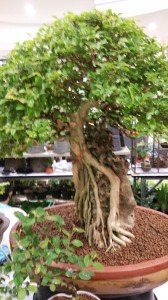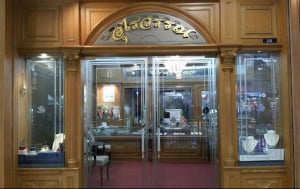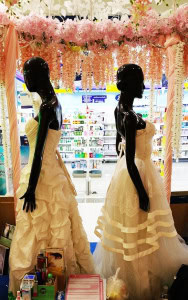 I am pleasantly surprised to notice that there is no inclination whatsoever to buy anything. Except for a nice sushi meal (with lots of wasabi) on the top floor, before heading back home.
FRIDAY, APRIL 1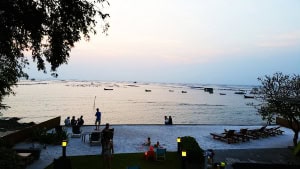 Meditating, writing, swimming…
SATURDAY, APRIL 2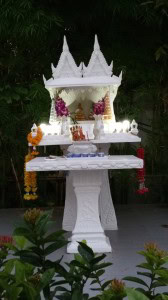 … Contemplating, writing, swimming
SUNDAY, APRIL 3
Time to say goodbye. I have phoned to Pom of the Homestays, where I'll spend one more night before heading for Bangkok Suvarnabhumi. He'll send a taxi my way, which will cost me 1800 Baht instead of the 3000 the Balcony charges for a shuttle.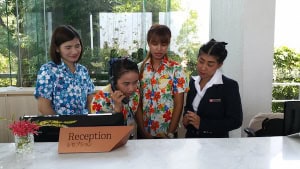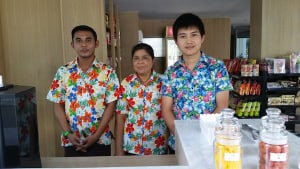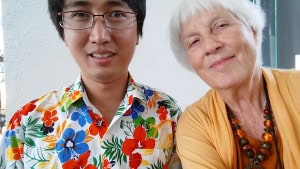 The ride takes two hours and ten minutes. I write and snooze on the back-seat, so time passes quickly.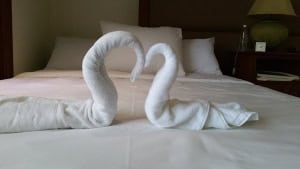 At the Homestays I am warmly welcomed and my room is ready.
MONDAY, APRIL 4
The last day of my sabbatical…
I make the most of my morning in the Homestay. First my Yoyo-yoga, then a nice swim in my 'private' swimming pool. There is no-one there at 8:30 a.m.
After that a shower and a hot bath, followed by some writing. By 10:15 I am on my way to breakfast when Duan, the teethless masseuse intercepts me. 'Just one moment', she says, and rushes to her room, coming back with a beautiful shawl that she gives me as a present. I am speechless, so we have a warm hug and a deep look into each other's eyes.
My breakfast is served by No, a tribal woman in her late forties, from the North of Thailand – here clad in jeans and T-shirt.
Halfway my toast and fried eggs June shows up and shares with me that No just asked her to tell me that she would very much like to come with me to my country, to live with me and be my personal caretaker/servant. She has no family and nothing to lose – and she likes me very much.
Again I am dumbstruck – and a little embarrassed. What to say? Of course I could use a dedicated 'slave' in my life. But even without considering the legal consequences, I do not feel up to living with and taking responsibility for another person. Also she does not know our culture and hardly speaks a word of English…
As I begin to explain this to June she nods, smiles and interrupts me: "I know, I know… it is not a feasible idea – but I thought I should share it with you anyway. She will transfer my message to No in a diplomatic way.
Back in my room I take a few minutes to recover from the impact of all these tokes of appreciation. After packing my bags I have another half hour for writing, before I have to check out. Duan and No take my suitcases down the stairs and in the lobby I wait for Pom, who is going to give me advice on how to best get to my next hotel, the Paragon Inn, near Suvarnabhumi.
Meanwhile June arrives with a present: a boxful of exquisite soaps with exotic fragrances. I feel quite overwhelmed. We sit together and she tells me more about her life, her relationship of 25 years with Pom and the challenges that come with running a hotel like this, often with lack of sleep an with people from all cultures and backgrounds with different characters and moods.
When Pom arrives, she goes backs to her chores.
We have a look at the map to see where Paragon Inn is located. It would take at least an hour and a half to get there by car. What he can do, he says, is take me to Don Muang airport. From there I can take the shuttle bus that takes an hour to Suvarnabhumi and then it is ten, fifteen minutes by taxi to the hotel. OK, that sounds good.
After a little chat about the Chinese Car & State of the Art Furniture show he went to see last night, he wants to know some more about my work. He likes the combination of spiritual work and creative expression – himself having done some painting and drawing as part of his architecture study.
"Couldn't you do one of your workshops here in the hotel, when you come to Asia again next year?", he suddenly asks. "We do have a nice room that could serve the purpose – and I think there are enough people here in Thailand – particularly students and professors from university – that may be open to the kind of work you do.
I am flabbergasted. He seems to be serious. I tell him that I could imagine myself doing that. That I would really like it – and that we could maybe work something out together.
After we have made a connection on Facebook he says:
"You know what, if you can wait a moment, I'll check what my schedule looks like this afternoon. If there is not too much to do, I'll take you to your next hotel myself."
Five minutes later he is there again and says: give me an hour, just to settle a few things, have a shower and change clothes – then I'll come with you."
I am moved and delighted. And I have one more hour to continue with my blog… In the meantime I am being provided with coffee and a light lunch.
We leave at half past three. In the end the ride appears to take over two hours. However, we have such a captivating conversation that time flies.
He tells about his live: his studies in London, where he lived for five years and learned the European ways; the first (royal) assignments in architecture back in Bangkok, when he had started his own office. Meeting June in the local hospital, who was a nurse then, coming from a lower caste from the north – quite a challenge socially; their furniture business in the United states, where they lived for ten years; the visits to Europe; the retirement to Chiang Mai – which appeared too be too early and too boring. Then the start of the hotel. The invasion, seven years ago, when the then prime minister opened the borders of the country – in their rather high-class neighborhood of immigrants from Myanmar, Laos and Cambodia, with the accompanying upsurge of Red shirt activists – who are now practically eradicted, with their leader exiled; the big flood, three years ago, which also inundated their hotel, with the water 3 meters high and, and forced them to temporarily evacuate.
When we have arrived at Paragon Inn – around half past five – I ask him how much I owe him. He looks offended and says: "Nothing at all. It has been my great pleasure."
"In that case, please allow me to invite you for a nice dinner before you drive back", I insist – "That is, if you can spare the time." He hesitates, then consents. "OK", he says, "I know a famous restaurant not far from here, where they also serve nice vegetarian dishes".
It is a large place, almost deserted. We continue our inspired conversation – during which he opens up more and more – over an (indeed delicious) meal – accompanied by a Heineken for me and hot water fro him. When he drops me off again around 8:00 p.m. I know that I have made a new friend.
And that my last day in Thailand was one of the highlights
TUESDAY, APRIL 5
Though my stay in the Pragon Inn is short, I squeeze the juice out of it by enjoying the big bed, the peculiar swimming pool: built against the rooms around – Venetian style, the generous shower – and the tasty breakfast of scrambled eggs, toast and fruit, shared with a plucky bird that sits on my plate.
The taxi driver is on time and takes me to the airport in less than ten minutes. Everything there goes smoothly, which gives me time to sit here in the café on the way to the gate, with a latte, my laptop and the murmur of passing passengers in the background.
11 Hours of flight ahead… And then it is home sweet home again.
Conclusion
What is it that I like so much about traveling – alone?
Apart from the joy of discovering new places and cultures on the earth I guess it has to do with being anonymous, undefined. Which makes each new encounter a here-and-now experience, fresh and uncontaminated by past or future. Also it is about becoming aware and letting go of prejudices, programmed in my system by conditionings.
Another attraction is the unscheduled time, which allows me to surprise myself again and again with what will be the next spontaneous impulse. The sense of freedom, going with the flow, unattached – open for whatever presents itself moment to moment.
I am grateful to existence for granting me these wonderful expeditions, encounters and adventures…
https://www.yoyo.nl/wp-content/uploads/2016/02/2016-02-10-14.24.02-e1459235755588.jpg
72
281
yoyo
https://www.yoyo.nl/wp-content/uploads/2020/06/YOYOLOGO3.png
yoyo
2016-02-09 09:43:11
2021-03-23 15:30:21
2016 Myanmar/Phils/Hongkong/Thailand