Retreats
UPCOMING EVENTS IN GLASTONBURY, UK AND SAMOS, GREECE:'BLISSFULLY EMBODYING BEING'

GLASTONBURY: SEPTEMBER 20-22, 2019
SAMOS: OCTOBER 19 – NOVEMBER 9, 2019 (1, 2 OR 3 WEEKS)
What are these retreats about?
An enlightening gathering of people who are ready to look beyond duality/non-duality, reconnect with the nameless source of all-that-is and learn/practice unconditional love.
Meditation
Sharing
Spontaneous/playful interaction
Processing stuck energy
Healing touch
Fun

Venues:
Glastonbury: Avalon, http://www.livingtao.co.uk/, host: Andy PortmanSamos: Villa Eva http://villaeva-samos.gr/, hosts: Stelios Karabetsos and Ellina Mitropoulou
Schedule (may vary with the unfoldings in the group)

10:00 a.m. – 1:00 p.m. sharing/workshop
1:00 – 4:30 p.m.: lunch break
4:30 – 7:30 p.m.: workshop/sharing
7:30 p.m.: eating out or preparing a meal together

Participation fee, including 8 nights accommodation (double studios with kitchenette), group room and local transport:
For those who assist in doing odd jobs around the resort 4-6 hours week):
1 week: € 560
2 weeks: € 1,050
3 weeks: € 1,460
For those who prefer to refrain from doing the odd jobs:
1 week: € 680
2 weeks: € 1,250
3 weeks: € 1,960
Write to yoyo@yoyo.nl for more information and booking.
Avalon, Glastonbury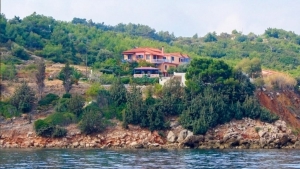 Villa Eva, Samos
LABORINT SCHOOL FOR THE (HE)ART OF LIVING
On invitation, Yoyo delivers lectures, workshops and retreats worldwide.
Topics may be:
Survival strategies and belonging
Sexuality, intimacy and emotions
Relationships / the art of relating
Ego, will-power, ambition, creativity, authority
Love, empathy, compassion
Authentic communication and resonance
Transcending duality
The wise Man and the Fool – return to innocence
Ecstacy, the ultimate union